I have a new appreciation for 26 miles. It's a long, long way and a lot of things can happen during that time. I found that out on Sunday, May 1, when I participated in my first marathon.
I'll spare you the suspense — I did finish. In 6 hours and 39 minutes. Yes, 26 miles is quite a distance to run, especially when things begin to go wrong.
The morning started early — at 4:30 a.m. After mixing up my witches' brew of Perpetuem (my training fuel), my friend Laura (who is in my workout group) and I walked down to Denny's for a pre-race breakfast. It's important to stick to a familiar routine before a long run. I usually have a poached egg, whole wheat toast and coffee. I tried to get a similar meal before the race, but a helping of greasy hash browns and some bacon were too good to pass up.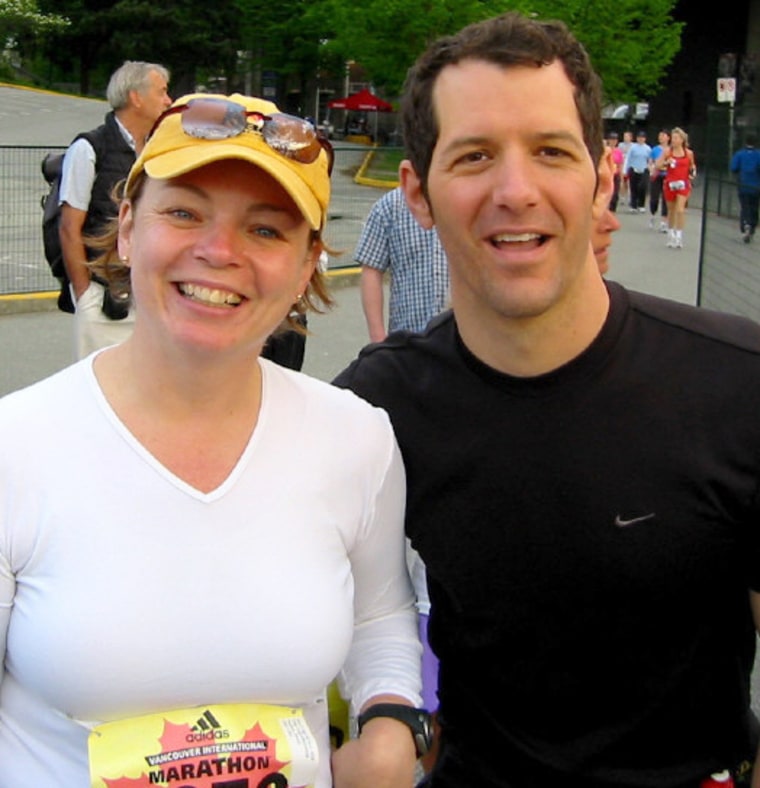 I met my trainer and running partner, Jeff, near the starting line at 6:30. Several other members of my running group were also in attendance. They had all set goals for their races, trying to set personal bests. We were figuring it would take about 5 hours, but my only goal was to finish.
The race began at 7:30. There was a field of more than 5,000 runners, so it took a while to reach the actual starting line, but once we did we reached our running pace pretty quickly. Our strategy for the first few miles was to go a little slower than normal and then pick up the pace. That didn't last long. We did the first mile in 11 minutes, which is my standard long-run pace. We maintained that pace for most of the first half of the race. In fact, I did my fastest half marathon ever — 2 hours, 33 minutes. I was feeling confident and strong.
Vancouver is a beautiful city, and the marathon course takes you through some of the most scenic neighborhoods. At about mile 13, you enter Stanley Park, a gorgeous green spot in the city, resplendent with tall trees, blooming shrubbery and waterfront views. During this part of the course, it's hard to believe you are in the middle of a major city. It was in this lush, green setting that things started to go very, very wrong.
At about mile 12, I had started to feel some twinges in my stomach. Nothing major, but a sinking feeling that gave me pause for concern. But at around the 14 1/2 mile mark, that minor concern became a major worry.
Where's the port-a-potty?
Warning: Things are about to get graphic. The following paragraphs are not for the squeamish.
Runner's diarrhea is a common malady for long-distance runners. The best way to fight it is to make sure you don't eat anything that is likely to cause it. How do you know what not to eat? Unfortunately, you learn mostly through experience. What works for some runners can bring dire consequences for others. I tried very hard to eat what I normally do before a race, but being out of town and reliant on restaurant food, I was taking some chances. In hindsight, the greasy hash browns and bacon probably weren't a good idea. And instead of having poached eggs, I had scrambled (which were also greasier than I would normally eat).
By mile 15, I was in full pucker mode and desperately waiting for the next port-a-potty to appear. Running, at this point, was not an option. It was now a race to maintain my dignity. But another 2 miles passed and still no port-a-potties. Where are they??!?! Jeff tried to engage me in a game of Six Degrees of Kevin Bacon to help pass the time and keep me distracted. But neither one of us proved to be very good at it, and I had other more pressing matters on my mind.
I was seriously starting to think about visiting the bushes. But just as we came out of the park, near a beach, Jeff spotted a public bathroom. Salvation! After a long, painful sit-down, I felt ready to continue.
Jeff, fortunately, was carrying some anti-diarrheal drugs with him. Lesson No. 1 from the Vancouver Marathon — always carry an anti-diarrheal drug with you. I ingested this little white pill and we continued on. However, after slowing down and walking for 2 miles, my knees, ankles and feet had locked up and begun to swell. I also was nursing a very large, very painful blister on my left foot.
So much for running. From that point on, it was a light jog to a power walk at best. That's right, I walked the last 9 miles. And that was only made possible after a stop at a first aid station to get mole skin for my blister and a couple of Tylenol to help ease some of the aches (Lesson No. 2 — carry remedies for blisters and painkillers with you during long races). In all honesty, I was very close to just calling it a day at mile 16. But something just wouldn't let me quit. As painful and humiliating as this was, I know that I'm likely to encounter at least this much discomfort if not a lot more at Ironman.
At this point, we were about 4 1/2 hours into the race and only at mile 19. But it was a beautiful warm day and all of Vancouver was out cheering on the runners and enjoying the sun. Besides, the painkillers had started to kick in. Might as well just enjoy the walk. We passed folks partying out on their lawn, dancing to salsa music and enjoying mimosas. Ha! I'll bet the Ethiopian who won the race didn't even notice them as he blazed by (Kassahun Kabiso won the race in 2 hours, 15.40 minutes).
It did give Jeff and me plenty of time to talk about this race, and look ahead to the rest of my training for Ironman. Despite my cheery disposition, it was obvious to him that I was less than happy with the way things were going. But, as always, Jeff remained optimistic about the future. The marathon, after all, was merely a yardstick to measure where I was at in my training. It's fair to say I have a long way to go.
We continued at a brisk pace until we reached mile 25. That final mile seemed to take forever. And the drugs were starting to wear off. My feet and knees were aching and I was just ready for this to be over. The police had reopened the streets to traffic, so we had to keep to the sidewalk and stop for traffic lights. Oh God, I was thinking, please, please, please end this.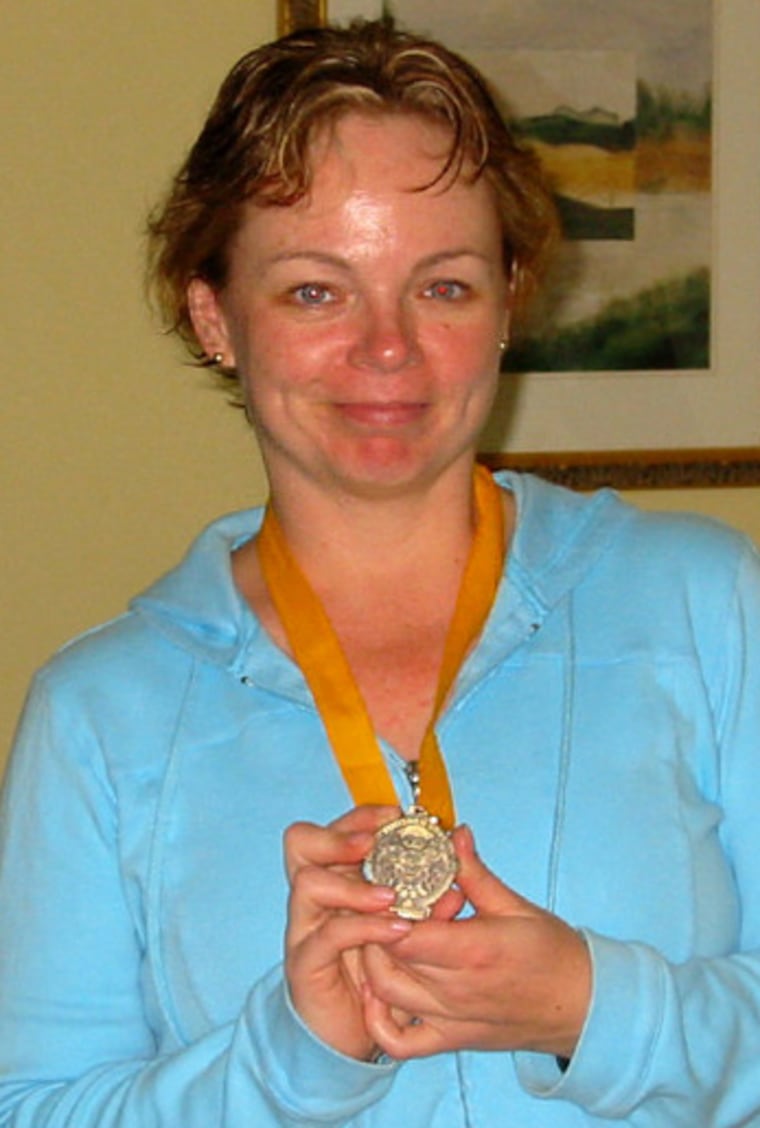 Finally, we approached the finish line. The crowds were gone. It was so quiet you could hear crickets chirping. In fact, the finish line itself seemed to be gone too. As we stumbled in, we were directed over to the right, where the finish and the timing mat had been moved. The race organizers were literally rolling up the red carpet behind us. But the race announcer was still there and he called out "and here comes Denise Hazlick of Seattle. This is her first marathon and her goal was just to finish. Well, you accomplished that." Indeed I did.
My friends Catrena and Laura, who I rode up with, had gone back to the hotel to try to get me an even later checkout time. The only familiar face left was Bryan, one of the three Brians in the gazelle pack in our running group. He'd finished the half marathon almost 5 1/2 hours earlier, but he was still there to congratulate me and give me a hug. I don't know if he'll ever know how much that meant to me.
After winding our way into the stadium behind the race start, we collected our finisher's T-shirts and scrambled to collect whatever few bits of food that were left. A bagel. Some crackers. Some cold water. It wasn't much, but it tasted mighty good.
After a short ride back to the hotel, it was up to my room to enjoy a cold soak in the tub. My body was so worn out, I didn't even notice the temperature. I did notice, however, the large, swollen, itchy rash that had broken out on my feet, ankles and legs.
Then it was time for the three-hour car drive back to Seattle. Catrena had run the half marathon and missed her goal time by a few minutes. There was ample disappointment all around but relief that it was over.
And I was disappointed. But when we crossed the border, the guard asked us what we had been doing in Canada. Catrena informed him that I had just finished the marathon. "Wow, congratulations!" he said. "That's 26 miles better than I could do."
And he was right. Yeah, it wasn't perfect, or even good. But I had done something that the vast majority of people will never do — I completed a marathon.
There were plenty of lessons learned and wounds to lick. I would have time to do that from a lounge chair in Mexico, which is where I was headed the next day for some well-timed R&R. But as I hobbled up to my front door, I knew I had come a long way, and was only halfway on the road to the Ironman.