A Canadian-American rocket venture says it has selected a military test range on the shore of Georgian Bay in Ontario as the launch site for rocket tests — and potentially for suborbital space trips as well.
That scenario would make Cape Rich, at the tip of the Canadian Forces' Meaford training center, the country's first launch pad for piloted spaceflight.
"Cape Rich is our Cape Kennedy, so to speak," said Geoff Sheerin, president and chief executive officer of PlanetSpace, the company supporting development of the Canadian Arrow rocket.
PlanetSpace was created just last month to breathe new life into the Canadian Arrow effort, which Sheerin set up four years ago to compete for the $10 million X Prize. Sheerin lost that space race to the team behind SpaceShipOne last fall, but with financial backing from Indian-American entrepreneur Chirinjeev Kathuria, the new venture aims to beat SpaceShipOne's backers to the commercial marketplace.
Last month, Sheerin and Kathuria announced plans to begin suborbital passenger flights by mid-2007, and the selection of a test launch site represents one more step in the preparations.
"A lot of times, regulatory issues can bog down an industry, so I think this keeps us on our schedule," Kathuria told MSNBC.com on Wednesday.
Further clearances still needed
Sheerin said military officials at Meaford have given their permission for the test flights.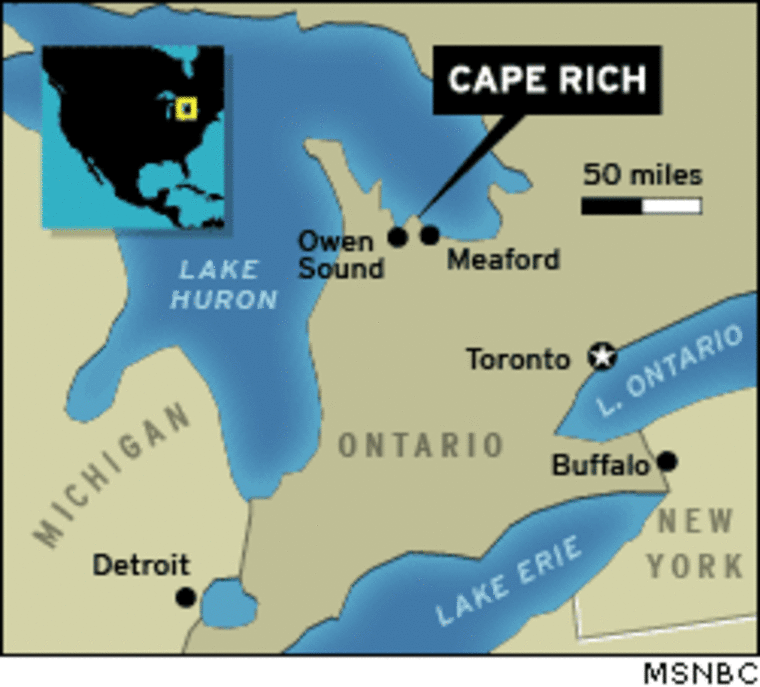 Meaford's operations officer, Capt. Dave Beattie, confirmed that there was a preliminary go-ahead but said "we're waiting to see the trajectory data" before proceeding further.
Beattie told MSNBC.com that the base can institute a 4-mile (6.4-kilometer) exclusion zone in the waters around the launch site. In a worst-case scenario, the rocket could come down "just on the edge of the range," he said. Thus, more detailed information about the flight plan is required, he said.
Sheerin said PlanetSpace also would need a launch authorization certificate from Transport Canada's Launch Safety Office in order for the Canadian Arrow tests to proceed. "We've started the process" for getting the certificate, but a formal application has not yet been filed, he said.
A spokeswoman for Transport Canada, Vanessa Vermette, confirmed Sheerin's characterization of Canadian Arrow's status.
The Canadian government already has some experience with issuing private-sector launch certificates: Last October, Transport Canada cleared another rocket team, the Golden Palace / da Vinci Project, for two launches — but that team never followed through with the flights.
Assuming PlanetSpace gets all the necessary clearances, Sheerin said tests of Canadian Arrow's escape tower system would begin in late August. Such a test would involve an unpiloted launch of the spaceship's nose cone assembly to a height of 4,000 to 8,000 feet, he said. The crew cabin would then separate from the nose cone, parachutes would open, and both components would splash down in Georgian Bay.
Beattie said the planned altitude for the tests was well within Meaford's clearances. He also noted that the base has been used many times in the past for training and development by commercial firms such as GM Diesel.
"We are essentially an ideal training facility for doing that," he said.
Sheerin said the PlanetSpace team would coordinate the tests not only with the Meaford facility and Transport Canada, but also with local police, coast guard and commercial divers.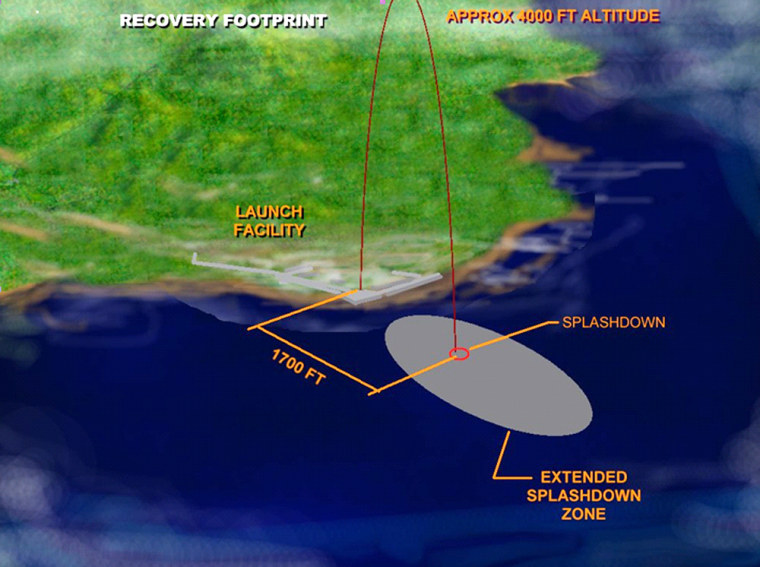 Step-by-step approach
The escape tower system, analogous to the "Little Joe" system on NASA's Mercury capsules, is regarded as a critical safety element for the Canadian Arrow: If a mission had to be aborted due to a launch-pad problem, the escape tower's rockets would pull the top of the spaceship clear from the main rocket engines.
Within a year, PlanetSpace intends to begin unpiloted space launches, reaching an altitude of at least 62 miles (100 kilometers). The company's timetable calls for flights to start carrying pilots from Canadian Arrow's six-member astronaut corps by the end of 2006, setting the stage for paying passengers.
Sheerin's team originally planned to launch Canadian Arrow's commercial flights from a barge in the Great Lakes. "We still are exploring those options, and that might be in the end what we do commercially," he said Wednesday.
He wouldn't rule out Cape Rich as a long-term launch pad, however. "Running a commercial flight from there is not out of the question, but let's get through the tests first," he said.
PlanetSpace's business plan calls for two passenger seats aboard each piloted flight to be sold for $250,000 each — a fare that includes 14 days of training. Sheerin said passengers would spend the bulk of that time at the Canadian Arrow Space Center in London, Ontario.
"That's where you'll train, that's where you'll learn to fly," Sheerin said. "And then you would go to Cape Rich just to become an astronaut."
Kathuria said he hoped Cape Rich could provide a model for private-public space ventures south of the border as well.
"Canada might set a precedent for what NASA will be doing," he said.