The young adult adaptation of Chasten Buttigieg's 2020 New York Times bestselling memoir, "I Have Something to Tell You," debuted Tuesday, but the husband of Transportation Secretary Pete Buttigieg is worried the book — about growing up gay in a small Midwestern town — won't "get into the hands of the people that need it most."
"I'm a dad and I taught middle school, so I wrote a completely age-appropriate book," the 33-year-old said in an interview with MSNBC's Stephanie Ruhle. "So, if it's banned, it's just politics."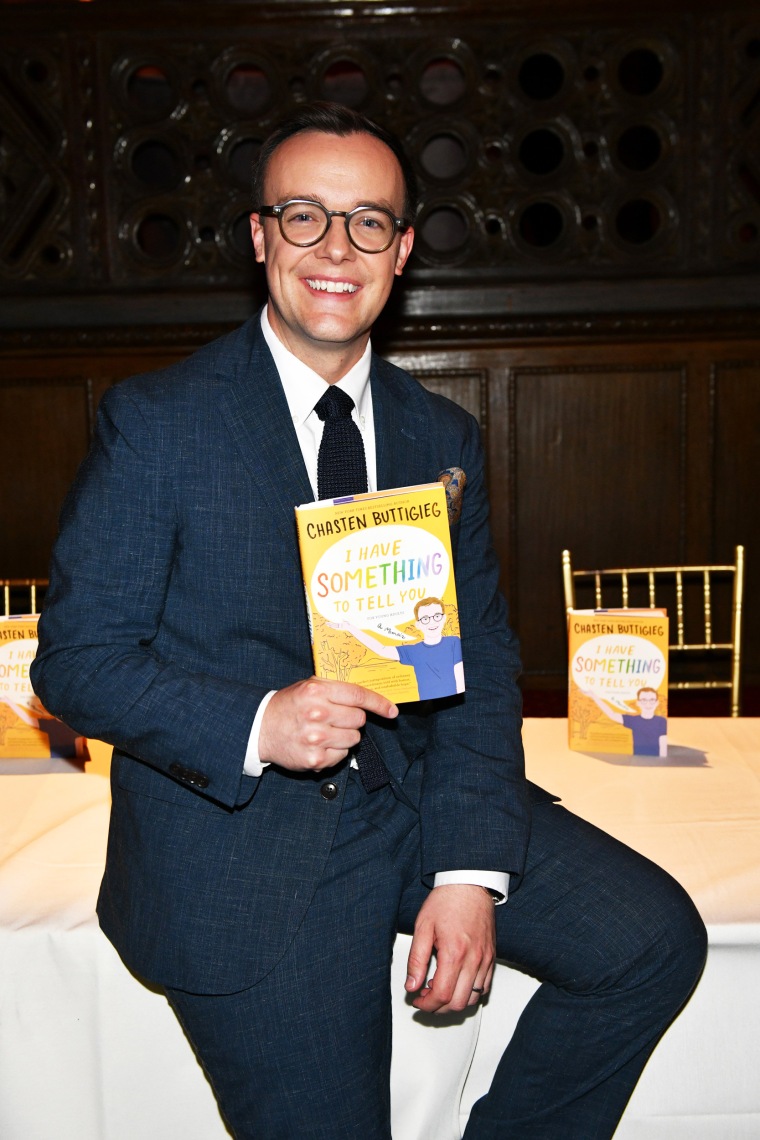 His fear comes amid record instances of book censorship in the United States and state efforts to ban lessons about LGBTQ issues in the classroom.
In its latest annual book censorship report, the American Library Association documented 1,269 challenges to more than 2,500 books last year, the highest number of attempted book bans since it began tracking such efforts in 2001. Of the 13 books that made the association's list of most challenged books last year, seven titles — including three of the top four — were challenged for having LGBTQ content, it found. 
Buttigieg, who grew up in Traverse City, Michigan, said his young adult memoir is the book he wishes he had when he was a student. 
"When I was growing up in northern Michigan, at the time, I thought I was the only gay person in the world. I thought something was wrong with me," he said. 
Buttigieg said it's "a little bit of both" when asked if he thinks it's easier or more difficult to come out now — in a political environment that has spawned hundreds of anti-LGBTQ bills in statehouses across the U.S. — than it was when he came out.
"I remember growing up and everyone kept saying, 'It gets better, it gets better,' and it did in some ways," he said, citing his ability to get married and become a dad. "But because it was getting better, I think some people are now focused on making it worse."
Buttigieg said the current political environment means it's time for "active allyship," and he encouraged LGBTQ allies to "get off the couch and find a way to use your positions of power or privilege or money or time to help."
"Helping can look like a myriad of things for everyone, but ask yourself: Have I earned the title of ally? Or have I just given it to myself?" he said. 
When asked what story or anecdote in his young adult memoir would have had the biggest impact on him as an eighth grader, Buttigieg said he would have "benefited from a 10-second conversation with my parents when I was younger."
"What if they sat me down and said, 'We just want you to know that you are loved, no matter what, unconditionally. If you're gay, straight, no matter what, you will always have a roof over your head and you will always have two parents who love you.' Imagine if I could have heard that, and then poured myself into everything else that young people should be paying attention to: sports, academics. But for 18 years, I hated myself because I was convinced that my parents would hate me and then I would lose everything."
He added that the No. 1 thing he wants young people to take away from his memoir is: "There is goodness out here in this world. People do love you. People are fighting for you."