After their clandestine meeting in a restaurant powder room at the beginning of season two, "Perry Mason" protagonists Della Street and Anita St. Pierre, played by Juliet Rylance and Jen Tullock, became television's favorite well-tailored sapphic duo. And from then on, fans tuned in to see the whip-smart aspiring lawyer and free-spirited Hollywood screenwriter try to beat the odds to find love in 1930s Los Angeles. That's until the sophomore season of HBO's gritty adaptation of Erle Stanley Gardner's Perry Mason crime novels came to a quiet close Monday, leaving more questions than answers — as perhaps is always the fate of romance in noir.
"I love that first meeting in the powder room between us, because Della doesn't come across that many women that are as quick-witted, if not more quick-witted, than she is. And Anita is so feisty and exciting and liberated," Rylance told NBC News on a video call with Tullock before the season finale.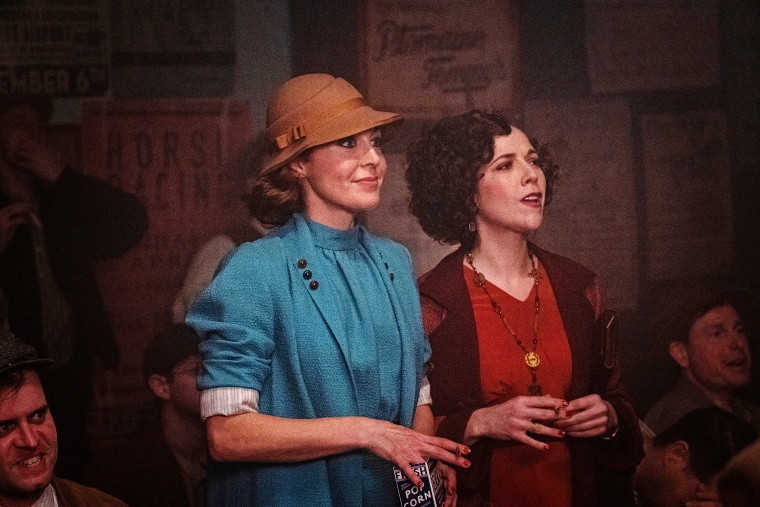 Della, who evolves from Perry Mason's secretary in season one to his right-hand woman in season two, has had to "hide huge aspects of who she is to carve out a role in her chosen profession," Rylance added.
"She's been fighting to be seen and heard, but also trying desperately to hide. She's created a world that is safe, dependable, reliable," Rylance said, referring to her character's season one arc. "Anita just comes in and changes everything for her."
The electric encounter, which disarms Rylance's perpetually composed Della, gave an early indication that the new season, helmed by showrunners Jack Amiel and Michael Begler, was going to give more time to what happened behind closed doors than the grittier, more crime-focused first chapter. And that's partially because Rylance and her character didn't have much time for romance when the new take on "Perry Mason" debuted  in 2020. 
The show — which is a reboot of the TV classic that ran from the late-1950s to the mid-'60s and starred  Raymond Burr — framed its first season as an origin story, via an infanticide case that transforms its eponymous hero from low-rent private eye into a quick-study criminal defense lawyer. So alongside Matthew Rhys, who plays the hard-boiled protagonist, Rylance spent most of that first chapter reintroducing audiences to her character, a reinvention of Mason's secretary made famous in the original by Barbara Hale.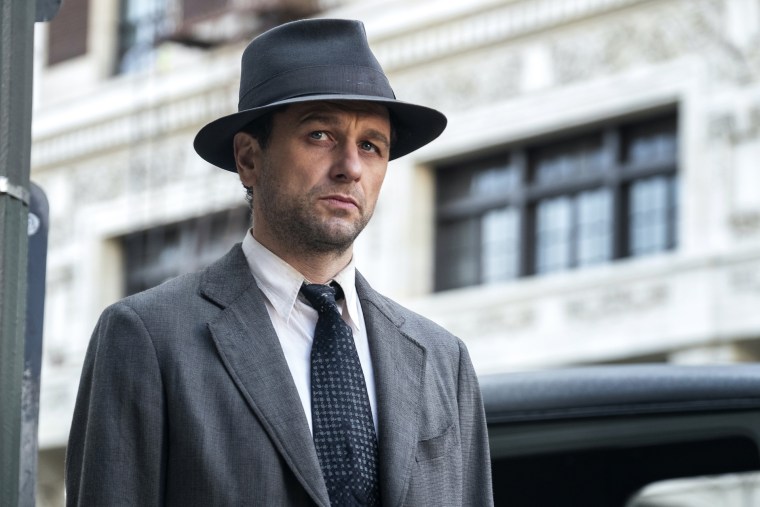 Despite having more scenes in law offices than not, Rylance brought to life the series creators Rolin Jones and Ron Fitzgerald's reimagining of Della as a card-carrying, if rather careful, lesbian. And with the help of her season one love interest, a much-younger boarding housemate named Hazel, played by Molly Ephraim, she delivered a fitting tribute to the original show and its star's place in queer history. 
The popularity of the series' debut season then opened the door for an even bigger love story in the latest one, which sees a more established Della building her courtroom career in partnership with Mason and cop-turned-investigator Paul Drake, played by Chris Chalk. In season two, the trio take on a challenging case defending two Mexican American men — Mateo (Peter Mendoza) and Rafael (Fabrizio Guido) Gallardo — who are accused of murdering a Los Angeles golden boy. And an over-burdened Della finds herself increasingly craving the company of Anita, who then sweeps her off her feet. 
"I got a couple of hate messages on Instagram, regarding Della and Hazel," Tullock said with mock seriousness, referring to fans who were upset about Anita coming between the season one couple. 
"I appreciated that, because I think it was just evidence that people were already invested in Della's personal life from the first season," she added, jokingly warning Rylance not to check her messages. "Watching that season, I remember feeling like you wanted more for them. There was such a sadness about these two women having to find private spaces in which to even communicate romantically, let alone be intimate."
While Anita's quick dispatching of Della and Hazel's romance may have disgruntled a few fans, Tullock's character faced her own hurdles to happily ever after in season two. Not least of all, there's Della's public, lavender relationship with her old friend, the closeted district attorney, Hamilton Burger, played by Justin Kirk, which gets even more complicated when he's blackmailed while prosecuting the Gallardo case.
Between Della, Anita, Hazel and Hamilton, the second season ended up being a cornucopia of complicated queer storylines, which Tullock said is thanks to her co-stars' pushing for the portrayal of different types of people's experiences in the era and for storytelling that wasn't exploitative or cliched.
"Chris and Juliet advocated for those storylines, consistently and with such love and care," Tullock said, referring to Rylance and Chalk, whose character, in particular, deals with police corruption, racism and classism. 
Tullock and Rylance — who said they immediately hit it off when they first met over martinis and whose chemistry is apparent even over a video call — said they were committed to portraying their onscreen relationship in a way that felt both historically accurate and true to their characters' formative personalities. That meant researching the difficulties of having a queer relationship in the 1930s and adopting the coded body language people used to communicate in public. But it also meant thinking about how their connection would play out in more intimate moments.
When the women share their first kiss in episode three, for example, the bohemian Anita seems caught off guard by the sincerity of the moment. And yet, she's totally at ease when introducing Della to novel experiences, from a boxing match to a packed evening at an underground lesbian bar, or whisking her off to a romantic Palm Springs escape.
Notably, the season ends with a moment in which neither Della nor Anita seem fully in control of their faculties. Having secured a courtroom win, Della celebrates with an evening out, flanked on either side by Anita and Hamilton. And, in a moment that Rylance said left both her and her character feeling conflicted, a photographer offering to take a picture "of the happy couple" prompts the deep-in-the-closet district attorney to cuddle up to Della and land an intimate kiss on her shoulder for effect. The look of foreboding on each woman's face that follows says it all.  
"There's so much that's unanswered — the idea that Della might, in the future, have to make a choice about whether she publicly says that she's marrying Burger, for instance. If that's where it's heading, what does that mean, and does Anita have to do something like that, too? And is that a betrayal or is that survival?" Rylance said. "They're such big questions — questions that people ask today on a regular basis, too."
To Rylance's point, while much has changed in the United States for gay couples since the 1930s, homosexuality is still illegal in nearly 70 countries. And even in countries where it is legal, many people fear the repercussions of coming out.
If there's a next chapter, Rylance said, she'd like to explore more about the world Anita — who was modeled after the real-life writer of "Gentlemen Prefer Blondes," Anita Loos — inhabits and how liberated Hollywood truly was in the '30s. 
"How hard is it being a queer woman writer in that world?" Rylance said, referring to a time when most queer creatives and stars, like Burr, needed to stay in the closet to protect their careers. "Della's thinking all the time, 'Oh, she's from this liberated strata of society that I have no access to.' And, actually, it's not."
Although a third season hasn't yet been confirmed, based on calls on social media to renew the show after the finale aired on Monday, fans agree that there's much more to see from the series. That could mean even more fervor around Della and Anita's relationship, which inspired all kinds of internet tributes throughout the season.
"I did say to Juliet, like, 'Watch, they're going to put our character names together' — because I have been on the generating end of that before," Tullock said, joking that the most popular, "Dellita," sounds like an erectile dysfunction medication. 
The series newcomer, who describes herself as a "gay nerd," also foresaw the two being featured in perhaps the most coveted of tributes to an onscreen sapphic romance: the compilation video. 
"Unfortunately, I think this is a product of queer people being starved for representation. But, oftentimes, when there are sapphic storylines, you will end up getting these really amazing fan videos on YouTube, where people will cut all of their scenes together to, like, a Robin song," Tullock said. 
After Rylance inquired about whether their characters have any fan videos, Tullock enthusiastically replied, "Oh, we have many."
"There have been several that people have sent me that were in other languages," Tullock added. "There was one from Brazil, where people had cut our scenes together to a Brazilian love song. That part is really special and satisfying, because we love them so much, these characters." 
For Rylance, who tends to avoid reading much about herself and the show, the highlight of Dellita's fame came in the form of a text message from her married aunts.
"I got a text in March saying, 'Oh, my God, you've made Les Video Channel. Just give up now. You've peaked!'" Rylance said, referring to a popular YouTube channel that posts about onscreen sapphic romances. "That was my favorite thing all year."