The city was still waking up when the slender man in a green jacket showed up at his spot in downtown Manhattan. He barely glanced at the police barricades, the hordes of cameramen, the cops piled up on the street corners.
They were here, outside the courthouse at 100 Centre St., for a historic event: the arrest and arraignment of a former president. 
Abul Kalam Azad was just up the block, getting ready to sell newspapers, candy and lottery tickets. For Azad, one of the city's last newsstand vendors, it was just another Tuesday. 
"I've seen a lot of things," said Azad, 70, as he placed bags of potato chips outside his stand just after 7 a.m.
"Almost 45 years. Every day. Same place."
Follow live updates on the aftermath of Trump's arrest
Azad moved to the U.S. from Bangladesh in 1979 and began working at the newsstand a few months later.
He is blind in one eye and is missing three front teeth. 
The eye he lost to an infection he contracted in his native country. The teeth he lost to a fist thrown by a robber in April 2021. 
"He took my money, my lottery tickets — everything," Azad said.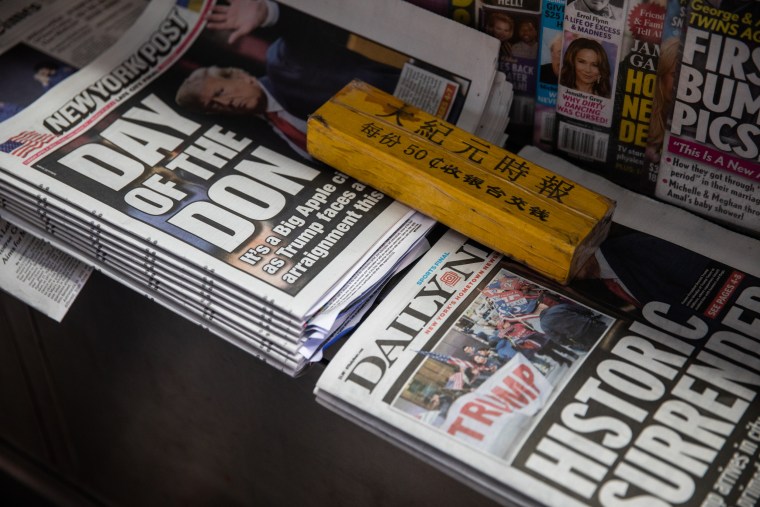 The punch also broke his jawbone, he said, requiring plastic surgery and a steel plate. 
"Still no arrest," Azad added. "But I'm OK. I feel good."
Azad was fully aware that Donald Trump was set to face criminal charges in the building just across the street. But he had no intention of trying to catch a glimpse of the former president.
"Why would I?" Azad said. "I have my business to run."
By 7:45 a.m., a half-dozen people had stopped by his stand to buy lottery tickets and scratch-off games. 
All of them were employees of the New York court system or the city's Correction Department. 
Each one greeted Azad as if he were an old friend, referring to him by his nickname, John.
"Busy day — hey John?" one said, nodding toward the groups of reporters and cameramen on the sidewalk. 
"Not for me," he replied. "It's not busy at all."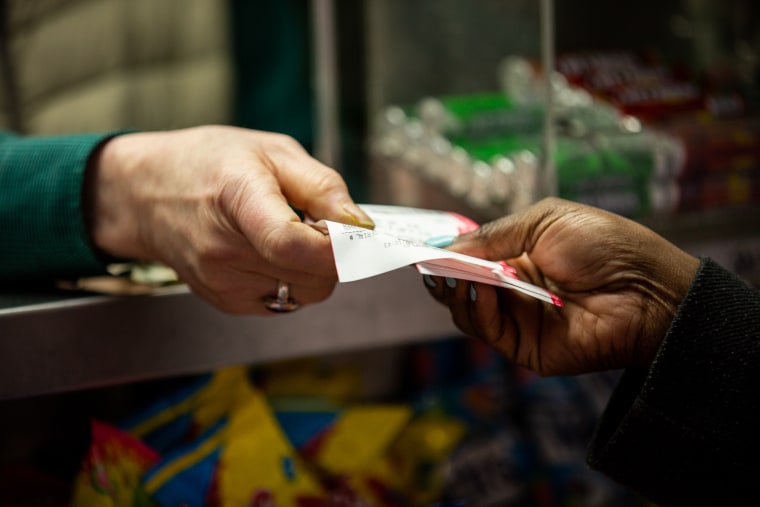 He woke up around 4 a.m that morning, washed his face, brushed his teeth, ate breakfast. 
Azad observes Ramadan, so he made sure to eat before sunrise. Eggs with rice, some fish and vegetables.
Then he said his prayers, got dressed and walked to the F train from his home in Briarwood, Queens. 
About 45 minutes later, he shuffled up to his stand, unlocked the gate and wiped down the counter with a brown napkin. Then he pulled out the potato chips and laid out the newspapers — eight copies of the New York Post, four copies of the New York Daily News, one New York Times.
"Day of the Don," read the cover of the Post.
"Historic Surrender," blared the headline across the front of the Daily News. 
A man in a gray skull cap walked up and bought a $2 scratch-off game.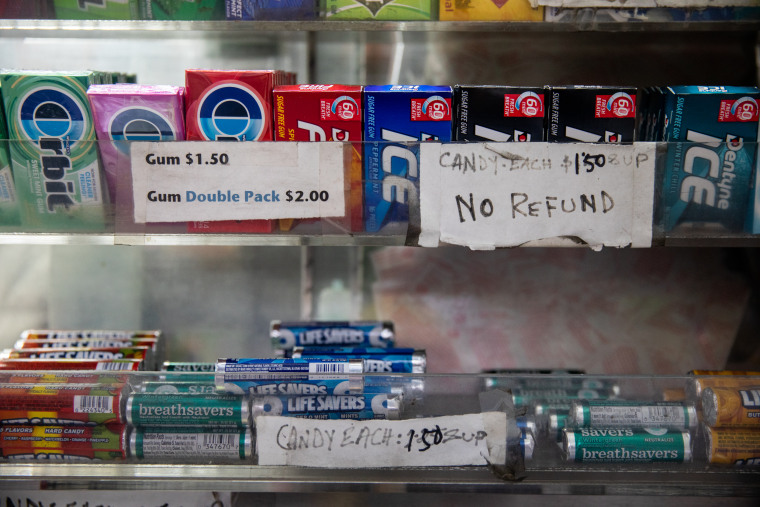 "If you do the crime, you have to do the time — right, John?" he said.
Roughly 90 minutes later, about 10 men appeared across the street wearing white T-shirts that read "Blacks for Trump." A small group of reporters gathered around them.
"We're going to win the election and then we're going to put Hillary's ass in jail, Obama's ass in jail, Oprah's ass in jail," said the ringleader of the group, Maurice Symonette, who lives in South Florida. 
Symonette walked off, and then a Trump impersonator wearing a dark suit and blond wig popped up on the other side of Centre St.
"I call him meatball Ron," the impersonator said, referring to Florida Gov. Ron DeSantis, a Trump rival. "And he's not doing too good."
Azad didn't leave his stand to take a look. He was speaking broken Spanish to a construction worker who bought a $1.25 bag of mixed nuts. 
Throughout the morning, small groups of Trump supporters and counterprotesters milled about in a small park directly across from the courthouse.
Rep. George Santos, R-N.Y., a Trump supporter best known for lying about his background, walked into the park surrounded by TV cameras, as a woman holding a "Trump 24 or Before" sign was speaking to a Danish journalist.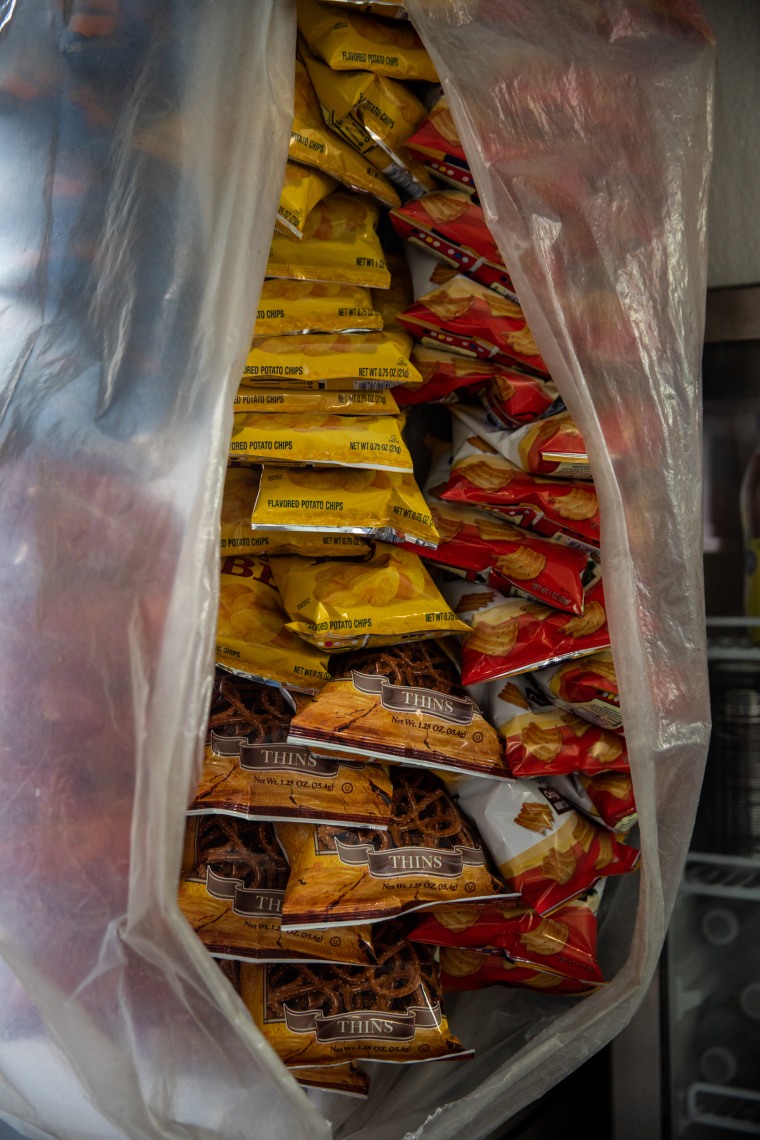 "My father is a CPA," the woman said. "I know Trump isn't a criminal."
Back at Azad's stand, a woman in sweatpants bought a bottle of sparkling water, and a man smoking a cigarette stopped to ask "John" how he was doing. 
"Happy to be alive," said Azad, who is married and has two grown children, both of whom served in the Army. 
His son is getting his Ph.D. to be a research scientist. His daughter is studying to be an accountant. 
"God is good," Azad added.
He had triple-bypass surgery in 2018. Since then, his wife and kids have been hounding him to give up the newsstand and take some rest. But Azad can't imagine not being here, chatting with all of his friends in uniform. 
"Business must be booming," a police officer said to him. 
"Nope," he replied, nodding toward the reporters camped out nearby. "They're cheap."
When Trump arrived at the courthouse, a woman wearing a diaper and not much else was giving an interview to a man pretending to be a TV reporter. 
Up the block, Azad stepped out of his stand, which is about the size of an airplane bathroom, and surveyed the crowd. From this very spot, he has experienced blackouts, protests, 9/11.
He has exchanged friendly banter with celebrity lawyers like the late Johnny Cochran and listened to court workers gossip about Martha Stewart following her trial in 2004.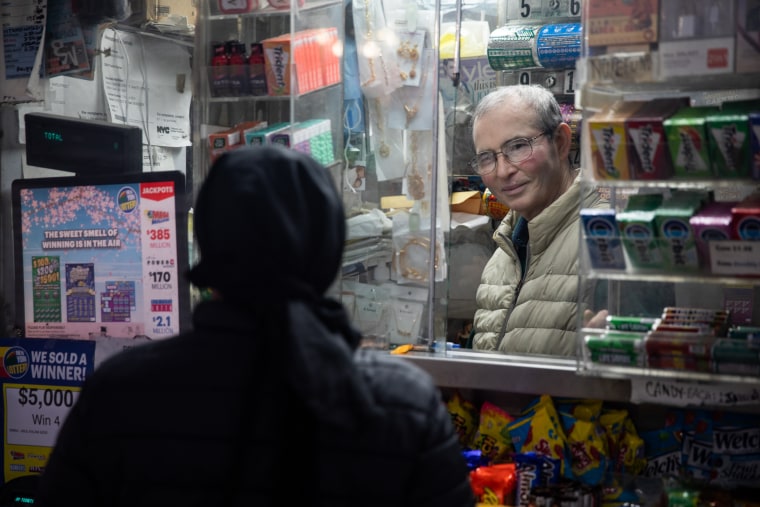 Staring out at the throngs of protesters and onlookers on Centre St., Azad shrugged.
"Black Lives Matter protests — many more people than this," he said. 
By the time Trump left the building, the newspapers had been sold and Azad had filled the cooler with a new round of water bottles. 
The crowd quickly thinned out. 
The 70-year-old man, with one eye and a compromised heart, would stay until sundown. 
"I don't make a lot of money, but I love to work," said Azad. "I'm not going to stay home and die faster."
"All the judges, police officers — everybody is nice to me. They like to see me. And I like to see them."