NIAMEY, Niger — Thousands of protesters supporting a coup in Niger took to the streets on Sunday and attacked the French embassy as West African governments warned of possible military action to restore democratic rule.
Demonstrators in the capital, Niamey, many waving Russian flags, smashed windows at the French embassy and set a perimeter door on fire but never breached the walls of the embassy compound
Protesters filled the Boulevard de la Republique and several other main thoroughfares in the capital, some running, others riding motorcycles, and many packed into vehicles. They blocked cars at traffic circles, backing up traffic on side streets. Some shouted and waved flags, mostly from Niger. 
In a span of several minutes, hundreds of protestors passed us as we watched from a vehicle, before deciding to turn around rather than trying to navigate through the sea of people. The morning also brought another new presence on the streets of Niamey — dozens of police checkpoints.  
Most protesters seemed to support the coup leaders and, for the most part, those who gathered did not seem angry. In fact, many smiled and seemed joyful.
As the demonstrations rocked Niger, West African nations held an emergency summit in Nigeria and announced sweeping sanctions on Niger unless President Mohammed Bazoum was released from detention and returned to power.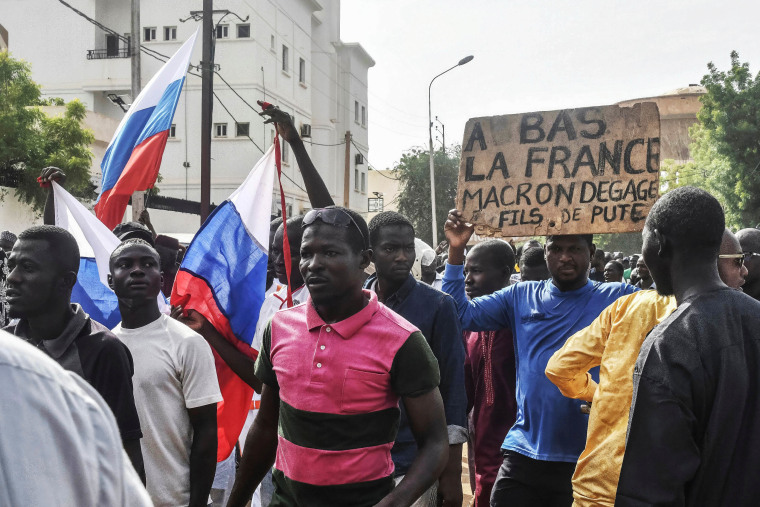 The 15-nation Economic Community of West African States (ECOWAS) gave the coup leaders one week to reverse their seizure of power or face possible military intervention.
"In the event the authorities' demands are not met within one week (ECOWAS will) take all measures necessary to restore constitutional order in the Republic of Niger. Such measures may include the use of force," ECOWAS said in a statement.
ECOWAS said it was suspending all financial transactions with Niger, freezing Niger's assets in central and commercial banks and imposing a travel ban and asset freeze on military officers involved in the coup. 
The army officers who lead the coup in Niger said earlier that the ECOWAS bloc was on the verge of orchestrating a military intervention in the country.
Niger has been the anchor for Western counterterrorism efforts across the turbulent Sahel region, with roughly 1,100 U.S. troops operating drones and training local forces to fight Islamist extremists.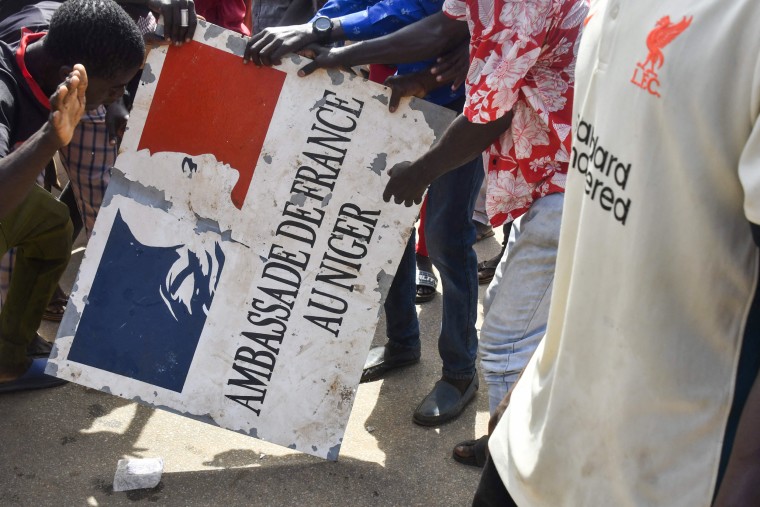 For decades, France ruled Niger as a colonial power until it gained independence in 1960. Paris has retained an influential role since and currently has about 1,500 troops conducting joint operations with local forces against Islamist extremists. A French state-owned firm also operates a uranium mine in the country's north. 
French President Emmanuel Macron said Sunday that assaults on France and its interests would not be tolerated.
"France calls for an end to the unacceptable violence observed today," said the French foreign ministry, adding that it had stepped up security at the country's embassy in Niamey.
France also said it supported the statement from the West African leaders in ECOWAS denouncing the coup.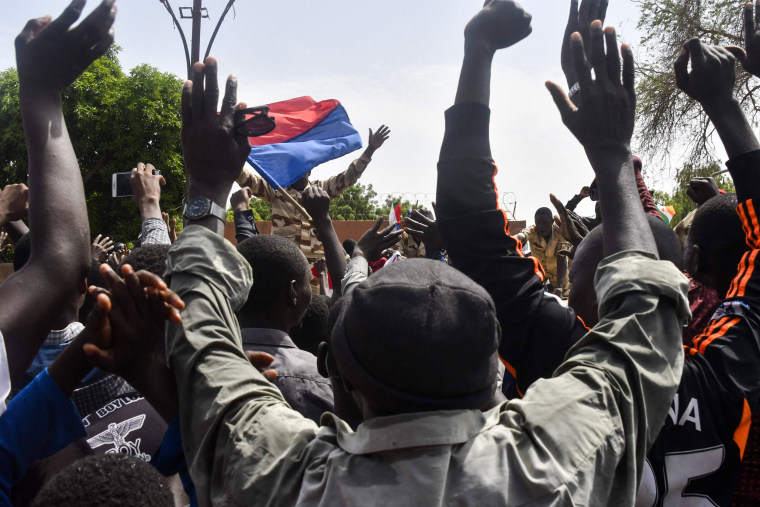 U.S. officials have condemned the military officers' seizure of power but have so far have avoided using the word "coup." Under U.S. law, such a declaration would require halting all American aid and ending all security cooperation with Niger.
U.S. officials told NBC News the situation remained fluid and it was unclear if the coup would hold. But they acknowledged that the strong statement from the ECOWAS summit may have increased tension in Niger.
Secretary of State Antony Blinken on Saturday warned that economic and security ties between the U.S. and Niger would depend on the release of President Bazoum from house arrest and the restoration of "the democratic order in Niger."
Although U.S. officials say there is no sign Russia was behind the coup, former diplomats and regional experts say Russia's paramilitary Wagner mercenary group has churned out anti-Western, anti-French propaganda for months that sought to depict Bazoum's government as puppets of Paris.
Wagner paramilitaries have ties to military juntas in Mali and other countries in the region. Yevgeny Prigozhin, the head of the Wagner Group, which led a brief mutiny in Russia last month, praised the coup in Niger on Thursday, calling it a fight against "colonizers."
Late Sunday night, the streets of Niamey were quiet, with most people adhering to a nationwide curfew in effect for a fifth night. With Bazoum still held captive in his presidential residence, no clear path appeared for resolving Niger's crisis.
Courtney Kube and Mosheh Gains reported from Niamey, and Dan De Luce reported from Washington.