Like any typical 16-year-old, Chloe Kim is currently contemplating a difficult decision: whether she should dye her hair teal or a silvery blue next. Right now, it's blonde. The snowboarding sensation, who is known to rock pink tresses during competition, likes to change things up. The same goes for when she is careening down the halfpipe.
"I don't like doing the same runs," Kim told NBC News. "I like to mix it up a lot."
Sometimes, mixing things up leads to making history, like in February at the U.S. Snowboarding Grand Prix in Park City, Utah. In a stunning run, Kim charged the halfpipe, landing back-to-back 1080s (three mid-air revolutions), making her the first woman ever to do so in a competition and scoring a perfect 100. Impressive, especially since Kim hadn't planned on even attempting the trick.
"It was definitely pretty spontaneous," she said. "I think I did it once at the X-Games during practice. I didn't think I would get it at the Grand Prix. It was pretty crazy actually."
Add it to a long list of "firsts" the young snowboarder — who has been called "the future of women's snowboarding" — has already racked up: first woman under age 16 to win three X-Games gold medals (she earned her second right before the Grand Prix at the Winter X-Games in Aspen, Colorado, and her third in Oslo this year), first U.S. female snowboarder to win gold at the Youth Olympics, first snowboarder to serve as flagbearer for Team USA at the Youth Olympic Games.
The now 16-year-old counts big brands like Target, Monster, and Toyota — who gifted her a car before she even earned her driver's license — among her sponsors. In competition, she has bested Olympic gold medal-winning riders like Kelly Clark, who is twice her age.
"She rides with a tremendous amount of amplitude and carries a lot more speed than any other female in the halfpipe," Ricky Bower, head halfpipe coach for the U.S. Snowboarding Team, told NBC News. "She's in a whole different league. There's really no one that can ride like that."
Born and raised in Torrance, California, to Korean immigrant parents, Jong and Boran, Kim started snowboarding at age 4, when her father started taking her to Mountain High, a ski and snow resort in the San Gabriel Mountains about an hour outside of Los Angeles. "When I first started snowboarding, my dad pretty much dragged me into it," Kim said. "I wasn't old enough to be like, 'Oh, I wanna snowboard!,' you know?"
RELATED: Chloe Kim Becomes First Woman to Land Two 1080 Spins, Wins U.S. Snowboarding Grand Prix
It wasn't until later that she started developing a passion for the sport and her ability to ride in different directions — particularly "riding switch" or on her non-dominant leg — and attempting tricks. She started competing at age 6.
"I wanna go to college. I wanna graduate college. Snowboarding is a huge part of my life, but I also feel like it's important to have a plan B or a back-up plan for after my career because I can't snowboard for my whole life competitively."
In third and fourth grade, Kim temporarily moved to Switzerland to live with her aunt to learn French (she also speaks Korean). Her parents would visit during school breaks and take her snowboarding in France. By age 10, she was hitting slopes of Mammoth Mountain in California, where she currently trains and attends high school.
Kim — with an ever-growing collection of medals and trophies, dynamic performances in competition and the general buzz around her — is a favorite to take home Olympic gold in the 2018 Winter Olympics in Pyeongchang, South Korea. But when Olympics talk comes up, she demures, simply saying that she hopes to go (she was too young to compete at the 2014 Sochi games). Her coach is less modest about her prospects.
"Even on [another snowboarder's] best day ever and Chloe on one of her worst days, she would still probably win," Bower said. "She's just riding that good. Going forward, she's got Olympic gold medals in halfpipe and maybe even slope style."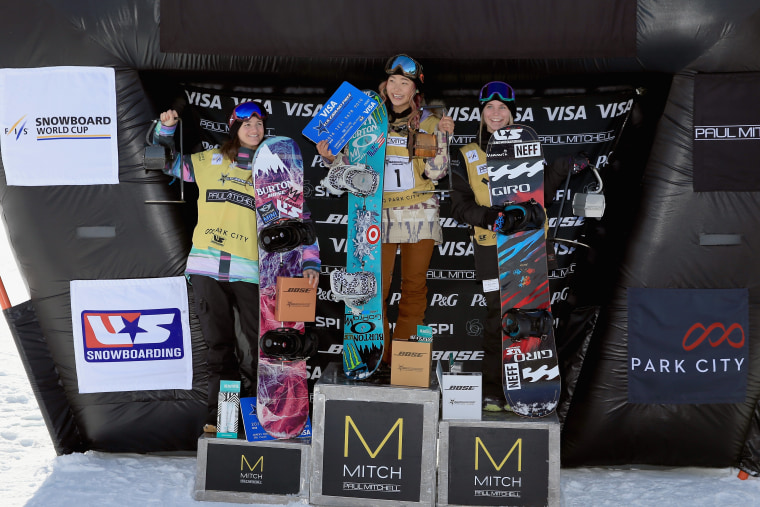 Away from the snow, Kim enjoys life as a normal teenager and counts trips to the mall, where she can shop at her favorite stores (Forever 21, Zara, H&M, and Topshop) and getting her nails done among her favorite activities. Although she trains daily, she doesn't adhere to a strict diet, reveling in trips to fast food joints like In-N-Out and Chipotle and indulging in Korean barbecue when she's home. She's also learning how to battle the ups-and-downs of teen angst, of which she is preternaturally self-aware.
"I'll be really tough on myself," Kim said, laughing. "Someone will be like, 'Oh that's really cool' and I'll be like, 'Yeah, but there's this one flaw.' But I do think that's part of my crazy teenager puberty thing where I can't, like, figure anything out or don't know how to feel about something."
RELATED: 18-Year-Old Kanoa Igarashi is Changing the Face of Pro Surfing
Kim knows it's just a phase and relies on her upbeat attitude to get through the dips. For now, she is focused on training and school. While she won't reveal what tricks she plans to do on the halfpipe next season, she and her coach hint at something big.
"As far as [performing] tricks go, she's leagues ahead of everybody else," Bower said. "She's done switch stance backside tricks, 1080s both ways with grabs. We're trying to perfect what she can do right now to the degree that it's flawless, that she can really hold onto all of her grabs and her spins and execute them with more control and finesse."
Kim is also thinking about what her life beyond snowboarding might look like. She considers becoming a veterinarian one day, if her schedule allows time for the schooling.
"I wanna go to college. I wanna graduate college," Kim said. "Snowboarding is a huge part of my life, but I also feel like it's important to have a plan B or a back-up plan for after my career because I can't snowboard for my whole life competitively."
Follow NBC Asian America on Facebook, Twitter, Instagram, and Tumblr.