From athletes who broke the color barrier in professional hockey and basketball to multisport stars and hometown heroes, Asian Americans have been a part of the United States' sporting heritage.
In honor of Asian Pacific American Heritage Month, NBC Asian America looks back at some of these trailblazers in sports.
Victoria Manalo Draves (1924 - 2010)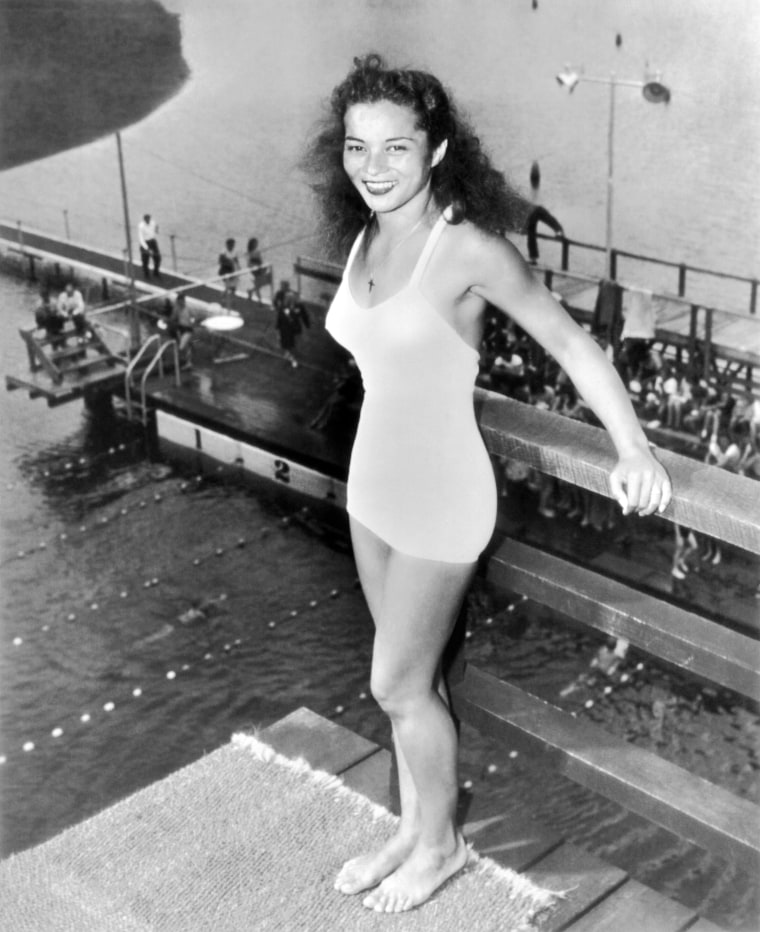 The first Asian American Olympic champion, Victoria Manalo Draves grew up in San Francisco, the daughter of a Filpino father, Teofilo Manalo, and an English mother, Gertrude Taylor.
Interracial marriages were frowned upon in those days, and an early coach made Manalo Draves use her mother's maiden name in competitions.
"When she was young, her mother would say to her and her two sisters, 'You guys look down at the ground, don't look up,'" David Lyle Draves, Manalo Draves' son, told NBC News. "They always had to walk and keep their heads down."
She also faced a regular indignity when using a public pool -- the water would be drained the day after she used it.
"This really hurt my mom," Draves said. "She would actually go to a pool and compete, and after she got done with the meet, they would empty the water out of the pool."
On Aug. 3, 1948, Manalo Draves became the first Asian American to win an Olympic gold medal, placing first in the women's three-meter springboard at the 1948 London Summer Olympics. After the Olympics, Manolo Draves and her husband opened their own diving school. She was inducted into the International Swimming Hall of Fame in 1969.
In April 2010, Draves passed away because of pancreatic cancer. She was 85.
Walter Achiu (1902 – 1989)
Walter "Sneeze" Achiu was perhaps the first great Asian American multisport star.
Walter's father, Leong Achiu, was born in Shanghai, eventually setting in Hawaii, where he met Walter's Hawaii-born mother. Pronounced "a-choo", Achiu's nickname "Sneeze" seemed a natural thing.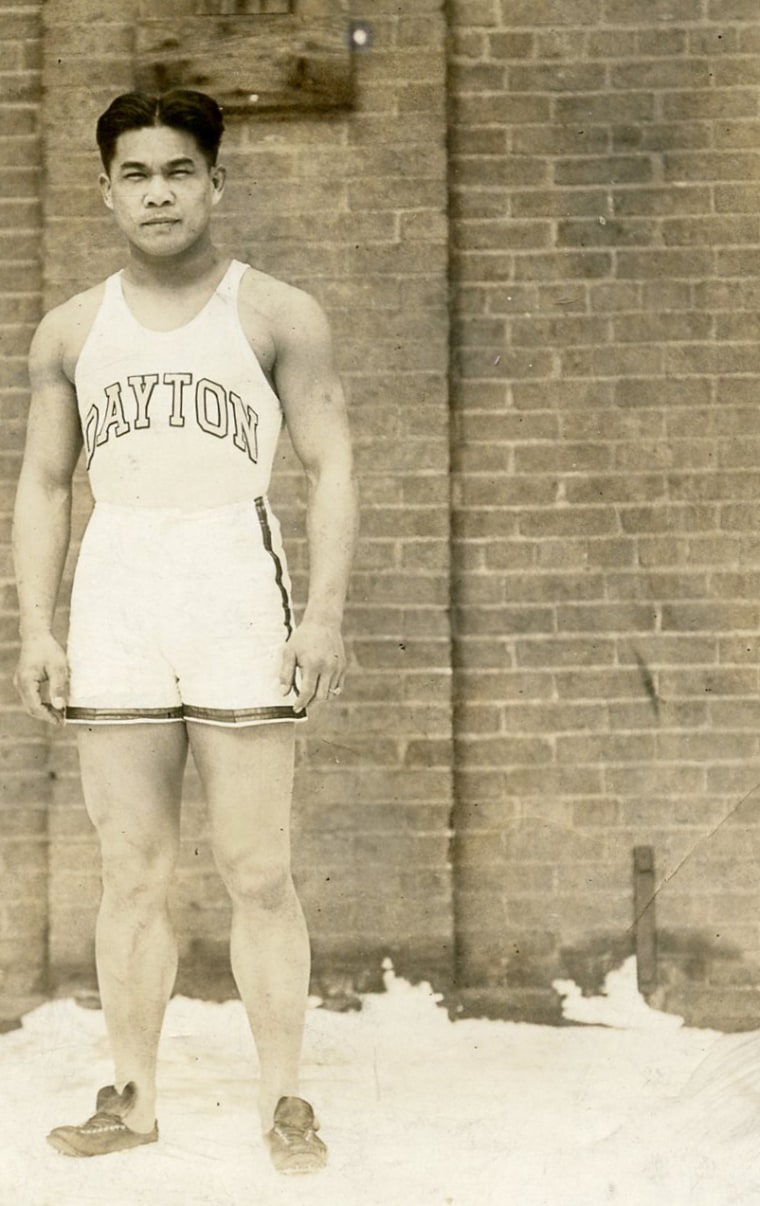 A high school sports star, Walter went to the mainland in 1922 to attend the University of Dayton. The speedy football running back was an All-American honorable mention just three years later. Achiu was considered by the Dayton Daily News to be "the greatest drawing card in the history of the school and also their most popular performer with the fans."
He also starred in baseball, track and wrestling at the University of Dayton.
Achiu reached the National Football League in 1927, playing sparingly for the Dayton Triangles. He's considered the first person of East Asian descent to see NFL action, according to the Washington Post.
Achiu would go on to become a professional wrestling champion, competing into the 1950s.
He was named to the University of Dayton Athletic Hall of Fame in 1974, passing away at the age of 86 in 1989 in Honolulu.
Wataru Misaka (1923 - )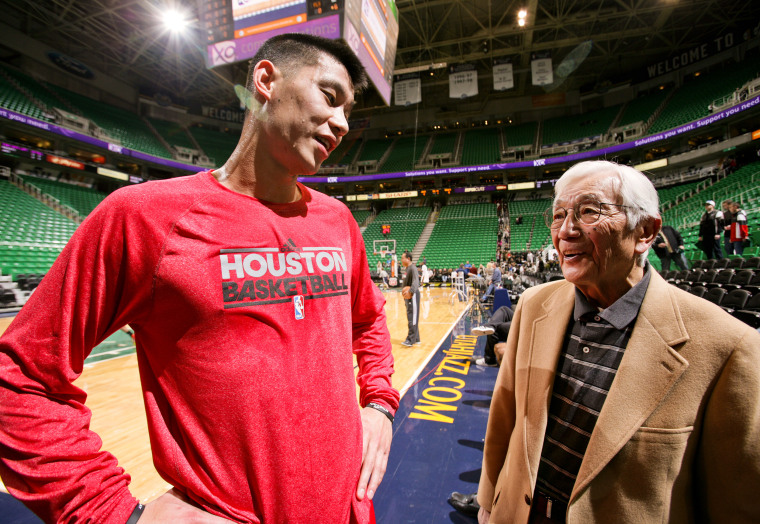 Japanese American Wataru "Wat" Misaka was playing for the New York Knicks at Madison Square Garden over 60 years before "Linsanity."
Selected by the Knicks in the 1947 Basketball Association of America Draft, Misaka became both the first non-white player and first player of Asian descent to play in this precursor league that would become the National Basketball Association.
Because Misaka was from Utah, he was not forced into an incarceration camp during World War II. Instead, Misaka enjoyed a distinguished college career, helping the University of Utah win two national titles. In the 1947 NIT Championship, Misaka was credited with holding All-American Ralph Beard to just one point, leading the Utes to an upset victory over powerhouse Kentucky.
Misaka, however, played just three games for the Knicks in November 1947 before being waived.
"The Knicks had three starting guards already when I joined the team, so there was a certain amount of animosity as players were competing for their positions," Misaka told the Japan Times last year, recalling the circumstances of his departure. "I had been signed by Ned Irish, the Madison Square Garden VP, unbeknownst to the team manager."
He declined an offer to play with the Harlem Globetrotters and went back to school to get his engineering degree.
"The salary for a rookie and the salary for starting engineer weren't much different," Misaka told Sports Illustrated in 2012.
The 95-year-old Misaka now resides in Utah.
Larry Kwong (1923 – 2018)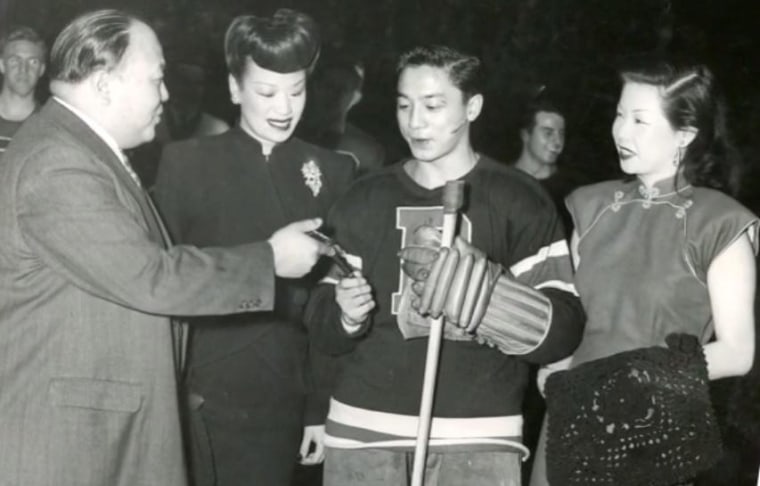 A year after Jackie Robinson broke baseball's color barrier with the Brooklyn Dodgers and Wat Misaka broke basketball's with the New York Knicks, Larry Kwong broke hockey's with the New York Rangers.
Hailing from Vernon, British Columbia, Kwong was a leading scorer for the Rangers' farm team, the New York Rovers, earning nicknames "King Kwong" and the "China Clipper".
"He was a big box office draw for them," Kwong's friend Chad Soon told NBC News. "On occasion, the Rovers would outdraw the Rangers at Madison Square Garden."
In March 1948, Kwong appeared as if he was getting his big break. He was summoned by the Rangers to take on the Canadiens at the Montreal Forum. However, the first period passed, and Kwong didn't play. The second period passed, and Kwong didn't play. Finally, in the third period, Kwong got on the ice for exactly one shift.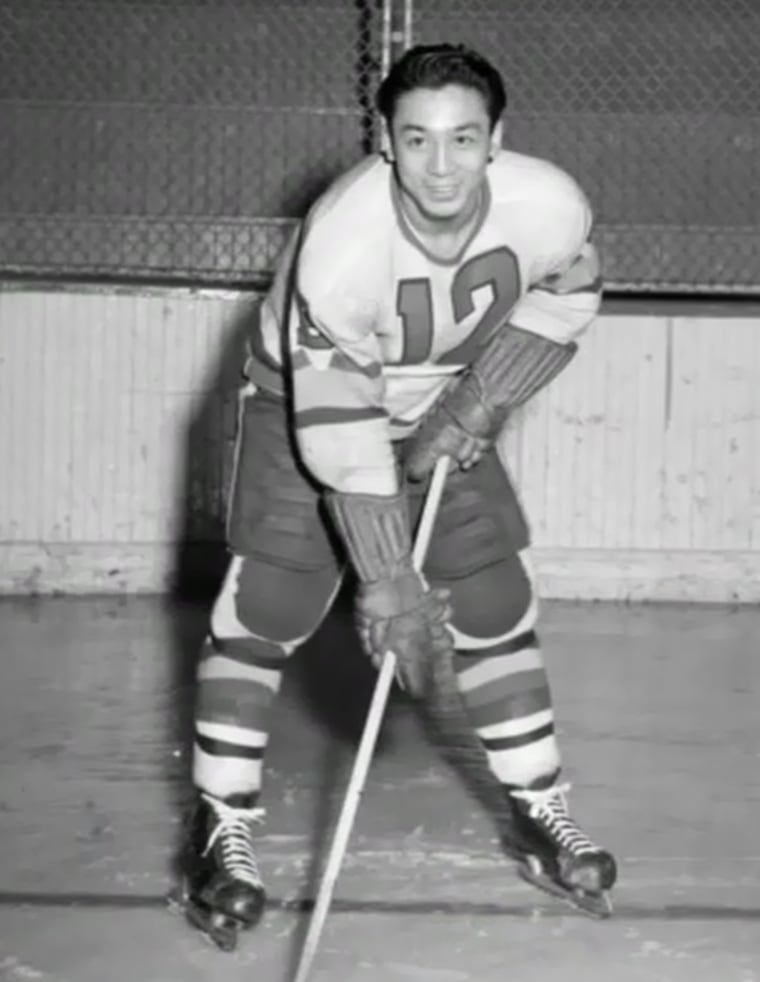 He was sent back to the Rovers the next day after one NHL shift.
"How can you prove yourself in a minute on the ice?" Kwong asked The Globe & Mail in 2014. "Couldn't even get warmed up."
Soon noted, "Back in 1948, it was hard to catch a break when you looked like Larry did."
Seeing the writing on the wall, Kwong left the Rovers for more lucrative professional opportunities elsewhere.
He played and coached in Europe. When he was hired as player-coach of Switzerland's HC Ambrì-Piotta, he became the first person of Chinese descent to coach a professional hockey team, according to the Calgary Herald.
He also coached tennis in Switzerland.
Kwong died in March 2018 in Calgary. He was 94.
Soon, however, is keeping Kwong's legacy alive. He started a Larry Kwong Appreciation Society on Facebook and is spearheading efforts to get Kwong inducted into both Canada's Sports Hall of Fame and the BC Hockey Hall of Fame.
Wally Yonamine (1925 – 2011)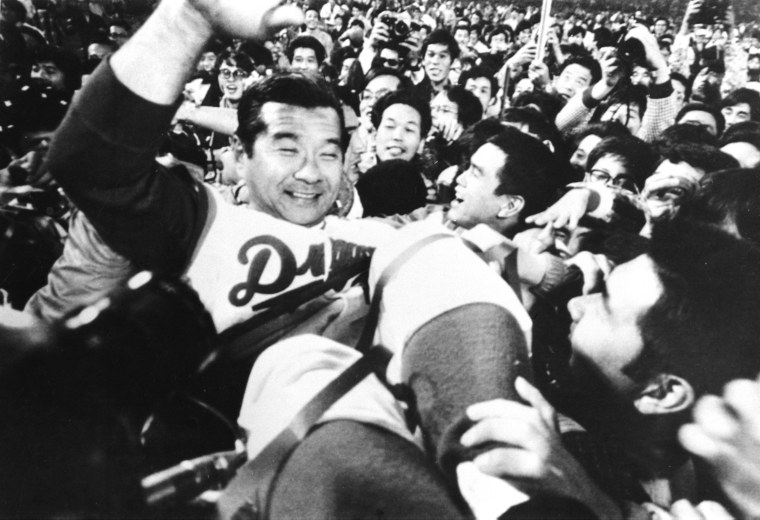 Japanese American Wally Yonamine faced discrimination from two fronts as a professional athlete.
In 1947, Yonamine was a running back making his debut for the San Francisco 49ers.
"Sometimes when the opposing teams would gang-tackle him, they would punch him, kick him, or pinch him," recalled Bill Mizuno, Yonamine's friend, in "Wally Yonamine: The Man Who Changed Japanese Baseball" by Robert K. Fitts.
After a wrist injury, Yonamine decided to focus on baseball.
In 1951, Yonamine was an American outfielder making his debut for the Yomiuri Giants.
"When the Giants wanted to import an American player, everybody agreed they didn't want a Caucasian American," Fitts told NBC News. "It was still in the middle of the occupation and they felt it wouldn't be good publicity. So they looked for the best Japanese American they could find. That was Wally.
"When he got there, he got chants of 'Yankee, go home' because he was a foreigner. There was also that added issue of being a Nisei," Fitts added, using the Japanese language term for second generation Japanese Americans. "Wally felt that some Japanese really resented that American Japanese did not join their mother country and fight against the Americans."
Yonamine overcame this early resistance to enjoy a long and distinguished baseball career in Japan. He was an 11-time All-Star and became the first foreigner to be a manager. He was also inducted into the Japanese Baseball Hall of Fame in 1994. Yonamine is the only American admitted into the Hall as a player.
He died in Honolulu in 2011, at age 85, because of prostate cancer.
Tiffany Chin (1967 - )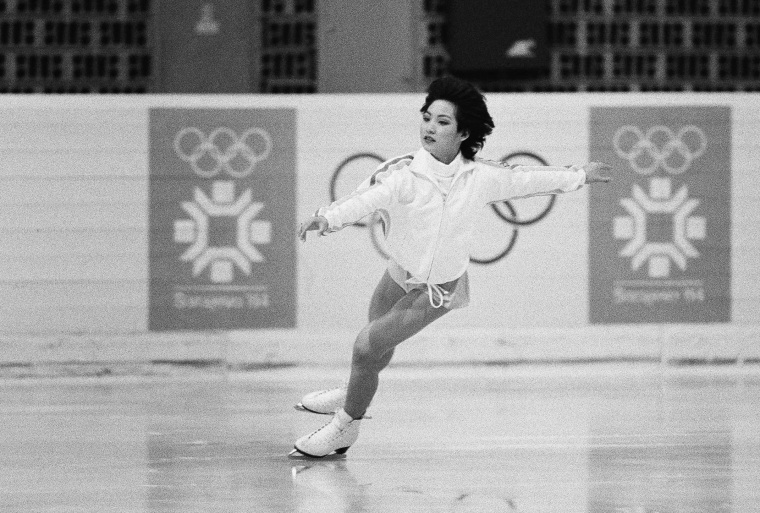 Tiffany Chin became the first Asian American U.S. figure skating champion when she won the 1985 U.S. Figure Skating Championship.
Born in Oakland, California, Chin also won bronze medals at the 1985 and 1986 World Figure Skating Championships and placed fourth at the 1984 Sarajevo Winter Olympics.
She has also been cited as a major role model by Kristi Yamaguchi, the 1992 U.S. champion and 1992 Olympic gold medalist.
"I think it was so key for me to have an Asian American role model and influence to pursue skating," Yamaguchi told NBC News in February 2018.
Bobby Balcena (1925 – 1990)
When 30-year-old Bobby Balcena stepped up to bat for the Cincinnati Redlegs (now Reds) on Sept. 16, 1956, at Brooklyn's Ebbets Field, he became the first Filipino to appear in a Major League Baseball game.
Ebbets Field was a long way away from the sandlots of Southern California, where the 5-foot-7-inch outfielder grew up playing ball at San Pedro High School. The World War II veteran spent eight years in the minors, bouncing from Mexicali to Toronto to Seattle, before his big league debut in Brooklyn.
"I wasn't up there long. But I was there," a smiling Balcena told the Los Angeles Times .
Balcena struck out against the Dodgers' Sal Maglie, but he had struck a massive blow for Asian Americans in sports.
"As little as he is, he was one helluva football player at San Pedro High as well as a super baseball player," classmate Pete Bentojova recalled. "If he had only been a little bigger, he would have been one of the immortals."
Balcena spent two weeks with Cincinnati, then another six seasons in the high minors with teams from Hawaii to Buffalo.
The 64-year-old died of natural causes in 1990.
Follow NBC Asian America on Facebook, Twitter, Instagram and Tumblr.