Borcheng Hsu was already a pro at promoting professional sporting events when Jeremy Lin arrived at the Brooklyn Nets in 2016.
Hsu, 41, had cut his teeth earlier on baseball, helping to drum up ticket sales for an annual Taiwan night with the New York Mets. He has brought that expertise to the Nets, a team whose injured Lin is one of a small cohort of players of Asian descent currently in the NBA.
Basketball transcends geographical boundaries and allows us to connect with communities around the globe.
In exchange for selling hundreds of tickets through his nonprofit, the Taiwanese American Council of Greater New York, which works to boost Taiwanese-American culture, Hsu got to line up some of the singers and performers for the game, he said.
In January, for the second annual Taiwan Night, that meant flying in Jason Wang — a professional vocalist, music teacher, and a finalist on season eight of "Master Chef" — to sing the national anthem with a group of schoolchildren.
"I have to look for attractions for people to remember the event," Hsu said.
Organizers like Hsu play a role as NBA teams grow their fan bases, among them Asian Americans and Pacific Islanders.
Heritage nights have become common at NBA games across the country, complete with promotional giveaways and cultural performances. The Sacramento Kings have hosted Bollywood Night, the Golden State Warriors Filipino Heritage Night, and the Toronto Raptors Asian Night. Other franchises have similarly followed suit.
For the event organizers, an NBA game offers a primetime venue to promote a country's culture to a large audience, while the teams get to tap into their hometown diversity and a pool of potential new fans, some unfamiliar with basketball.
Sometimes, like in Hsu's case, discounted tickets for decent seats are offered through group sales.
"Usually heritage night is a marketing drive, basically just trying to push tickets," said Alex Peng, a veteran sports journalist who writes a column for the World Journal, a Chinese-language newspaper in the United States. "But you have to think about how do you actually use the hook to get people."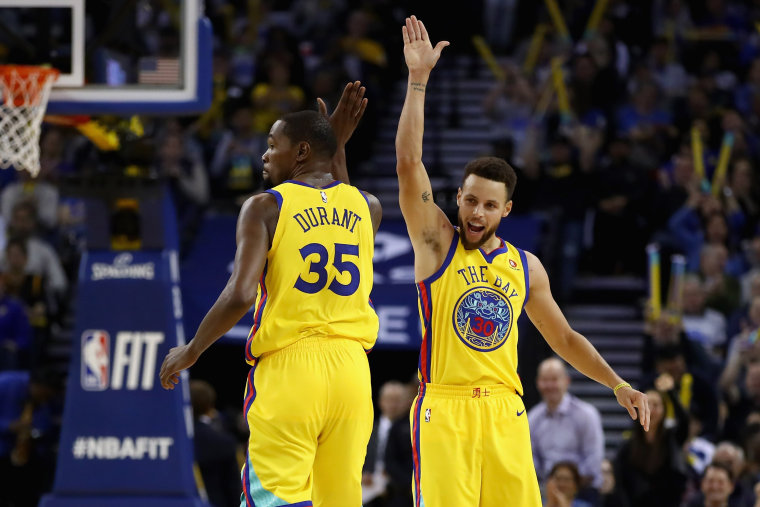 While heritage nights are usually handled by individual teams, the NBA organizes a league-wide Chinese New Year celebration, now in its seventh consecutive year, which runs this season from Feb. 2 to March 3.
Among other things, it includes 12 NBA teams ushering in the Year of the Dog with Chinese New Year-themed events at their home arenas, along with the Warriors and Houston Rockets wearing uniforms with Chinese characters and symbolism.
NBA fans in China will also get to watch 93 live games — an increase compared to other periods of the year — broadcast on different platforms, as well as Chinese New Year TV spots featuring players Anthony Davis, Kyrie Irving and Kawhi Leonard.
"The NBA Chinese New Year Celebration has become a wonderful occasion for the league to celebrate and connect with Chinese fans around the world," NBA China CEO David Shoemaker said in a statement.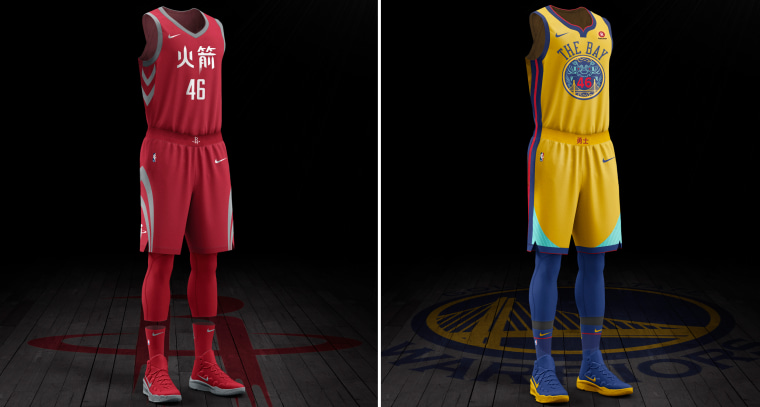 China remains the NBA's biggest market, according to the league, which maintains offices across Asia, including China, the Philippines, and India. The NBA's partnership with China Central Television, the country's national TV station, dates back more than three decades, the league said.
Last season, more than half of the country's roughly 1.4 billion people watched NBA programming on television in China, according to the league. It's also the most followed sports league on Chinese social media, with more than 141 million followers.
The game's roots in China run deep, having been introduced by missionaries shortly after its invention in the late 19th century, NBA China said. It survived through some of the country's most tumultuous times, including the Chinese Civil War and Cultural Revolution.
That enthusiasm bore fruit when, in the early 2000s, Wang Zhizhi of the Dallas Mavericks became the first from China to play in the NBA. Others followed, among them the legendary Yao Ming of the Houston Rockets.
Peng, the sports journalist, said the NBA has grown into a lifestyle in China.
"Everybody is talking about, 'Did you watch the ball game last night?'" he said. "That's very, very interesting because fans in the United States don't necessarily follow every single game."
As the league continues to mine the burgeoning China market, teams in the U.S. have been cultivating their own fan bases across the Asian-American and Pacific Islander spectrum.
To connect with Chinese speakers, the Nets manage an account on Weibo, a popular Chinese-language microblogging platform, that now boasts close to 2.2 million users. The team's website is also translated into simplified Chinese.
In addition, the Nets last year produced short videos of its players and head coach Kenny Atkinson wishing fans a happy Chinese new year in Mandarin. According to the NYC Department of City Planning, the Big Apple has the largest Chinese population of any city outside of Asia.
"If you want to do marketing, you want to create buzz," Peng explained. "The NBA actually keeps on creating new buzz, giving you a lot of fresh stuff you can always talk about."
There are also heritage nights. The extent to which such events drive overall ticket sales was not immediately clear. The Nets, for instance, noted that not all purchases for heritage nights are through group sales, nor are all group sales for heritage nights because of the theme.
A little more than a week before Lunar New Year, Barclays Center played host to a Chinese Heritage Night on Feb. 6. It included player introductions in Mandarin and a Chinese-American Nets dancer who sang the National Anthem.
Lin, who is rehabbing in Vancouver, met earlier with three fans from NBA China's fan loyalty program who were flown into New York, and he made dumplings at a restaurant, an event that was live-streamed on the NBA's Weibo account.
"The Nets are a global team, and we are always looking for creative ways to expand our fan base, such as through heritage nights," Brett Yormark, CEO of Brooklyn Sports & Entertainment, the company that manages the Nets, said in a statement. "We have seen significant brand affinity from the Asian community, and it remains a focus of ours to continue to nurture growth in such a critical market."
Lin's arrival to the Brooklyn Nets in 2016 has also spawned two Taiwanese heritage nights, according to Hsu. Both of Lin's parents are from Taiwan.
Hsu said a lot of preparation goes into making the night happen.
First, there's the entertainment, which Hsu said he had a hand in arranging. The team secured the corporate sponsor, he said, which was Kenda Tires, a Taiwanese tire manufacturer. Jeremy Lin bobbleheads were handed out to the first 10,000 fans at the Jan. 8 game against the Toronto Raptors.
Hsu's organization also set up a booth, handing out literature about Taiwan, he said.
In exchange, Hsu had to sell tickets, he said, which itself came with some risk.
"Basically, I needed to put all these tickets on my credit card before they were sold," Hsu explained.
Hsu declined to say how many he had to buy upfront, but said he was able to move them all. The seats went for between $45 and $60 a piece, Hsu said, in sections close to the action that full price might run $75 or more.
To sweeten the pot, for every four tickets bought, one child was permitted to go onto the court to high-five players and stand with them during the national anthem, Hsu said.
The seats, combined with seeing the kids take the court and Taiwan's culture on display, made the night special for those who attended, said 42-year-old Alan Tai, a Jeremy Lin fan who was present with his wife and son.
It also provided an entree into basketball for the uninitiated who bought tickets through Hsu, Tai added.
"Most likely, they're going to go back to the game," he said.
Out on the West Coast, the Sacramento Kings are among the NBA teams that also host heritage nights, and one of a dozen participating in the league's Chinese New Year-themed festivities.
One event that proved especially popular is Bollywood Night, celebrating Indian culture, cinema and music. Last January, the NBA streamed it on Facebook Live for fans in India. Tech entrepreneur Vivek Ranadivé became the NBA's first Indian owner when he purchased the Kings in 2013.
Like the Nets, the Kings have a Weibo account for Chinese-speaking fans. Its website has versions in simplified Chinese and Hindi.
The team also unveiled an alternative court design beginning this season, which includes a Kings crown with the team's name in Hindi and simplified Chinese characters. Those marks can be swapped in or out depending on the team's needs.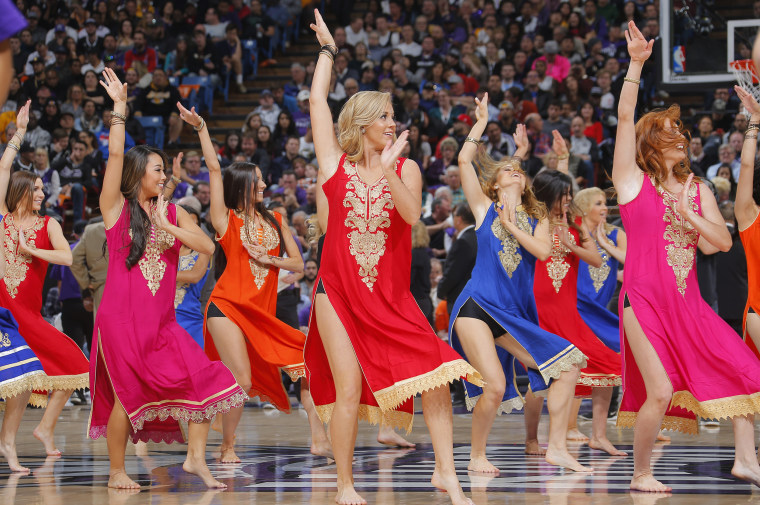 "Basketball transcends geographical boundaries and allows us to connect with communities around the globe," Ranadivé said in a statement. "Through heritage nights like our annual Lunar New Year and Bollywood celebrations, we are thrilled to highlight rich cultural traditions and the diversity of Sacramento to Kings fans in the arena, as well as connect with a growing audience of basketball fans around the world."
Back in China, meanwhile, the NBA's outreach efforts go beyond just getting fans to watch games through the internet or on TV.
"The player developing role right now is much wider than before," Peng said.
The league said it's working with China's Ministry of Education, the Chinese Basketball Association and China's own Yao Ming to grow the game at all levels.
Everybody is talking about, 'Did you watch the ball game last night?' That's very, very interesting because fans in the United States don't necessarily follow every single game.
It has opened three NBA academies in China — elite training centers for top male and female prospects across the country — and is planning to establish an NBA basketball school there in 2019.
The league has also worked with China's Ministry of Education to create a curriculum that incorporates fitness and basketball development, an initiative expected to reach 2,000 schools across 15 provinces and municipalities from the 2017-2018 school year.
While the NBA continues to grow its fan base in Asia, it also searches for new prospects, Peng said. But, he added, the league is not just looking for athletes who are "players" but rather those who are more marketable, like Yao Ming and Jeremy Lin.
"It's not so hard for you to find any basketball player in any place, but if you want to find somebody with something unique, that's very difficult. And I think that's what they're looking for," Peng said. "Yao Ming was a character, he was not only just a player."
Follow NBC Asian America on Facebook, Twitter, Instagram and Tumblr.