The ACLU in Hawaii has issued a travel advisory warning residents they could become targets of racial profiling if they venture into Texas.
The civil rights group fears that the state's new law banning "sanctuary cities" will lead to "widespread racial profiling, baseless scrutiny, and illegal arrests of citizens and non-citizens alike presumed to be 'foreign' based on how they look and sound."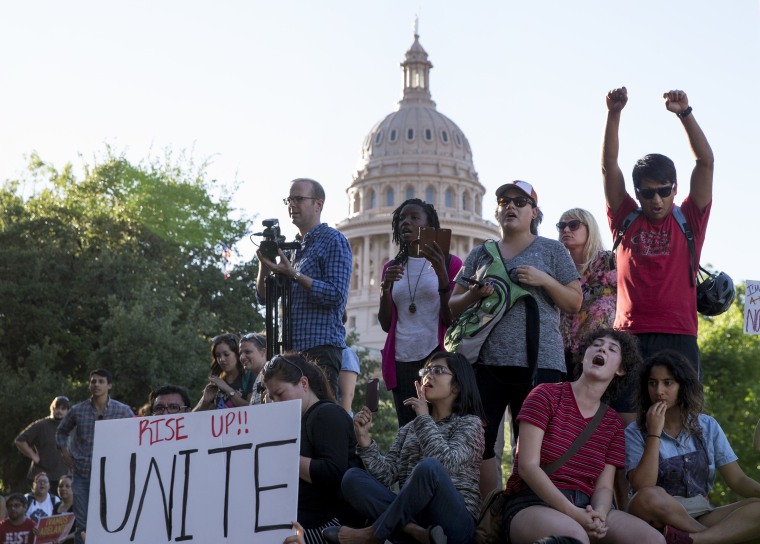 This isn't the first ACLU chapter to issue such a warning — 23 others in states like California, New York, New Jersey, Tennessee and even Texas have done so already. But no state is as diverse as Hawaii, which has its own indigenous people and the largest population of Pacific Islanders in the nation.
"Hawaii residents traveling to Texas need to be prepared for illegal harassment and racial profiling by local authorities when they get there," Mateo Caballero, the ACLU of Hawaii's legal director, said in a statement. "Hawaii is the most diverse state in the U.S. and we pride ourselves on the multitude of cultures represented on our islands. It is a sad day when we feel it necessary to advise our residents that it is precisely that diversity that makes them vulnerable."
Related: Texas Rep. Opens Up About Emotional Plea to Colleagues Voting on 'Sanctuary City' Ban
Hawaii holds the highest population of Native Hawaiian and Pacific Islanders in the U.S., according to figures from the 2010 U.S. Census. But Texas has the fourth highest concentration.
And from 2000 to 2010, the Lone Star state saw a 63.8 percent increase in Hawaiians, many of whom serve in the military, work at airports, and go to school, said Alisi Tulua, chief operating officer for Empowering Pacific Islander Communities, a nonprofit.
They would be especially vulnerable to the new Texas SB4 law, said Tulua.
Related: Texas' SB4 Immigration Enforcement Law: 5 Things to Know
"We are concerned about our families who live in Texas and for those who frequently cross state lines from Utah, Arizona, California, and Nevada, to visit their families," Tulua told NBC News. "With the enforcement of SB4 in September and the increase in holiday traveling for our families, there is definitely a concern about this law leading to widespread racial profiling and illegal arrests that will spread terror across our communities."
Signed by Texas Gov. Greg Abbott on May 7, the law authorizes law enforcement officers to ask about the immigration status of anyone they detain. It also requires local law enforcement to obey federal demands to hold suspects for possible deportation and prohibits local governments from adopting, enforcing, or endorsing policies that hinder the enforcement of immigration laws.
Civil rights groups have compared Texas' law with one passed in Arizona in 2010, parts of which were later struck down by the Supreme Court.
"These failed attempts should have been a warning to Texas' state government, who instead chose to ignore the opinions and concerns of local law enforcement and communities throughout the state," Asian Americans Advancing Justice, a national affiliation of five human rights organizations, said in a statement. "Immigrant communities and all Texans should not have to suffer because of bad public policy."
Supporters of the Texas law insist it is necessary to curb illegal immigration.
"I have been working to end sanctuary cities in Texas since my days as a state senator," Texas Lt. Gov. Dan Patrick said in a statement earlier this month. "There is no excuse for endangering our communities by allowing criminal aliens who have committed a crime to go free."
Follow NBC Asian America on Facebook, Twitter, Instagram and Tumblr.