We are not sure what to think when Sensei, in his formal Buddhist robes, takes the microphone and begins to sing the opening bars of "My Way."
"And now, the end is near/And so I face the final curtain/My friend, I'll say it clear/I'll state my case, of which I'm certain..."
Then he laughs, welcomes everyone, and formally opens the Obon festival with a prayer.
The taiko kids jump up to perform on their big drums. The midori band climbs up into the yagura tower. Finally! We dance.
The Obon is a Japanese Buddhist festival to honor one's ancestors (similar to the Chinese hungry ghosts festival), that marks when the Buddhist monk Mokuren learned that he had finally rescued his mother from the hell realm (with thoughts and prayers, plus many good deeds), and he was so filled with joy that he danced.
Every summer, up and down California, across Hawaii, and in cities with large Japanese-American populations, every weekend is marked by an Obon festival at one Japanese-American Buddhist temple or another.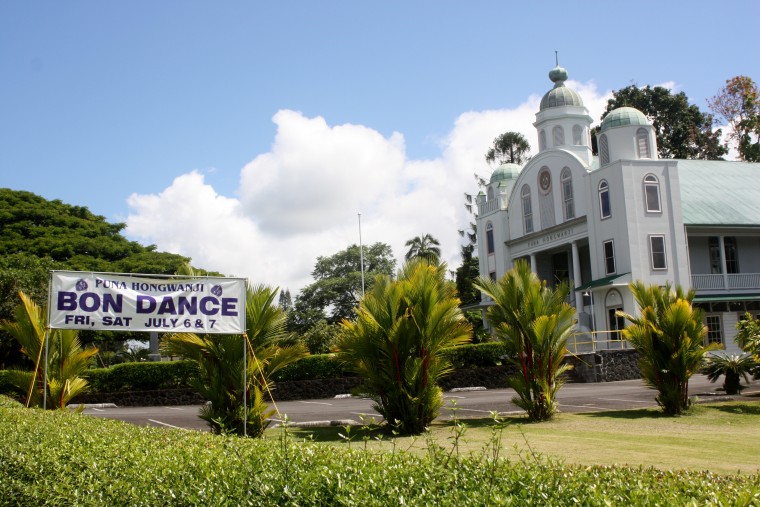 Tonight, at the Puna Hongwanji, the Japanese dance school ladies with their elegant hairdos and matching kimono lead the way, followed by adorable little girls with their perfect curls and Hello Kitty yukata. Everyone from the community is here. Not just the Japanese-American community, but neighbors, friends, classmates. People jump into the circle to dance for a while, and then they jump out to go get something to eat. Teenagers in cut-off shorts are Snapchatting and talking about the upcoming Pokemon GO with their friends as they dance in between their volunteer shifts. The kitchen is a flurry of activity with all the temple ladies making everything happen.
My children decide that they do not want to wear yukata this year, that this year they are just going to eat. With the focus of competitive eaters, they take on Spam musubi, siu mai (pork hash), shoyu pork, lau lau, kalua pig w cabbage, chili bowl, grilled satay chicken, andagi doughnuts, chi chi mochi, and lilikoi shortbread cookies. (Somehow, they forget shave ice.)
"Maybe this is what we need more of: more people coming together to share their festivals and their food and actually getting to know one another, to normalize our differences and create something new."
As I sit with my children in the warm evening air, watching the dancers circle the platform, enjoying the music, and full of good food, I think, "This is what summer means to us." This is our chance to "come home" to Popo's house, be together, rest and recover from the stresses of the year, so that we can start the school year fresh.
Many other cultures must also have outdoor evening festivals in the summer — with dancing and music and food — and I imagine how much fun they must be, with young parents dressing up their little kids in heritage dress, people laughing as they try to remember the dances they sort of learned as children (because they were not really paying attention), grandmas taking over and getting things done.
Maybe this is what we need more of: more people coming together to share their festivals and their food and actually getting to know one another, to normalize our differences and create something new.
Then in a flash, I remember the shooting at the Sikh temple in Oak Creek, Wisconsin, killing six and wounding many in the heat of August, four years ago, while women were cooking in the kitchen. I think of my friends fasting for Ramadan, then gathering with friends and family to break their fast together in the evenings, and how hard that must be with so many Muslim Americans being attacked on their way to the mosque this month.
RELATED: To Mark Shooting Tragedy, Sikhs Organize Annual Day of Service
One second later, I worry about if someone were to find us too weird or too foreign, dancing around in kimonos in a parking lot. A lone figure pops into my imagination, dressed in fatigues, standing with an assault rifle over his shoulder, coldly assessing the scene.
The next second, without even moving my head so that my children do not know what I am thinking, I mentally note the location of the cars behind us that could shelter us, the distance between the cars and the three buildings towards which we could run, the location of bathrooms in which we could hide, and the various escape routes away from the temple and up the hill to safety.
Only three seconds have passed.
Is this what parenting has become?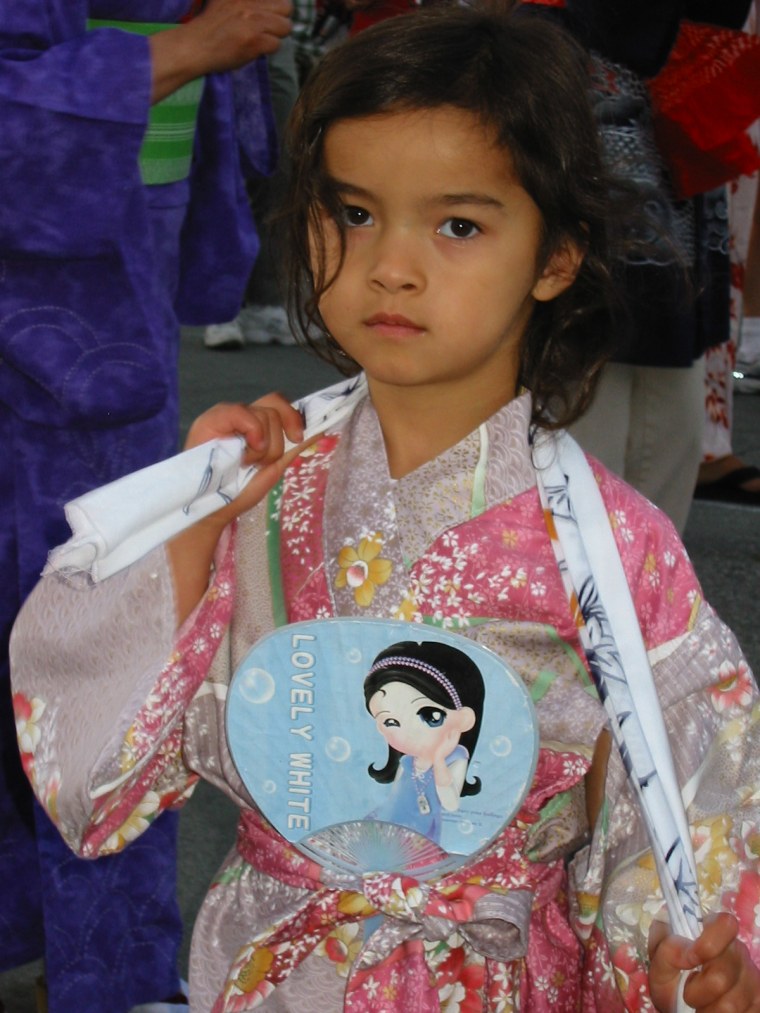 The Obon festival was such a happy summer's evening last Friday. Then came the terror attacks in Dhaka earlier this month, followed by terror attacks in Baghdad, Medina, Jeddah, and Qatif. Monday was the Fourth of July and we went on a picnic and watched fireworks in the rain.
Then came the shooting death of Alton Sterling in Louisiana on Tuesday, followed by that of Philando Castile in Minnesota on Wednesday, followed by the shooting of police officers at a Dallas #BlackLivesMatter protest march accompanied by the blowing up of the suspect on Thursday. Then more #BlackLivesMatter protests and arrests across the country Friday, Saturday, Sunday.
I am exhausted. I am afraid.
Especially as I know that these are just the ones that we know about, just the ones that we are thinking about today. There are also many cases in which Asian Americans experience both hate crime violence and police violence that hurt just as much: Map Kong. Fong Lee. Yong Xin Huang. Chonburi Xiong. Cau Tran. Kuan-Chung Kao. Sureshbhai Patel. Kang Chun Wong. Jessica Klyzek. Baby Bou Bou Phonesavanh.
RELATED: Asian Americans Crowdsource Open Letter to Families: 'Black Lives Matter To Us, Too'
I look at my children and know that it would kill me if ... I cannot even complete the sentence.
So I look for strength in the history of our community, the courage of our elders, the energy of our youth.
Asian Americans have a long history of fighting, surviving, and multi-ethnic and multiracial coalitions, including the farm workers movement and the civil rights movement. We have been there, and many are standing up now with #BlackLivesMatter, calling for solidarity and systemic change — to make this country better, a community for all of us, where we all dance.
Follow NBC Asian America on Facebook, Twitter, Instagram, and Tumblr.
RELATED