Growing up on the island of Oahu in Hawaii, Ann Yoshida always felt at home in the water.
"Water is quite a big part of life. My dad was a fisherman. My mom was a surfer. I come from a long line of people who are in the water all the time," Yoshida, 39, told NBC News. "We learn to respect the water. We learn to know that water can overpower us in so many ways when we don't even know that it can."
"We learn to respect the water. We learn to know that water can overpower us in so many ways when we don't even know that it can."
In September, Yoshida showed both her respect of the water and mastery of water-based sports when she became the first female Paralympian of Native Hawaiian descent to compete in paracanoe at the Rio Paralympic Games. It's the first year the sport was included in the games.
Yoshida previously earned medals at the 2013 ICF Canoe Sprint World Championships in Germany and the 2012 IVF Va'a World Sprint in Canada. She is the first athlete to compete in the sport from Hawaii, where outrigger canoeing has a deep history, as does adaptive water sports.
For Yoshida, competing on the world stage at the most elite level of competitive sports was a dream come true, especially since over a decade ago, she wasn't sure she would ever compete as an athlete again.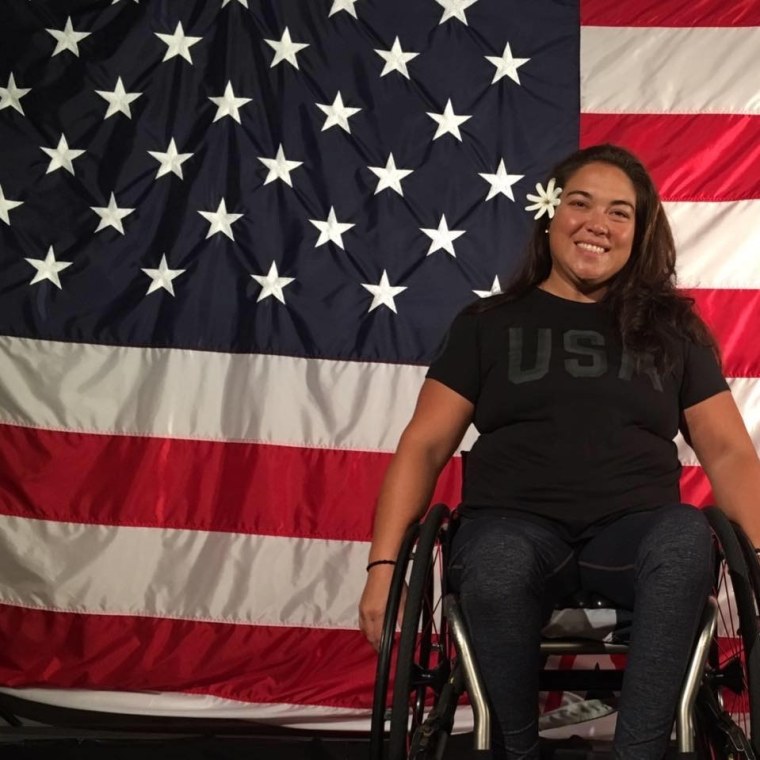 In 2000 while attending school in Utah, Yoshida was in a car accident that left her in a coma for months and paralyzed from the chest down, she said. She also suffered a brain injury and ruptured aorta.
It would be two years before she would try surfing again, but when she did, it was as though she had never left the water.
"Once I started surfing, I was like, 'Oh, I'm me again.' Nothing is different," she said. "I was able to generalize the feelings [about my injury] through exercise in some kind of natural environment." That eventually led to recreational kayaking, hiking and off-road hand-cycling in the mountains, including in the Himalayas.
RELATED: For Olympian Lee Kiefer, Fencing Is a Family Affair
But the road to Rio was a bumpy one. Since she earned her spot on Team USA as an alternate, Yoshida was not entitled to the same funding as her fellow Paralympians. Just a month before the competition, she said she was told she would have to fundraise on her own to cover much-needed travel and equipment expenses.
"Leading up to the Rio Paralympics, Ann did not make time standards to qualify for the same funding as other paracanoe athletes, and due to the limited funding available to our sport, all our athletes had to fundraise on their own. Once Ann was added as an alternate athlete, [her] expenses were paid by the USOC, the same as other Paralympic athletes," Chris Barlow, Team USA Canoe Kayak Sprint High Performance Director, told NBC News in a statement.
In an act of what Yoshida calls "aloha spirit," her friends organized an online donation campaign via RallyMe, a website for people seeking donations for athletic endeavors, eventually raising enough to help get her North Carolina-based coach and equipment to Rio.
"Things that I needed were there exactly when I needed it. It was almost as if there was a divine signature that was stamped on my ability to get places and do things," she said.
But the challenges didn't stop once she got to the games. From the extensive travel, she developed edema in her legs and feet, which posed a challenge when fitting into her boat. When the swelling didn't subside, she landed in the ER.
Yoshida's equipment management was also a challenge since whenever she races outside of the U.S., she uses a borrowed boat.
"That means for every race, she is 'starting from zero' with her equipment — needing to make sure that everything works, re-figuring the foam and supports, assuring that her seat will fit, etc. So, while other competitors are able to concentrate on preparing mentally and physically for the race at the venue, Ann is left on her own without the help of coaches or Team USA staff to fine-tune the details of her equipment," Heather Willoughby, Yoshida's friend and equipment manager, told NBC News via e-mail.
"Both the team manager and team coach in Rio were volunteers and did their absolute best to support all Team USA athletes equally," Barlow said.
RELATED: Amputee Dani Burt Is Surfing Her Way to Championship Titles
The day before her races, Yoshida fell in the water due to the choppy, windy conditions; they didn't subside by competition day.
Yoshida's strategy when she hits the water is to start slowly and charge at the 100-meter mark to the finish line. But she decided to change her strategy during her second race in Rio -- only to have the unthinkable happen.
"When you focus on being normal, you exclude the possibility of being extraordinary."
"I started racing, and I had a great start. I was at about 100 meters — and I flipped," she said, getting teary-eyed. "It was kind of relieving, actually, like, 'Ohh that pressure is off.' But it was quite devastating." She has yet to watch footage from the race.
Like many of the challenges in Yoshida's life, though, she sees her Rio performance as a temporary one and even an opportunity: She was a featured speaker at L.A. Fashion Week this year and says she's in talks to partner with brands as a representative.
She also remains a dedicated scholar and waterwoman. In addition to pursuing her Ph.D. in occupational therapy, Yoshida will be surfing as a member of Team Hawaii at the 2016 Stance ISA World Adaptive Surfing Championship in December.
"I'm Native Hawaiian, I'm a woman, and I have a visible disability, so there are a lot of things that I have to re-educate people on in order to break down stigma and attitudinal barriers," she said.
It's all part of living by her motto: "When you focus on being normal, you exclude the possibility of being extraordinary."
"The magic really happens outside of your comfort zone," Yoshida said. "And if you don't have that opportunity to push that comfort zone, you may not be able to experience the magic."
Follow NBC Asian America on Facebook, Twitter, Instagram, and Tumblr.