Actor and activist George Takei strongly criticized the idea of a "Muslim registry" after an outspoken supporter of President-elect Donald Trump cited internment camps as legal "precedent" for tracking individuals based on faith.
"Registration of any group of people, and certainly registration of Muslims, is a prelude to internment," Takei, who was forced to relocate to multiple internment camps as a child, told MSNBC's Lawrence O'Donnell Thursday night. "A registry is this simple categorization of a people of one faith. In our case, it was people of one ancestry.
"We were American citizens, and yet, because we looked like the enemy, we were treated like the enemy and imprisoned. This is what's going to happen with a Muslim registry, and we as Americans will not tolerate that again."
Takei's remarks come the day after Trump supporter Carl Higbie told Fox News that a "Muslim registry" would be legal in the U.S. and referenced the registration of Japanese Americans, who were also forcibly interned in camps, as precedent for the action.
"Look, the president needs to protect America first and if that means having people that are not protected under our constitution have some sort of registry so we can understand...until we can identify the true threat and where it's coming from, I support it," Higbie said.
Following outcry, Higbie told the New York Times Thursday that internment camps were "horrific," but did not shy away from his claim that a registry of Muslims would be illegal or morally wrong.
"You have to register your car. Most states, like Connecticut, my own, we have to register our guns," Higbie told MSNBC's Chris Matthews. "We have to register a ton of things."
But a spokesperson from Trump's transition team is pushing back on the idea that Trump has ever proposed a registry. "President-elect Trump has never advocated for any registry or system that tracks individuals based on their religion, and to imply otherwise is completely false. The national registry of foreign visitors from countries with high terrorism activity that was in place during the Bush and Obama Administrations gave intelligence and law enforcement communities additional tools to keep our country safe, but the President-elect plans on releasing his own vetting policies after he is sworn in," Jason Miller, communications director for the transition team, said in an email.
Last November, NBC reported that Trump "would certainly implement" a database that would track Muslims in the U.S.. Speaking to NBC News campaign embed Vaughn Hillyard, Trump said, "There should be a lot of systems, beyond databases" and that Muslims "have to be" legally obligated to sign into the database.
Takei was one of the 120,000 Japanese Americans forced from their homes following the Dec. 7, 1941, attack on Pearl Harbor. Takei and his family were moved from converted horse stables in California to an internment camp in Arkansas, and then finally to the Tule Lake Segregation Center until the end of the war.
RELATED: Digital Project Aims to Preserve Stories of Incarcerated Japanese Americans
He urged Americans to write to members of Congress and the president-elect to oppose a registry. "Mr. Higbie used the imprisonment of innocent Japanese Americans as a precedent. Yes, it happened, but it is not a precedent. It is the most disgraceful chapter of American history," Takei said on MSNBC.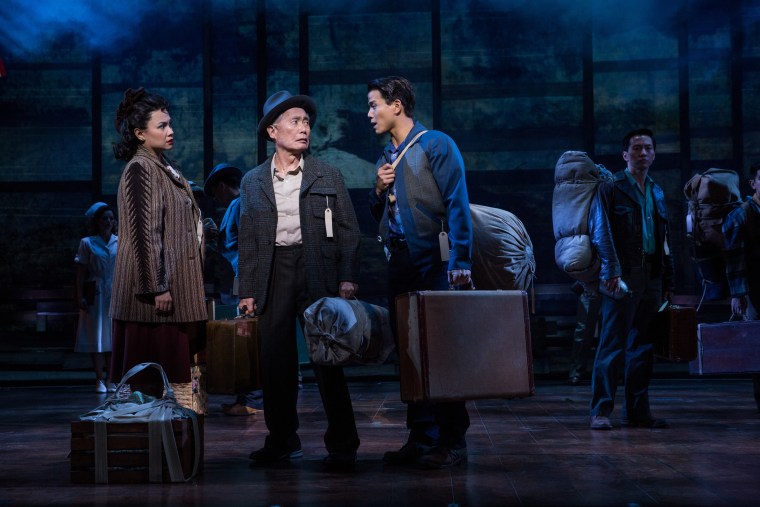 Takei starred in the Broadway musical "Allegiance" in 2015, which told the story of the internment experience. The musical, which closed in February, will be shown in movie theaters on Dec. 13.