Three pieces of legislation — including a resolution to amend Georgia's state constitution to make English the official language — died on the last day of the state's General Assembly session early Friday morning.
A senate bill mandating that motorists with deferred action status apply for a special driver's license and another requiring American citizenship of anyone appointed to local boards, commissions, or councils also failed to make it out of the state's legislature.
"This is a victory for our communities here in Georgia," Stephanie Cho, executive director of Asian Americans Advancing Justice — Atlanta, said in a statement. "We will continue to fight against these discriminatory and unnecessary policies that aim to hurt immigrants and negatively impact our local and state economy in the years to come."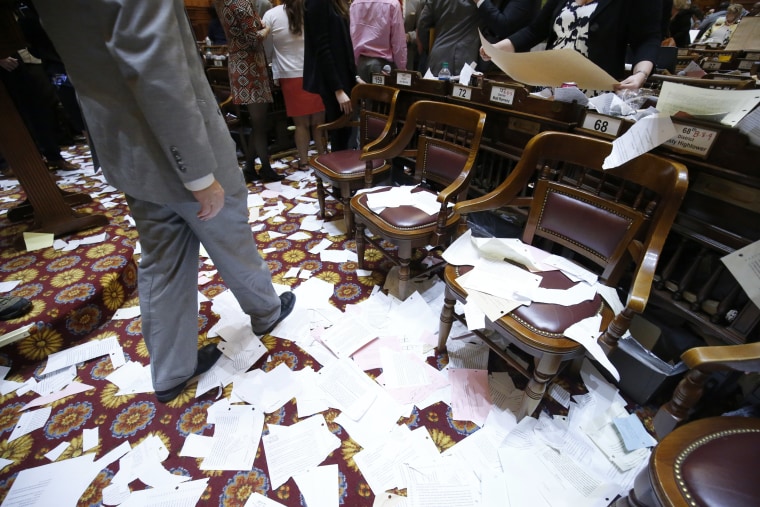 The resolution, which would have prohibited any language besides English from being used for official government purposes, passed the state's senate on Feb. 29 but remained stuck in a house subcommittee. The use of a common language, the resolution said, helps prevent misunderstandings and unify the people of Georgia. In 1996, Georgia state lawmakers passed a bill making English the state's official language, though the senate resolution would have written it into the state's constitution.
Critics, including Asian Americans Advancing Justice — Atlanta, argue that such a requirement would have burdened Georgia residents with limited English proficiency by making it more difficult for them to access government services. Between 1990 and 2010, Georgia ranked third among the top 10 states with the highest growth of limited English proficient residents, according to the Migration Policy Institute, a nonpartisan think tank based in Washington, D.C.
Residents applying for driver's licenses, for instance, would have been required to take the exam only in English, according to the proposed legislation. Other languages, however, could still be used to protect public health and safety and protect the rights of victims of crimes and criminal defendants, the resolution reads.
A bill that also stalled in the General Assembly would have required special driving safety cards for motorists with deferred action status, which temporarily prevents deportation of undocumented young people brought to the United States as children. The card would have functioned the same as a driver's license with one major difference — in block letters would appear the phrases "no lawful status," "not acceptable for official purposes," "not for identification," and "driving safety card."
RELATED: At Immigration Conference, Asian Americans Discuss Language Access, DACA Enrollment
Opponents of the driving safety cards say they would have stigmatized Georgia residents with deferred action status and would have required them to carry other forms of identification. But Republican state Sen. Joshua McKoon, who sponsored the bill, told the Atlanta Journal Constitution that the measure would help prevent voter fraud and terrorism.
The third piece of legislation, later added as an amendment to a senate bill originally on development authorities, would have required that anyone appointed to a local commission, authority, council, or board be a U.S. citizen. The bill passed the state Senate on March 3 and the House on March 16, but it ended there.
Critics say the legislation would have prevented immigrants who are not U.S. citizens from participating in government and would also hurt foreign investment, while proponents argue it would have helped ensure that undocumented immigrants weren't given spots on local boards.
Follow NBC Asian America on Facebook, Twitter, Instagram, and Tumblr.