When Giullian Yao Gioiello was in high school, his friends used to joke that he was so animated that he'd fit in perfectly if he was the only human in a cartoon world. Little did he know that one day, he would find himself surrounded by Jim Henson puppets as the star of "Julie's Greenroom," a kids' show which premiered on Netflix in March.
He plays Gus, the assistant of Miss Julie, played by the one and only Julie Andrews.
"When I was 4, my family won tickets to see 'The Sound of Music' on Broadway, and then afterward we went back and watched the movie and became obsessed with it," Gioiello told NBC News. "I had to stop myself from humming 'The Hills Are Alive' every time I saw her, though one time she caught me doing it."
"It was a big moment for me, realizing that kids are going to watch this show and see an Asian-American lead as being a normal thing. That's rare, and I hope it starts happening more often."
What happens if Andrews catches you humming songs from her classic films?
"Oh I don't know, but I don't want to find out," Gioiello joked. "You don't want to piss off Dame Julie Andrews."
In "Julie's Greenroom," Miss Julie runs a small community theater for children called the Wellspring Center for the Performing Arts. Gus, in addition to being the stage manager, helps teach the students — Greenies, as they're affectionately called — different aspects of arts education, from singing and dancing to writing and costume design, as they learn how to create their own original show.
Gus is the only other regular human cast member apart from Andrews, and when Andrews and her co-creators, daughter Emma Walton Hamilton and Judy Rothman Rofé, were casting the puppets' main mentor, they looked for a young male talent of a diverse cultural background who could sing and dance.
In addition to preparing four songs for his audition, Gioiello also showed them that he could play the guitar, beatbox, rap, and do improv with puppets, he said. It also helped that he could juggle, whistle, and mime — all skills he ended up using on the series.
"It was just one of those serendipitous things where my whole life, I've been that '18- to 25-year-old ethnically-ambiguous male' who could do all these random things that I never had any use for, so when I saw the breakdown, I thought, 'Oh my God, this is me!'" Gioiello said.
Gioiello comes from an artistic family. His mother runs the prestigious Century Contemporary Dance Company in Taiwan, and he credits his Italian-American father, whom he calls a jack-of-all-trades when it comes to the arts, for encouraging him and his twin sister to be creative ever since they were little.
At age 4, Gioiello made an appearance on the "Late Night with Conan O'Brien," in a sketch where he told Conan, playing Santa, that he wanted proof of extraterrestrial life for Christmas, he said. At age 6, he started playing classical guitar. And by the time he was a teenager, he already had his first professional heartbreak, when he voiced Aang on "Avatar: The Last Airbender," but was fired after the first season.
While he was still studying acting at NYU Tisch School of the Arts, he landed his first recurring TV role in "Carrie Diaries," and he recently played Sandra Oh's son in the indie dark comedy "Catfight."
But "Julie's Greenroom" is his biggest role to date.
The show has an international audience, having been dubbed in Mandarin Chinese, Spanish, French, and German, and adults will appreciate the rolodex of celebrities that appear as special guests in each episode, from Idina Menzel and Josh Groban to Alec Baldwin, Ellie Kemper, and Sara Bareilles.
"To spend a month with just one of them would have been life-changing," Gioiello said. "But to meet and interact with all of them was a once-in-a-lifetime experience."
He even gave the legendary Carol Burnett tips on how to beatbox.
"She didn't know what beatboxing was, so I asked, 'Mrs. Burnett, can I help you with beatboxing?'" Gioiello said. "I was in this tiny recording studio with her, our producer, and Julie Andrews, still in her morning robe, and I remember thinking, I can't believe no one's ever going to see this crazy moment. Am I really teaching Carol Burnett how to beatbox? Is that what my life is?"
But most of all, he's proud that the show teaches children both the value of the arts during a crucial time when arts funding is in danger of being cut and also the importance of open-mindedness and acceptance.
The Greenie puppets include a paraplegic puppet named Hank, a gender neutral puppet named Riley, and a black puppet named Spike. In episode two, Spike is having trouble finding inspiration because he doesn't see people like himself represented very often, and he's encouraged to write his own stories in a song called "Let Your Voice Be Heard," one of Gioiello's personal favorites on their soundtrack, which is scheduled to be released online Friday and on CD in May.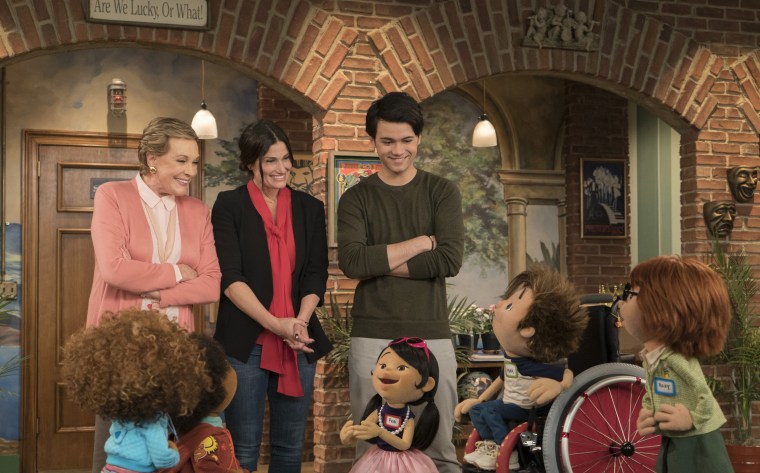 Gioiello is also a singer-songwriter working on his debut EP, which is expected to be released later this year.
"I'm half Asian, but the stereotypes of the nerdy guy or the ninja are still constantly applied to me," Gioiello said. "So it's cool that I'm just playing a positive, caring guy who acts how I act when I'm around my little cousins. It was a big moment for me, realizing that kids are going to watch this show and see an Asian-American lead as being a normal thing. That's rare, and I hope it starts happening more often."
Follow NBC Asian America on Facebook, Twitter, Instagram and Tumblr.