Kathy Xian didn't start Pono Soaps to be just a health and beauty venture. The Hawaii-based ethical soap maker was also created to help relieve some serious social issues.
A subsidiary of the non-profit organization Pacific Alliance to Stop Slavery (PASS), the soap company benefits survivors of human trafficking and the homeless, who are vulnerable to labor and sexual exploitation the organization said. One of the first groups of its kind in Hawaii, PASS is responsible for the passage of 14 anti-human trafficking state laws, according to Xian, who co-founded PASS and is also the organization's executive directer. She added that before that the laws, prostitution was "almost legal" in the state.
In contrast to its image as a paradise, Xian said that Hawaii is a hub of human trafficking, exacerbated by tourism and the presence of the military, two of the state's major economies. "Because of its location, Hawai'i attracts tourists. Because of its geopolitical location, it attracts military groups. Every year, both contribute to rise of sex and human trafficking," Xian told NBC News.
As a means to further support and sustain the work of PASS, Xian started Pono Soaps two years ago as a social enterprise. She learned how to make soaps from a friend and found it to be a therapeutic means of self-care. Believing in the impact of both the product and the process, Xian decided to make more soaps and marry it with her work with PASS, a commitment she's been involved in for more than a decade.
"I've trained volunteers and survivors [of human trafficking] to make the soaps, so that when our business grows bigger, we can start a job program," Xian said.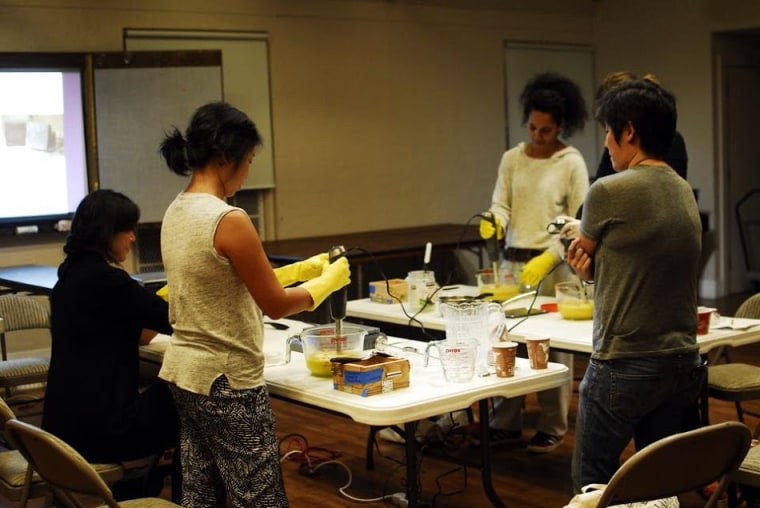 Working out of church kitchens, Pono Soaps help to provide respite for those involved in the production process. "Makers are surrounded by essential oils, so it is a calming, meditative environment," Xian said. "It's fun. It gets people out of their head."
The idea for the soaps initially came from Xian's fieldwork. When doing outreach to homeless women and children, one of the challenges she discovered was the lack of access to sanitation and clean running water. As a result, survivors came down with serious illnesses that could have easily been prevented through proper hygiene, like a small cut that got infected, she said.
"The soaps started first. They were all antibacterial and all-natural, and made with powders from herbs and essential oils. They are more expensive to make than soaps with chemicals, but we wanted to make something that was good for you. We wanted a product that was not coming from a product of deforestation, pesticides, and labor trafficking," Xian said.
After the soaps, the company developed healing balms that counter bed bugs, which can be a major problem at homeless shelters, according to Xian. The balms do the double work of soothing the bites and repelling the insects. Xian also emphasizes the fact that the soaps are 100 percent pesticide free.
Today, the company offers a range of soaps and bath and body products. Best-sellers include a natural antibacterial re-mineralizing toothpaste, an anti-aging balm "Amber Oil," and their Frank & Rose soap.
The soap startup has sealed the deal with a distributor in Hawai'i and is working on building larger scale distribution across the United States.
"The income [from Pono Soaps] has helped fund our programs for PASS, including self-defense classes for survivors of sex trafficking," Xian said. "Pono also helps fund emergency housing and transportation for those in need of those important resources. It has enabled PASS to do more."
Follow NBC Asian America on Facebook, Twitter, Instagram and Tumblr.