Michelle Yeoh has followed through on her promise to bring her new Oscar home to her mom in Malaysia.
Last month, the 60-year-old became the first Asian woman to win the Academy Award for best actress. During her acceptance speech, Yeoh dedicated the award to her 84-year-old mother and other moms around the world, calling them all "superheroes."
The "Everything Everywhere All At Once" star vowed to bring the Oscar home to her mother, who lives in Malaysia, and she just shared two photos from her recent trip. In the first, her mom, Janet Yeoh, proudly holds up the Oscar as she grins from ear to ear.
Michelle Yeoh also made a special trip to her late father's grave with her Oscar in tow. The second photo captures the sweet visit and shows Yeoh clutching the award as she stands close to her father's headstone and a plethora of beautiful flowers.
The actor gave her parents a loving shoutout in the caption, which reads, "Brought Mr.O home…. Without my parents love and trust and support… I wouldn't be here today… love so much ❤️💖✨❤️✨."
Yeoh's fans were touched by the post and sent the actor lots of love in the comments section.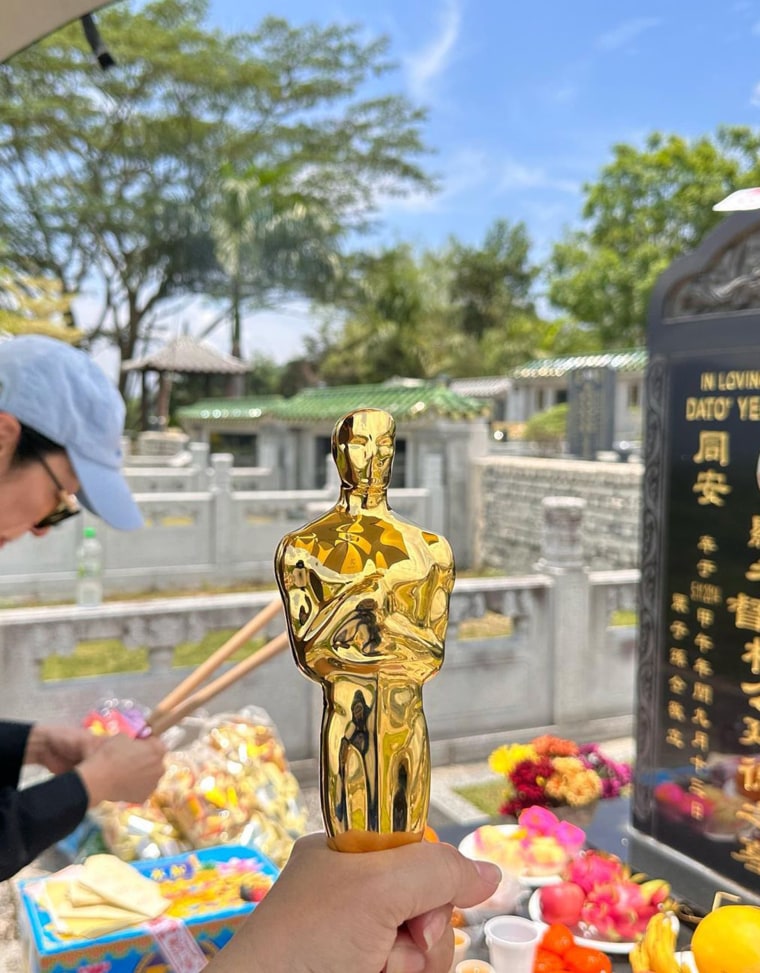 "Wow nice your father will be proud of you also," one person wrote.
"Welcome home @michelleyeoh_official. You made your mama proud. We love you ❤️❤️," another commented.
Many people noted how happy Janet Yeoh looked in the photos. "Your mum's glowing face is worth a million bucks 😍," one fan said.
Some social media users were also moved that the actor paid homage to her parents after winning her award.
"I feel this deeply," one wrote. Another commented, "(your) ancestors are beaming and clapping."
Yeoh's mother is certainly proud of her daughter's accomplishments, and she cheered her on from Malaysia as the 2023 Academy Awards aired. After her daughter's big win, Janet Yeoh shared her reaction with reporters.
"I'm very excited. I'm proud of my daughter," she said, according to The Associated Press. "I love my daughter. My daughter is a hardworking girl." 
Before attending the awards show, Michelle Yeoh told TODAY's Willie Geist that her mother gave her some important fashion advice.
"She just called me the other day. 'If you're going to the Oscars, you must not wear pants,'" she told Willie and laughed.
"She was like 'and don't do this' and 'don't do that' and 'you should keep your hair' and..." the actor continued.