It hadn't been an easy first few weeks for Tasha Kahele's new poke shop in Anchorage, Alaska, but things had been picking up by May, when she received a phone call from a law office and then a letter that she said derailed her progress.
The letter, a copy of which was reviewed by NBC News, purported to be from an attorney representing the Illinois-based Aloha Poke Co., and requested that Kahele's shop, then doing business as Aloha Poke Stop, refrain from using the phrases "Aloha Poke" and "Aloha" to describe the business.
After consulting with her lawyer to confirm that the Illinois' company's 2016 trademark on the phrase "Aloha Poke" was valid, Kahele complied, starting the process to rebrand as Lei's Poke Stop.
"I was angry; I was hurt," Kahele, who was born in Hawaii, said by phone. "I was shocked that anyone could have trademarked those words."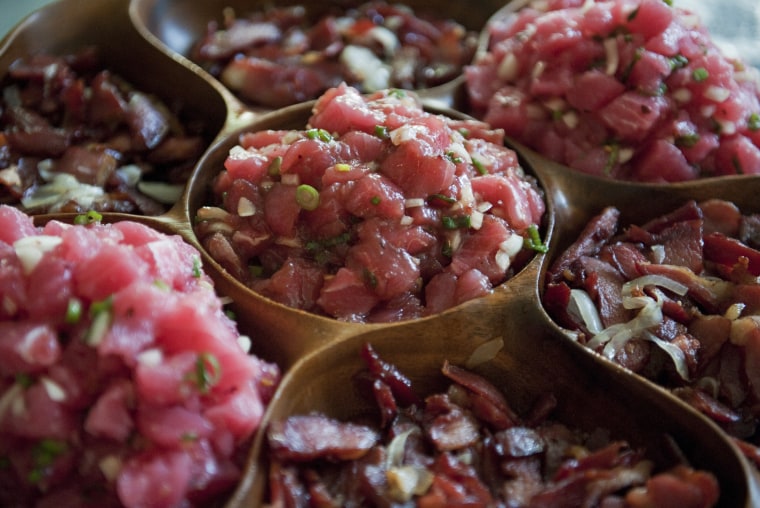 Kahele's case and others like it inspired Kalama O Ka Aina Niheu, a Native Hawaiian activist and medical doctor, to start a boycott and petition against the Chicago company last week.
In a video published on Facebook July 28 that has been viewed more than 75,000 times, Niheu details the cease-and-desist letters and how she said they have affected small businesses, drawing parallels with the historic treatment of Native Hawaiian people and Hawaiian language, which was banned as a language of instruction in Hawaii's schools from 1896 to the late 1970s.
An online petition requesting that Aloha Poke Co. stop using the words "poke" and "Aloha" — which the petition argues belongs to the Hawaiian people as a whole — has more than 160,000 signatures and protests in the Chicago area have been scheduled for the coming days.
"We're not opposed to fusion foods, we're not opposed to bringing things into the new century," Niheu said by phone. "But what we are opposed to is rampant exploitation and harassment, really, of our people.
"Aloha is an incredibly foundational philosophy and concept," she added. "While it's been commercialized and downgraded and ridiculed for a long time, in our tradition, aloha means 'to stand in the presence of the breath of life.'"
A spokesperson for Aloha Poke Co. confirmed that the company owned trademarks connected to the phrase "Aloha Poke" and has previously enforced them through cease-and-desist letters. The spokesperson said the company had no intention to force people not to use the word "aloha" and has not sued any businesses over the word.
"We have been moved by the passionate defense of the Hawaiian culture displayed throughout social media and want nothing more than to assure everyone of the facts in these matters," the company said in a statement published on Facebook last week. "We are truly sorry for all of the confusion that this has caused."
A symbol for Hawaii
Poke, a raw fish preparation often served with rice, a version of which has found popularity in the mainland U.S. in recent years, is a distinctly Hawaiian food, according to Rachel Laudan, a food historian and author of "The Food of Paradise: Exploring Hawaii's Culinary Heritage."
The dish combines the raw fish eating traditions of Native Hawaiians and ethnic groups who came to the Islands in the late 1800s to work on sugar plantations, including people from Japan, Korea, the Philippines, and China.
"Local food" — a term that describes food eaten by residents of Hawaii, including poke — came into prominence in the '70s and '80s as the islands became a U.S. state and members of Hawaii's lower classes, many of whom worked on the plantations, banded together for political power, Laudan said.
Poke found additional prominence as a Hawaii cultural food in the '90s, according to Laudan, in part due in part to the efforts of chef Sam Choy, who has written multiple books about the dish.
Choy said that, while poke's growing prominence on the mainland is encouraging to see, he's skeptical that many of the restaurants serving it are doing so with respect for the food and techniques used in Hawaii.
"You want that growth, but you also want them to understand … you did research, you did your homework. You study it and study well," Choy said.
Regarding Aloha Poke, Choy felt that trademarking the word "Aloha" was an overreach, as if he had "just registered 'Memphis Grill' or 'Memphis Barbecue.'"
"It's a Hawaiian word, it's something that belongs to the people," Choy said.
Krishnendu Ray, an associate professor of food studies at New York University, said that while the discussion around cultural appropriation in U.S. food can be complicated, with, in his opinion, appropriation possibly ethical if a chef puts effort into understanding a culture and understanding the power dynamics that allow them to cook the food for a mainstream U.S. audience, appropriation is much more cut-and-dry when dealing with the food of indigenous cultures.
"The relationship between the American national culture and immigrants at least is recognized from disdain and disgust to some kind of search for authenticity," Ray said. "With relationships to native population, in a sense you can't see anything but massive dispossession. … There's a particular form of insidious use of power of the state to delegitimize a culture."
For her part, Kahele, the poke shop owner, said she hopes people recognize the importance of Hawaiian language and culture to Native Hawaiians and that Aloha Poke Co. stops using the word aloha.
"The word means a lot," Kahele said. "It's really important to us. It's a part of who we are and how we do business."
"Financially, business-wise, we're taking a hit," she added. "And then as a Native Hawaiian, this is a direct insult to be told that we aren't able to use our language in our business."
Follow NBC Asian America on Facebook, Twitter, Instagram and Tumblr.
CORRECTION (Aug. 9, 2018, 5:42 p.m. ET): An earlier version of this article misstated the number of signatures an online petition has collected calling on the Aloha Poke Co. to stop using the words "Aloha" and "poke." The petition has more than 160,000 signatures, not 175,000.