After Typhoon Haiyan (also known as Yolanda) slammed into the Visayas region of the Philippines on November 8, 2013 -- the deadliest typhoon on record to hit that country -- people from across the Philippines and around the world sent relief in the form of food, clothing, shelter, and money. Now, a year later, the Rotary Club of Cebu Port Center (RCCPC) is one of many local organizations still working to help neighbors with reconstruction efforts.
"Instead of giving clothing or food," said RCCPC President Romeo Toledo, "Because there are a lot of NGO's [non-governmental organizations] giving away clothing and food, we wanted to do something with long term impact for the community."
As business people, they knew the importance of empowering communities to support themselves. So they decided to help the local people to get back on their feet with livelihood projects instead of charity.
"For the fishermen," explained Toledo, "The most important is the donation of boats. It is their only source of income."
Most of the fishermen here are subsistence fishermen with simple outrigger or bangka boats who only catch what as they need to feed their families, plus a bit more to sell in the market.
Rotarian Antonio "Tony" Ynoc grew up in the rural northern part of Cebu, the son of a fisherman, and has been instrumental in the Rotary's reconstruction work there.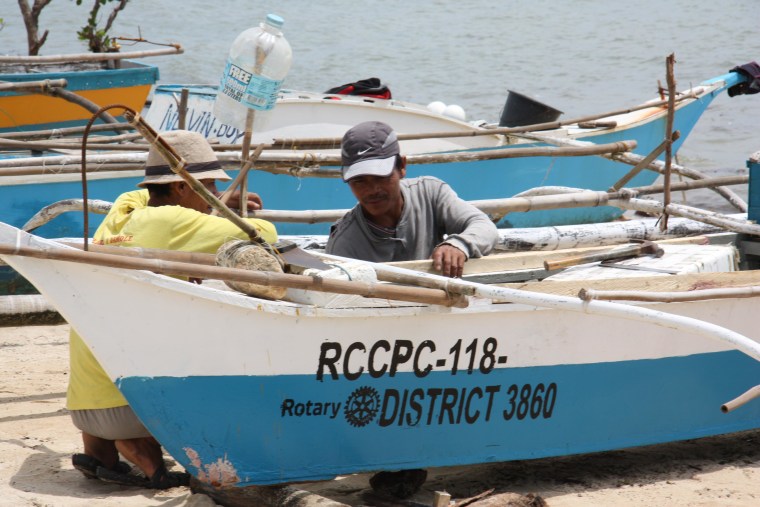 "Right after the storm, we lost all our roofs," said Ynoc. "We sold some things and raised 50,000 pesos [US$1250] and prepared to repair the boats on my land. But the boats were all lost."
As donations started to come in from sister Rotary clubs around the world, the Rotarians realized that for a little bit more money, instead of simply repairing the boats, they could build brand new boats, with the small upgrade of an added inboard motor as well.
"Before, when they paddled their boats, it took two hours to get out to the sea," explained Ynoc. "Now it only takes ten minutes, and for only 20 additional pesos [US$0.50] for gasoline."
"The most important is the donation of boats. It is their only source of income."
At $750 each, RCCPC has built 300 outrigger bangka boats and given them to fishermen in four barangays (villages) in northern Cebu.
The organization is also rebuilding an elementary school and a high school, developing small-scale fish nurseries and crab farms, and replanting mangrove trees. With Toledo's business contacts in the international furniture market, they are working to market traditional hapau basket weaving—found only in the northern part of Cebu province—to international housewares stores like Home Goods, which they hope will generate additional income for the families.
Because RCCPC is instrumental in the Rotaplast International cleft lip and palate clinic that comes to the Philippines each year, they have worked closely with and befriended many Rotary Clubs and Rotarians from around the world. Through these partnerships, $250,000 have been donated by Rotary Clubs around the world.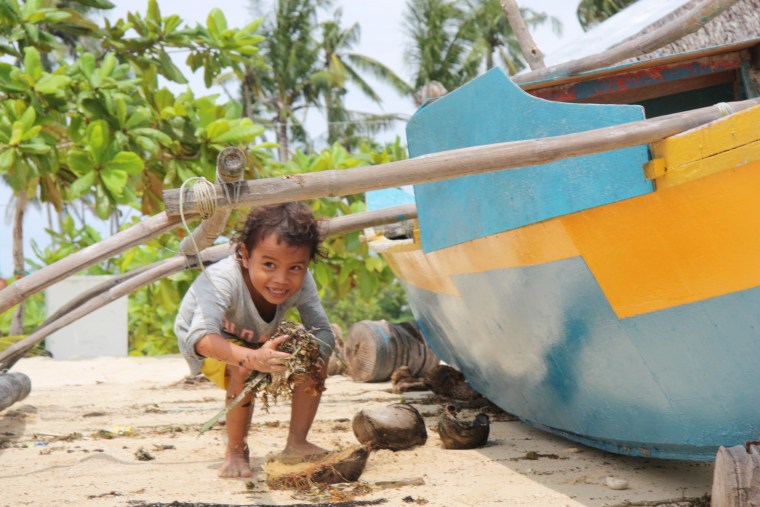 "My friends wanted to help," said Dr. Frank Walchak who previously volunteered as a surgeon for Rotaplast International. His Rotary Club of Spokane Aurora Northwest contributed enough funds to build six boats.
The Rotary Club of Poipu Beach of Hawaii, which donated $6000, enough to build eight boats, also had a Rotaplast connection through Dr. Mike Johnston.
"We were able to send the funds directly to RCCPC with the directive to use the funds as they saw fit. We have had many major projects with this club so we knew that the funds would be used wisely."
Inspired by a recent visit to see the bangka boat building project, the Rotaplast team of medical volunteers also wanted to donate a boat. "But we'll have to find a fisherman with a cleft lip," Antoine "Anton" Florendo joked.
Amazingly, they did. One day, a family brought two children with cleft lips to the clinic for treatment. They revealed they'd lost both their grandfather and their fishing boat in the typhoon. Florendo informed the family the doctors wanted to give them a boat, stunning them into silence. The grandmother, he remembers, simply wiped the tears from eyes.
This weekend, the group made good on that promise, officially turning over 20 motorized bangka fishing boats to Cebu province fishermen, including the family whose children were treated for cleft lip.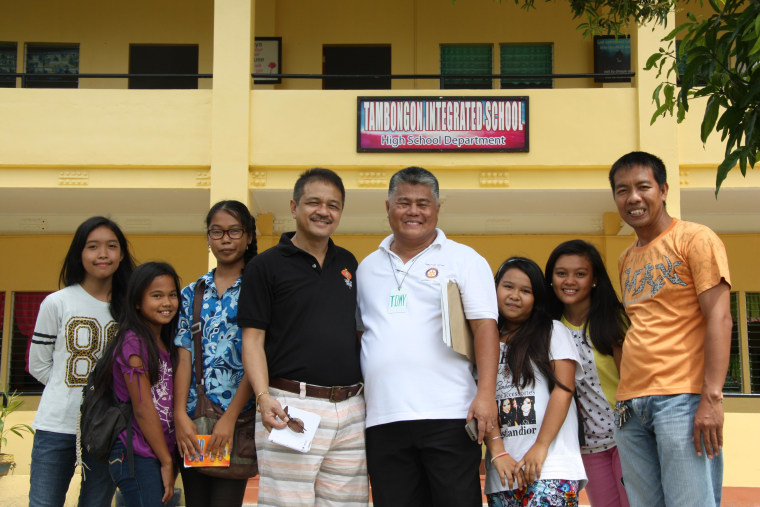 Reporting for this article was made possible by Rotary International.