A human trafficking advocate and former victim herself will be Sen. Mazie Hirono's guest at the State of the Union address Tuesday night. 
Hirono, D-Hawaii, announced that she would be bringing Kalei Grant, the assistant coordinator of the Hawaii attorney general's Missing Child Center-Hawaii, to the annual event. Hirono told NBC News in a statement that she hoped Grant's presence would help raise awareness about the state's crisis of missing and murdered Indigenous women and girls.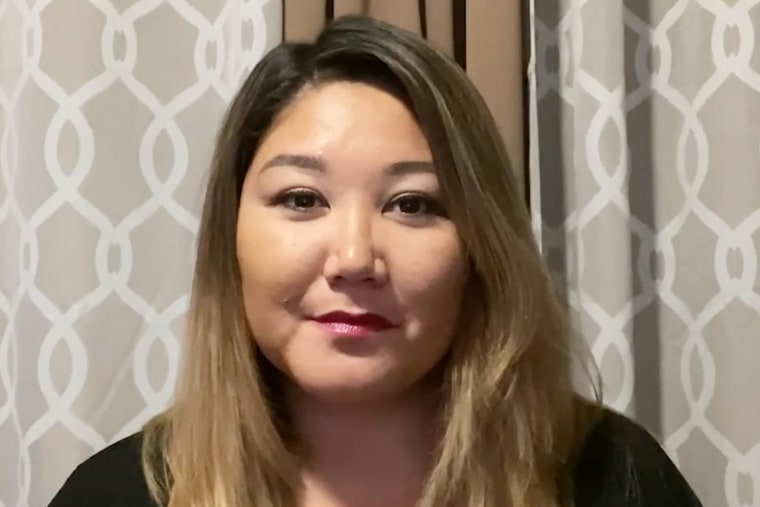 "After healing from her own trauma, Kalei has been a steadfast advocate and has dedicated her career to combating human trafficking," Hirono said in the statement. "Kalei's work and her advocacy are inspiring."
Grant has been working for the Missing Child Center, a criminal justice program devoted to finding and recovering missing children in Hawaii, since 2018. But years before that, she was forced into sex trafficking by a man she met when she was a newly divorced 25-year-old military spouse. 
"He said he would kill me, my daughter and grandmother if I didn't do exactly what he said or if I tried to tell the police," Grant recounted in a speech at a Defense Department event marking National Slavery and Human Trafficking Prevention Month Awareness in 2019. 
Grant said that for two years she was forced to perform sex work. Her trafficker, she said, used different tactics to ensure she and other women and girls would remain in the abusive circumstance. 
"I wanted to be a woman who thrived in her career and lived as a human being should. But I was trapped in this terrible existence out of fear, intimidation and threats to my life and the lives of those I loved," she said. 
It wasn't until 2010, when, Grant said, her trafficker had taken her to the Super Bowl in Miami, that law enforcement swept the area for human trafficking activity and caught him. And, she said, in her subsequent healing process, she decided to "dedicate my life to helping victims of trafficking to obtain help and services — everything I wish I had." 
Sexual exploitation disproportionately affects the Native Hawaiian community. A report from the Hawaii State Commission on the Status of Women found that 43% of sex trafficking cases in the state involved Native Hawaiian girls trafficked in Waikīkī, O'ahu. 
Grant is attending the presidential address after Hirono led a bill that would amend the decades-old Violence Against Women Act, which increased funding for domestic violence and sexual assault services, to include Native Hawaiian women. Services allocated specifically to help Native Hawaiian survivors of gender-based violence were excluded in the original legislation, which passed unanimously in November.