Is the cost of a round-trip plane ticket and a long-haul flight really worth it?
That is the question overseas Taiwanese grapple with every four years when presidential elections are held in Taiwan, the democratically governed island of 23 million off the coast of China that does not permit absentee ballots. While only an approximate 2,300 overseas Taiwanese have registered to vote in this year's scheduled Jan. 16 election, some younger Taiwanese Americans who are dual citizens say they are excited to be casting their ballots for the very first time in a three-way contest to replace the widely unpopular and term-limited President Ma Ying-jeou of the ruling Nationalist party.
David Kwang, a 35-year-old human resource manager who was born in Taiwan and moved to the United States when he was 9, told NBC News he bought a round-trip plane ticket last October and is scheduled to arrive in Taiwan the morning of the election. He plans to head to the polls later that afternoon.
RELATED: Historic Meeting Between Presidents of China, Taiwan Signal Hope to Some in U.S.
Attributing his interest in Taiwanese politics to his parents and family, Kwang, who lives in Queens, New York, said stability is the number one issue for him in this year's race. He said he believes Ma, who was first elected in 2008 and again in 2012, helped build better relations with China, which views Taiwan as a renegade province after the two split in 1949 amid a civil war.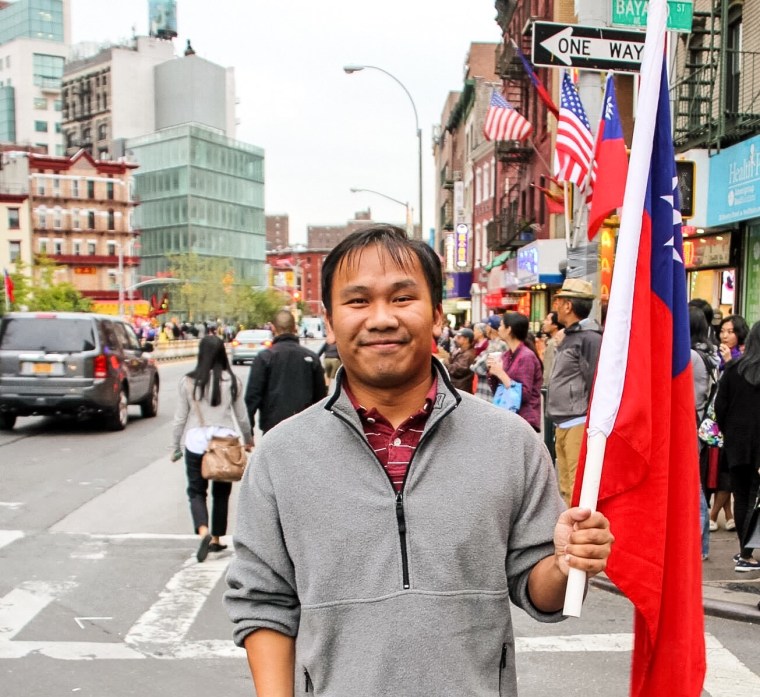 During his presidency, Ma signed more than 20 trade agreements with the mainland, opened up tourism on the island to Chinese, and brought direct cross-strait flights between the two sides. Last November, Ma, whose Nationalist party traditionally favors eventual reunification with China, met with Chinese President Xi Jinping in Singapore, the first time that leaders from the two countries have had formal contact since 1949.
But some Taiwanese feel Taiwan has become too economically tethered to China and worry about whether the island is becoming too cozy with the mainland.
"We can talk, we can argue, but this is the most important singular part in a democracy — to cast your vote, to voice your opinion."
Kwang, who is not a Nationalist party member, said he's planning to vote for Eric Chu, the mayor of New Taipei City who is running under the Nationalist ticket. Chu has trailed in the polls against front-runner Tsai Ing-wen of the Democratic Progressive Party (DPP), which generally favors independence from China.
"As long as [Chu] wishes to continue the stability that Ma Ying-jeou has created, or the KMT (Nationalists) ruling party has created for the past seven-and-a-half years, I think he will be a better candidate," said Kwang, former president of the Taiwan Benevolent Association in New York, a Nationalist-aligned organization.
But Kelly Lan, a 26-year-old Taiwanese-American graphic designer born and raised in Pennsylvania, sees things differently. Like Kwang, Lan will be voting for the very first time in Taiwan; unlike Kwang, she is throwing her support behind Tsai.
INFOGRAPHIC: How to Register to Vote For the Taiwan Presidential Election
Lan told NBC News she was inspired by youth leaders who participated in the Sunflower Movement in 2014, when college students occupied the island's parliament in Taipei for roughly three weeks after a Nationalist lawmaker attempted to push through a cross-strait trade deal with China.
Critics of the pact, which is still stalled in parliament, say the legislative process by which it was deliberated lacked transparency, and they fear it would open Taiwan to further mainland investment and threaten the island's democracy. None of this helped Ma's approval ratings, which a half-year before the Sunflower Movement had already plummeted to nearly 9 percent, a nadir in his presidency from which the Harvard-trained lawyer wasn't able to fully recover.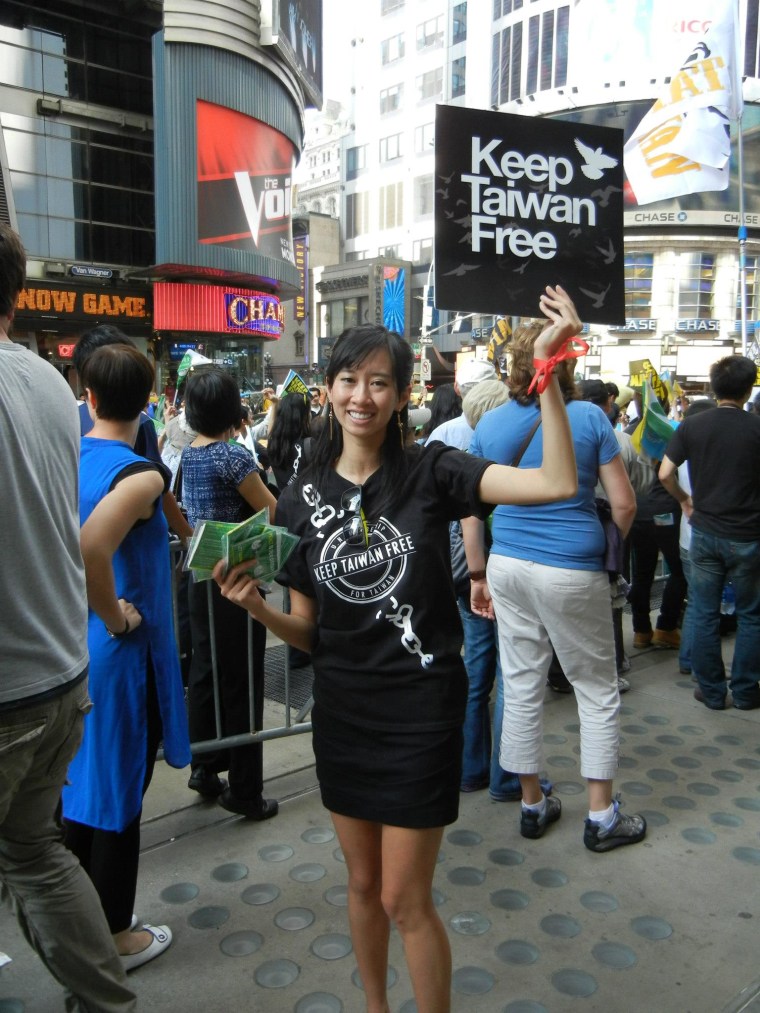 Lan said some issues in Taiwan that concern her — and that she said she can relate to in the U.S. — are the high cost of housing and real estate and a job market that doesn't pay high enough wages to recent college graduates. She added that she believes Tsai, if elected, is someone who can best promote Taiwanese identity and not "sell out" Taiwan to China.
Lan, who said her father always reminded her that she is Taiwanese and not Chinese, also said she gets angered that Taiwan must use the designation "Chinese Taipei" at the Olympics. That decision was made by the International Olympic Committee in 1981 after Taiwan, in previous Olympics, refused to change its original title, the Republic of China Olympic Committee.
The Republic of China, established in 1912 and which ended 4,000 years of Chinese imperial rule, is also the name Taiwan's government has used since 1949, when Nationalist President Chiang Kai-shek and roughly 2.5 million mainland Chinese relocated to the island after losing the Chinese Civil War to Mao Zedong and the Communists.
"It just doesn't give our country the right labeling or identity, because we contribute so much on an international stage," Lan said.
Despite tepid interest from overseas Taiwanese in January's election — only an approximate 2,300 people registered this year compared to 10,000 in 2004 when former Nationalist Vice President Lien Chan challenged then DPP President Chen Shui-bian, who supported Taiwan independence — both Tsai and Chu still made separate trips to the United States last year to court voters.
According to the 2010 U.S. Census, 215,441 people identified themselves as being of Taiwanese descent.
For presidential elections, major Taiwanese air carriers like China Airlines and EVA Air also typically offer discounts on round-trip flights to the island, which held its first direct presidential election in 1996. This year's elections falls approximately three weeks before the Lunar New Year.
Anyone born in the U.S. to parents who are Taiwanese citizens and who themselves hold Taiwanese citizenship is eligible to vote in Taiwan, provided he or she maintains a valid permanent household address registration, Abby Lee, spokeswoman for the Taipei Economic and Cultural Office in New York, told NBC News. The voting age is 20.
"The second I landed on the island, it really did feel like home."
Lee added that the overall turnout rate in Taiwan's last presidential election in 2012 was around 74 percent. The number of eligible voters this year is roughly 18.8 million, she said.
For Lan, whose parents immigrated to the U.S. in the 1980s for graduate school, January's election represents a "rite of passage," she said. Growing up, Lan lived in Taiwan until she was 2, and again from ages 5 to 6, traveling back once every three years with her family, she said.
In 2008, she visited Taiwan on a heritage trip after graduating from high school. She went without her family and stayed for a month, she said. That was when she felt the strongest connection to Taiwan yet.
"The second I landed on the island, it really did feel like home," Lan said.
RELATED: China, Taiwan Leaders to Meet for First Time in 66 Years
Just as in the past, questions of identity — and what it means to be Taiwanese — will also figure into this year's election. Some whose roots on the island extend back multiple generations still harbor resentment toward those who came from China in 1949 with Chiang. Even for Taiwanese born in Taiwan, distinctions are made in some circles between those who are benshengren, a term in Mandarin referring to Chinese who lived in Taiwan before World War II and to their offspring, and those who are waishengren, the group that came over with Chiang.
Tsai is a benshengren; Chu's father is a waishengren and his mother a benshengren. The third presidential candidate, James Soong of the People First Party, a smaller party within the Nationalist coalition, is a waishengren born into a military family in China that moved to Taiwan in 1949.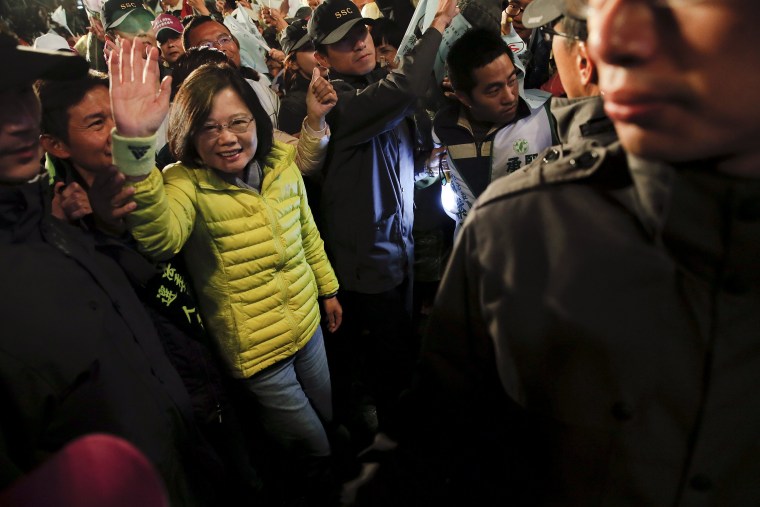 Kwang, whose grandfather was a general for Chiang, said he was worried he might be considered an outcast if Tsai, the opposition candidate, is elected. In the past, some DPP supporters have not been seen as friendly toward waishengren.
"They would still think, 'Oh, your roots are from China, your family came with Chiang Kai-shek,'" he said.
But Kwang, who has voted in previous U.S. elections, remains positive about exercising his right to vote in Taiwan.
"We can talk, we can argue," he said, "but this is the most important singular part in a democracy — to cast your vote, to voice your opinion."