Jen Shyu's audience can't always understand her.
An experimental jazz vocalist, composer, multi-instrumentalist, dancer, and researcher, Shyu avoids explanation and translation, preferring to let her music do the work of moving people to new ways of thinking or feeling.
Some of her greatest triumphs are when — despite not knowing one of the more than dozen languages she sings in — her audience is moved.
"I love performing without translating the language so that people understand and find meaning through the music, gesture, and vibration," Shyu told NBC News. "One of the biggest compliments I have received is when someone told me that she didn't understand the languages I was singing in, but she felt that she understood exactly what I was singing."
Shyu has performed around the world as a jazz singer, solo theatrical artist, and with her band, Jade Tongue. After receiving a Fulbright Scholarship in 2014, a 2016 Doris Duke Artist Award, and a 2016 grant from the MAP Fund, Shyu has been immersed in performing, creating new work, and preparing for a 50-state tour across America to share and create music.
Other artists have called Shyu a "transporter of cultures" as well as an "urban shaman" for her work, she said, which combines elements of Indonesian, Korean, and Taiwanese folk traditions of music, dance, and storytelling, as well as western traditions like jazz.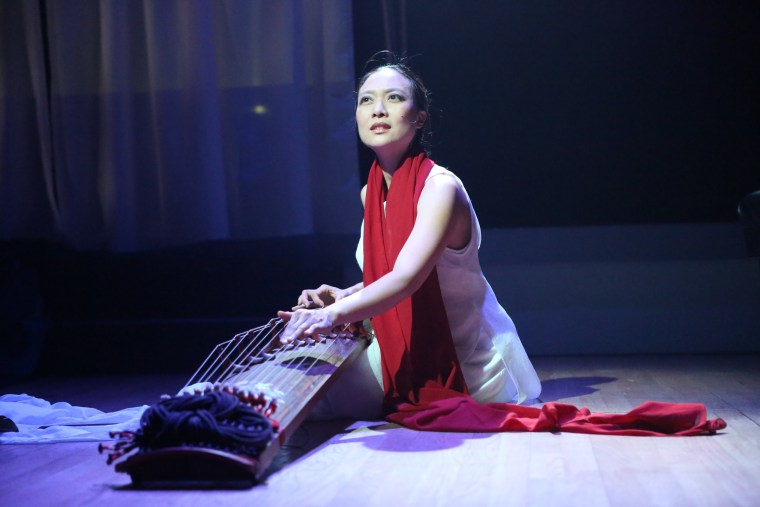 Trained in classical piano, violin, ballet, and opera both as a child and at Stanford University, Shyu made her mark as a jazz singer, singing with saxophonist and 2014 MacArthur fellow Steve Coleman since 2003. She also collaborates with many others, including Asian Improv Arts' Francis Wong and Jon Jang. Shyu currently speaks eight languages, sings in more than a dozen, and has studied the music and dance traditions of East Timor, Indonesia, South Korea, Taiwan, China, Cuba, and Brazil. Her performances feature multiple languages and various instruments, including the Taiwanese moon lute, Korean gayageum, Javanese drums, and gongs, piano, and violin.
"Performance for me is a spiritual act," Shyu said. "I am hoping to heal, bring together, make sense of, and address people's inner mysteries and questions through the time span of a performance. I am driven by exploring and performing the unfamiliar, shedding light on issues, traditions, and cultures that might be living in the shadows."
Based in New York City, Shyu was born and raised in a suburb outside of Peoria, Illinois. Her parents met during graduate school at Syracuse University in New York — her father, an engineer, was born in Taiwan and her mother, a librarian, was born in East Timor. Although her parents were not artists, Shyu said they loved the arts and exposed her and her brother to classical music and art books in addition to her father's customized math tests.
She said that in performance, she found escape, solace, and safety from discrimination, whether it was a piano competition, ballet recital, singing, or acting.
"One of the biggest compliments I have received is when someone told me that she didn't understand the languages I was singing in, but she felt that she understood exactly what I was singing."
"Fields of corn, soybeans, and old barns were the landscape of my childhood," Shyu said. "There were very few Asians and people of color in general in my school, and after years of being called 'chink' and other assorted names in grade school, I found friends in the alternative and brainy crowds. Being raised in this environment taught me a lot and formed the basis of why I do what I do as an artist."
Although Shyu sometimes struggles with the aggravations of people mistaking her for other Asian-American women jazz musicians or wanting a tidy box for her ethnicities and work, her contemporaries have noted Shyu's ability to embody the spirit of traditional singers and emotionally reconstitute Asian and Asian-American women's artistic and spiritual lives.
"It was amazing to watch her make connections to this material — so complex linguistically, musically, culturally, spiritually — so quickly and so deeply," Charley Sullivan, a historian of Indonesian women's issues, Javanese dancer, and Fulbright Scholar at the same time as Shyu, told NBC News. "It's something about her ability to open her soul to others, and with complete respect for them, that moved her from being another visiting westerner trying to learn gamelan to an artist who was greatly respected by the very best Indonesian musicians, dancers, and artists."
Shyu has an exhaustive year planned for 2017. In addition to a new album on Pi Recordings, a European tour with her band, and two months of music research in East Timor, she plans to continue touring her first solo theatrical work, "Solo Rites: Seven Breaths," which she is scheduled to take to Japan, Australia, and the Ojai Festival curated by jazz musician and 2013 MacArthur Fellow Vijay Iyer.
She is also working to distill her most recent work, "Song of Silver Geese" — a multilingual, ritual music drama with four characters composed for her band, dancer Satoshi Haga, and the Mivos Quartet — into a solo piece with the working title, "Nine," which will premiere in June at the National Sawdust arts nonprofit in Brooklyn, New York.
Shyu will also begin a solo tour across all 50 states for the project "SOWN / SEWN: Songs of the World Now / Songs Everyone Writes Now," in which she plans to visit small towns that do not have many people of color, give workshops at girls' schools and schools without arts funding, and create collaborative community concerts where people of different generations and ethnic backgrounds share songs from their childhood.
"It will all be customized to the community and those participating, and it will be documented," Shyu said. "I want this to be part of the positive news from this country, to offset the reports of horrific shootings, hate crimes, and most of what we see on the news, which I think also fosters hopelessness, anger, and apathy."
Follow NBC Asian America on Facebook, Twitter, Instagram, and Tumblr.