Some people have a hard time remembering anniversaries and birthdays, but for Lorne Anthony, July 13, 2014, is a date she has no trouble remembering.
She and her girlfriends were singing and dancing to a Christina Aguilera song when they began a heart-to-heart discussion about hormone therapy. It was also the day one of her friends encouraged her to apply a patch on her arm, officially marking the start of Anthony's journey as LA.
"I felt free, I felt liberated. I was so happy in my head," LA, an Asian-American transgender woman, told NBC News. "I felt like it was a new start and beginning for me. The moment [my friend] slapped that patch I was like, 'Oh my gosh, am I getting more feminine?'"
At 26, LA is one of the youngest of five transgender women starring in the upcoming Fuse docu-series, "Transcendent." Filmed at the popular restaurant and nightclub AsiaSF, the show will highlight LA's story, as well as the stories of some of the Ladies of AsiaSF--Bambiana, Bionka, Nya, and Xristina--as they share their heartbreaks, struggles, and career-defining moments as transgender women.
"We get to be our authentic selves every day and we are loving it."
The show, premiering Sept. 30, will also focus on LA's journey to becoming one of the Ladies of AsiaSF, as well as her recent transition story and struggle to decide whether or not to open up to her parents about her transition.
LA grew up in the Philippines, and moved to San Francisco seven years ago, where she found her niche at AsiaSF. She'd often hang out backstage in between skits and cabaret musical numbers with the Ladies of AsiaSF, supporting them as they owned the glamorous red dragon runway.
"I've always lived my life as a woman but I identified as gay. But when I started to get exposed to the community and being more aware, that's when I realized I am transgender," LA said.
For LA, transitioning was a gradual, but life-altering, experience. "I think that every transgender woman--every girl--needs to not rush it because you have to find yourself first before doing that next step because there's no turning back," she said.
Earlier this year, LA decided to ditch the loafers, jeans, and buttoned-down shirts in exchange for pumps and tight dresses to better align with her true identity--the identity that is now reflected internally and externally.
"It was scary for me because the most feminine in the Philippines [for me] was skinny jeans and a woman's T-shirt. I didn't wear heels. No one has seen me in a dress or makeup [until now]," she said.
LA says she is still in the beginning stages of her transition, whereas some of her other "Transcendent" cast members transitioned many years ago. LA hopes that her perspective will shed light on some of the raw, awkward stages and struggles she's gone through. She also hopes that sharing her own journey on television will give others the courage and confidence to start their own journey.
"We have five different stories and five different lives and people don't know us. We're not celebrities or public figures, so people are going to say these are normal lives of five proud transgender women," she said. "It's so important for any girl who is starting or just has been transitioned to have that support. I hope they realize that they're not alone and they have me...they have the 'Transcendent' girls."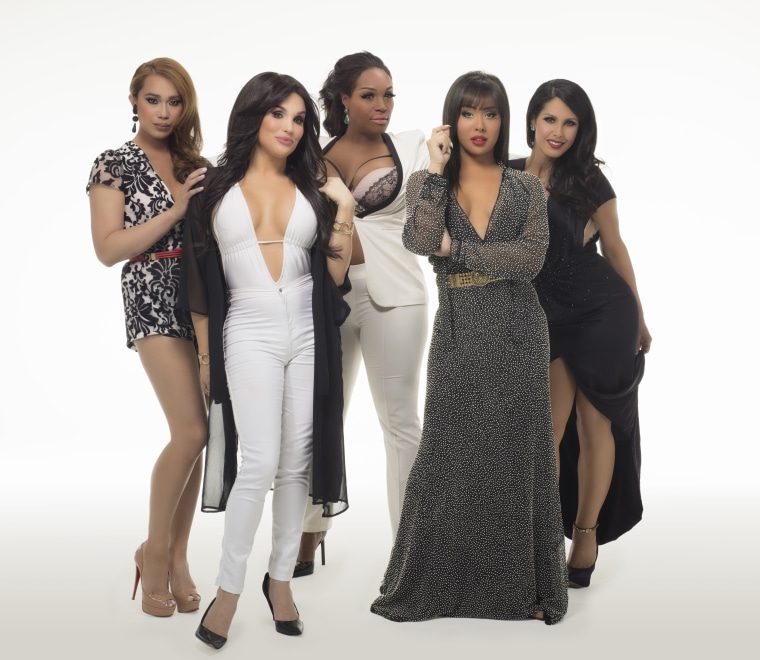 'Transcendent' Joins San Francisco's API LGBT Story
In San Francisco, where "Transcendent" takes place, the API transgender community has a history of strong leadership, "folks who are really elders in the community," Kris Hayashi, executive director at the Transgender Law Center, told NBC News, referring to activist Tita Aida, who has been educating the community about HIV and AIDS through her involvement with the Filipino Task Force on AIDS in the early '90s.
Tita Aida, a transgender Asian-American woman whose name is a reference to AIDS, told NBC News that it was difficult to define being transgender "because it practically didn't exist" while she was growing up in the Philippines.
"If you were born or assigned male at birth and you acted feminine, you were gay. That's how you were labeled. If you were assigned female and you acted butch or manly, you were a lesbian. There was nothing in between," she said.
Since 1999, Aida has been at the forefront of recruiting talent and mentoring some of the Ladies of AsiaSF. She also performs regularly at the restaurant.
Within the API LGBT community, Aida hopes to see more leaders take ownership and serve as a resource. Having that kind of leadership can also work toward eliminating stereotypes about LGBT APIs and empowering the community, Aida said.
Although there's been a recent increase in visibility for the transgender community in terms of celebrity appearances and shows like "I Am Cait," the daily struggles of many still remain under the radar.
"We are definitely in a moment of crisis, though it's not necessarily a new crisis," Hayashi said.
Hayashi, a transgender man, has been involved in advancing the rights of transgender and gender nonconforming people through policy, advocacy, and community engagement. He explained that despite growing representation, there's still much to be concerned about, such as the fact that nearly 20 transgender women in the U.S. were murdered this year alone; countless others go unreported. The majority of the women killed, according to the National Coalition of Anti-Violence Programs (NCAVP), were women of color.
"I think though that the reality for the majority of transgender--particularly for people of color--is that the majority of folks are really struggling to survive on a day-to-day basis. It's about folks that do not have access to healthcare, housing, education--all of the things we all need to survive," Hayashi said.
According to the National Transgender Discrimination Survey, 14 percent of Asian/Pacific Islander (API) transgender and gender non-conforming people have experienced homelessness at some point in their lives--nearly twice the rate of the general population. Additionally, 18 percent of API transgender and gender non-conforming people have been refused medical care due to bias, according to the survey.
"We are definitely in a moment of crisis, though it's not necessarily a new crisis,"
The report also finds that API transgender and gender non-conforming people are less likely to have accessed counseling and mental health services, and 56 percent have reportedly attempted suicide due to discrimination.
Hayashi hopes shows like "Transcendent" will highlight the resilience and strength of the transgender community, capture the "real, day-to-day struggles and crises that the majority of people face," and show the community in a way that isn't one-dimensional.
"I think it's really critical for people to see transgender people as people: as people with people with friends, with family, in a community, who have different struggles…that it really represents the lived reality of the transgender people in the show," Hayashi said.
'We Have Transcended and We Are Who We Are'
When Nya was a teenager, her mom would often hide curling irons, hair straighteners, and makeup from the bedroom vanity. But hiding these items only made things worse for Nya. Without a job or a support system, Nya resorted to stealing beauty products to express what she was feeling on the inside.
"Being a Filipino American, of course it was a little bit hard for my family at first to accept my transition," Nya told NBC News.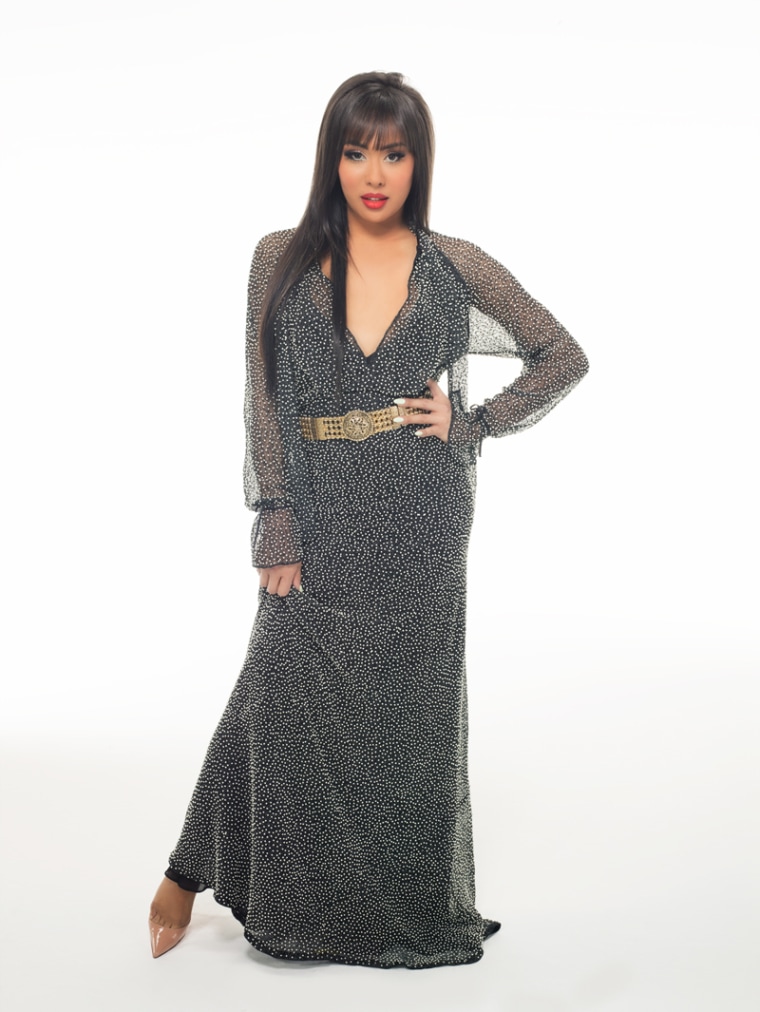 Her mom, a devout Catholic, eventually found out about Nya's stealing habits. She didn't want Nya to end up in jail for stealing items, so she ended up buying the items instead.
"It was not so much that she didn't approve of me being who I am, but she was trying to shelter me from all the bad things in life like bullying," Nya said.
She recalls a childhood filled with threats from classmates who wanted to beat her up, and said she never let it faze her because she knew who she was. "At the time I didn't know what a transgender woman was, but I knew I was a woman, that I was a girl. It didn't affect me," she said.
Performing at AsiaSF, Nya said, was the first time in her life when she was introduced to a world she wanted so desperately to be a part of: a sisterhood where she could connect with other transgender women like her.
"It felt like all these transgender women on that stage were being celebrated and having an amazing time. I loved the fact that all of these people were not judging anybody," said Nya, who started working as one of the Ladies of AsiaSF when she was 19 years old.
Today, Nya is 31 and looking forward to another chapter at AsiaSF: after 12 years, she will be introduced to the management team--a journey that "Transcendent" will focus on too.
"There were just a lot of people that thought we had interesting stories to tell and that we're all vibrant individuals," Nya said, adding that the concept for the show had been in development for seven years, but, "It's taken a long time to get it going. The world wasn't ready for it seven years ago."
For Nya, "Transcendent" means transcending beyond stereotypes and struggles. "We are five transgender women who have had to overcome heartache and struggles, but we have transcended and we are who we are and we celebrate who we are," she said. "We get to be our authentic selves every day and we are loving it."