When Malaysian designer Zang Toi moved to New York City at the age of 20, he had $300 in his pocket and plans to attend the Parsons School of Design. At the time, he was one of the few designers of Asian descent hoping to make a name for himself.
These days, the numbers are larger: in 2015, 16 of the 72 official New York Fashion Week shows will be presented by Asian or Asian-American designers, up from 13 shows the previous year. There will also be large group shows sponsored by China and Korea, representing about 21 percent of the total offerings.
"Amazing, amazing," Toi, now 54, told NBC News. "As an Asian, it's a very proud moment for me. I remember coming here 33 years ago. There were a lot of very talented Asian designers--but they were not in the forefront. They worked hard behind the stage."
Toi's show "The Splendor of Santorini" opens Friday, and features blue, green, and white garments--hand-stitched and embroidered in his midtown Manhattan studio—which aim to capture the essence of the show's inspiration, derived from the Greek island, Santorini.
The collection will celebrate Toi's 26th year in fashion, a business he's found success in since Vogue editor Anna Wintour featured him in her magazine, distinguishing him as "one of the first Asian designers championed by the renowned editor."
"For me, I look at myself as the elder statesman of the Asian fashion community," Toi said. "So it's a very proud moment to see so many young Asian designers now, out there not afraid to show their talent."
The 16 designers (including design teams with an Asian partner) that are expected during the 2015 New York Fashion Week season include a range of upstart and more established brands, from powerhouse names such as Derek Lam, Naeem Khan, Vivienne Tam, Prabal Gurung, and Anna Sui--all with established customer bases and in some cases global empires—to new labels.
Some of the newer designers creating buzz are Public School, a label created by native New Yorkers Dao-Yi Chow and Maxwell Osborne, and SUNO, a brand led by former Gap designer Erin Beatty and Korean-German-American designer Max Osterweis.
"SUNO is an exciting brand making great strides in conscious fashion," Jeanine Jeo-Hi Kim, founder and artistic director of the Women & Fashion FilmFest, told NBC News. "The design team of Max Osterweis and Erin Beatty started their company by producing in Kenya, but now produce in India and Peru as well. They work closely with local talent and artisans in these countries. Their success in the industry bodes well for sustainable fashion."
"Fashion and beauty, like anything in life, should know no boundaries."
Korean designers are also making a strong showing this season at NYFW, with four of the 16 lines coming from Korean design teams.
To highlight the ascendance of Korean designers, as is evident on New York Fashion Week runways this season, the publication Deux Hommes is dedicating 130 pages of its current issue to Korean designers specifically.
Deux Hommes co-founder and editor-in-chief Jared Austin notes that top design school Parsons has consistently had "a lot of students in design from Korea."
"It was like, 'Wow. The writing's on the wall,'" Austin said of the trend.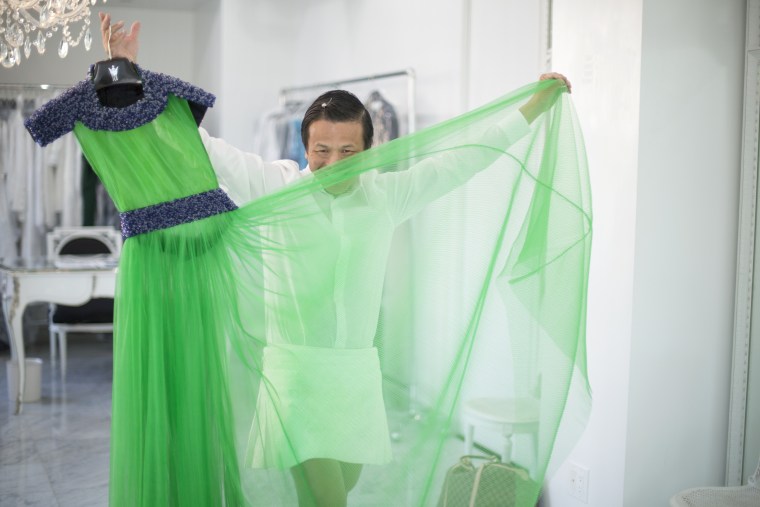 Kim said the growth of Asian-American and Asian-born fashion students could be attributed to a variety of factors, including self-expression. "With production know-how already in place domestically, fashion education has become more and more popular both abroad and domestically for students in many Asian countries," she said. "Since the 1990s, major design schools around the world have seen a rise of Asian-American and Asian-born students with changing attitudes about fashion careers…Lifestyle and self-expression are more important, especially for young people and fashion is for many, a means of self-expression."
As Toi prepares for his Santorini-inspired show, he applauded the growth Asian designers have experienced over the past few decades, and said he hopes it will lead to more opportunities to diversify fashion.
"Hopefully this is a way for Asian designers to [make a way] for designers [from] other ethnic backgrounds," Toi said. "Fashion and beauty, like anything in life, should know no boundaries. There are no boundaries [based on] colors. A talent is a talent."