KUNMING, China — Two soldiers emerged from the rubble with the wounded man hanging from their shoulders. They guided him over the smashed cinderblocks and tangles of wire that littered the path between the collapsed building and the man's safety.
"Be careful! Go, go," yelled a soldier as they passed. Around them, troops pulled ropes and fixed stretchers. They worked in teams, moving quickly and precisely, the result of years of disaster-response training exercises just like it.
The drill was part of a joint military exercise involving soldiers from the United States and China. The objective was to hone their disaster relief skills, but the troops were also tasked with showing that the two world powers could look beyond simmering tension and political uncertainty.
"This kind of exchange acts as a bridge to promote relations between the two militaries and I am sure it will be conducted in an even higher level in the future," said General Liu Xiaowu, commander of ground forces for China's southern military region.
The joint exercise comes amid ongoing tension between China and the U.S. that has the added uncertainty of bilateral relations under a Donald Trump presidency.
China has long resented U.S. military presence in the Asia-Pacific region, and criticizes American "meddling" in its territorial claims in the South China Sea.
Trump has made no secret of his negative views on trade with China, but he has yet to reveal a clear defense policy toward Asia. That has put China's leadership on edge, and caused consternation in Japan and South Korea, both strong U.S. allies in the region.
But in Kunming, the atmosphere was one of cooperation.
"For the military, these things don't affect us so much. For us the most important thing is to hone our skills," said Matthew Peterson, a U.S. Army civil affairs specialist from Fargo, North Dakota. "It was interesting to see the way they do things."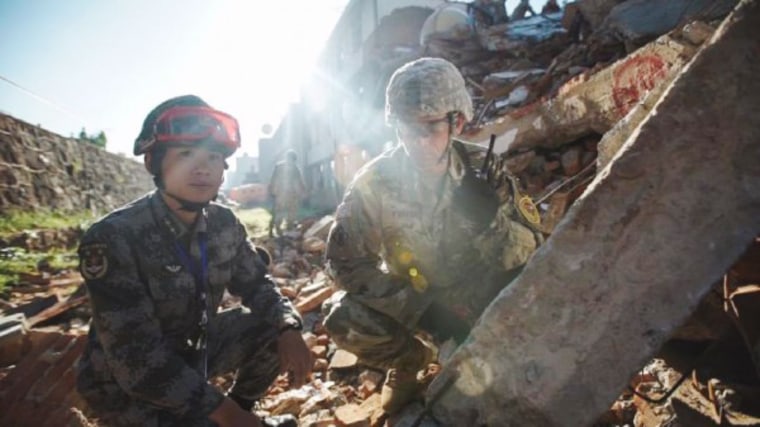 Held since 2005, the U.S.-China Disaster Management Exchange is part of efforts to build mutual trust and coordination from the ground up instead of relying on higher political levels.
"We don't have conflicts or huge divergences when it comes to humanitarian disaster relief," said Li Huaihong, a 29-year-old sergeant from Yunnan.
In addition to navigating disaster scenarios, the troops were involved in academic exchanges and exercises that involved sniffer dogs and water rescue. They wrapped up the six-day drill in American style with a barbecue.
NBC News' Dawn Liu contributed to this report.