Northwestern University is investigating allegations of sexual misconduct and bullying made in an open letter signed by 10 women, who include newly graduated students and former employees. The women accused Alec Klein, the director of the school's prestigious Medill Justice Project, of "harassing" and "predatory" behavior.
The letter, which was sent to school administrators in early February, said that Klein "attempted to kiss a prospective employee, prior to hiring her" and that he "made sexually graphic remarks at work." It also details other allegations and said students were "belittled, insulted and berated."
The women said they had contacted the Office of Equity and school's Title IX office about Klein before. The Title IX office responded to one accuser and said there was not enough evidence to support the accusation that Klein had violated the school's sexual harassment policy. Complaints to the Office of Equity resulted in the investigator writing that there was "insufficient information warranting a formal investigation" but saying that the university would conduct an "informal action" in which Klein was informed of concerns, advised on the school's policies, and told of ways to change his conduct.
Related: Dartmouth College Professors Investigated for Alleged Sexual Misconduct
Klein, who has taken a leave of absence while the university conducts the investigation, denies the allegations and attributed many of the accusations to a "disgruntled former employee."
"As a journalist, professor and father, Alec Klein has tried to teach his students – and his 9-year-old son and a 10-year-old daughter -- that information needs to be verified before being made public," Klein's attorney, Andrew T. Miltenberg, said in a statement to NBC News. "He supports the #MeToo Movement and the determination to root out misconduct. He also believes anyone who is accused of misconduct deserves to be heard under our system of justice. In the rush to judgment, Alec should expect the same -- to be heard and to clear his name of these allegations, which are untrue."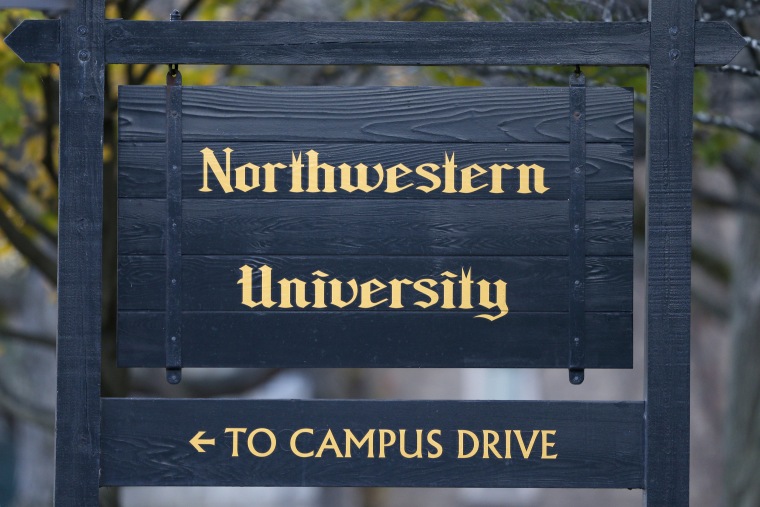 The women said in the letter that a larger "whisper network" of stories from the school's journalism students propelled them to make their concerns public. Olivia Pera, one of the letter's signees, said she previously filed a complaint with Northwestern's Department of Human Rights that resulted in a settlement of $8,000 to compensate for the salary she would have received had she not quit her position at Medill due to alleged harassment.
"We just kept hearing more stories and it was something that we had talked about for years," said Knight, a former Medill student. "His behavior troubled us so much and in some situations, it had done real damage."
With so many complaints, the letter's signees wanted further action.
"This is a place of learning," said Knight. "The stakes are even higher. When [Klein] engages in this confidence crushing behavior, it has real consequences. It can be really damaging."
Related: Campaign calls on colleges to 'end rape culture'
Knight said approximately 18 women have come out with their own stories after the letter went public, sending feedback to the email address listed on the open letter. Signees say these women have reported or talked to people from different offices and departments and claim the lack of communication to the school's Title IX office is partly to blame for the school's inaction.
"How many women needed to come forward in order for [Northwestern] to believe one?" said Pera.
Under Title IX, students and employees are protected against discrimination based on sex. Federally funded educational programs are required to "take steps to protect its students from sexual abuse by its employees," according to the U.S. Department of Education.
"Northwestern is committed to fostering an environment in which all members of our community are safe, secure, and free from sexual misconduct of any form," wrote Northwestern's Vice President for University Relations, Alan K. Cubbage. "The University takes seriously all complaints that are brought to its attention and investigates those allegations promptly and thoroughly.
College officials would not respond to questions regarding past inaction against Klein due to the ongoing investigation.
Neena Chaundry, senior adviser for education for the National Women's Law Center, said it's not the burden of the students to create a healthy environment, but that Title IX requires schools promote compliance of the law within its halls and prevent these alleged behaviors proactively.
Title IX requirements extend beyond just an investigation, it also mandates the school provide services for victims and complainants.
"The law has always said that you have to take action as soon as you know or have reason to know or should know," said Chaundry.