LONDON — When President Donald Trump returned from his second trip to Europe in as many months, he presented his visit to the Group of 20 meeting in Hamburg as a "great success."
The outlook from this side of the Atlantic, however, was less enthusiastic, with Europeans viewing the American president as more isolated than ever.
"Generally, Trump didn't impress very many leaders on European side," said Susi Dennison, director of the European Power program at the European Council on Foreign Relations.
"If he did have a clear set of outcomes that he wanted to achieve at the meeting, it wasn't evident that was accomplished."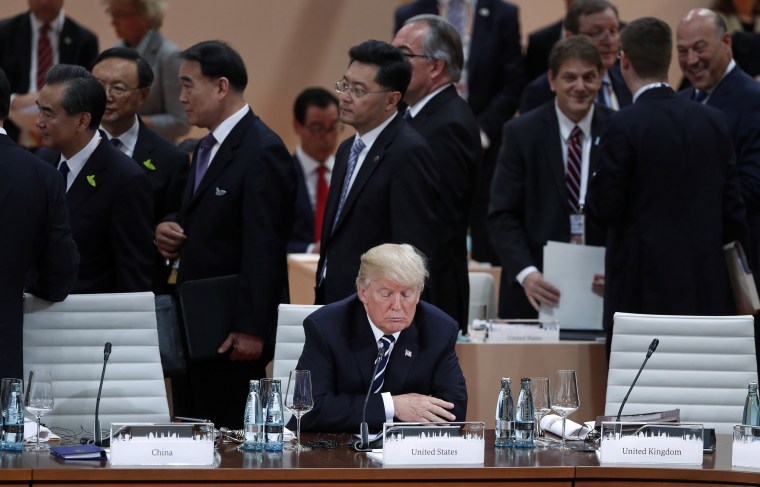 There's no doubt that expectations for Trump's second visit to Europe were low. During his last visit to the continent, for the NATO summit at the end of May, he was widely panned for throwing his weight around, literally pushing other leaders aside during a photo opportunity and intensely shaking hands with his counterparts.
More importantly, there are areas of major disagreement between Trump and European countries in the G-20, most notably on climate change and free trade, where Trump has taken a more protectionist view.
"This trip there was a humble relief that really bad clashes [with the U.S.] could be avoided," said Henning Rieke, head of program at the German Council on Foreign Relations. "No one expected Trump to change his mind on sensitive issues, so the management of expectations was very important."
On his end, Trump has called his trip a "great success" and a "wonderful success" in various tweets, his preferred method of communication.
He tweeted on Sunday a video of him happily meeting other world leaders, set to rousing music proclaiming "make American great again."
On Monday, he highlighted one concrete area of agreement with German Chancellor Angela Merkel, when he defended himself against criticism of his decision to let his daughter Ivanka take his place at some meetings.
"When I left Conference Room for short meetings with Japan and other countries, I asked Ivanka to hold seat. Very standard. Angela M agrees!" Trump tweeted Monday morning.
Merkel's agreement was her saying at a press conference: "The delegations themselves decide, should the president not be present for a meeting, who will then take over and sit in the chair."
Perhaps the largest area of discord at the summit was around the Paris Climate Change agreement, from which Trump withdrew the U.S. last month. He has vowed to negotiate new treaty terms for the U.S. that are more business friendly.
The U.S. was the only country that did not reaffirm the G-20's support for international efforts to fight global warming. The statement released by the G-20 after the summit called the Paris climate accord "irreversible."
Instead, recently elected French President Emmanuel Macron took the lead on climate change, announcing plans for a new international climate summit in December.
The other major area of disagreement between Trump and Europe centered around free trade. Again it was Macron, who reportedly staunchly defended free trade, showing off his iPhone as evidence of its success.
"While Europeans weren't happy with Trump's message, they now at least feel that they have a better sense of what his priorities are," said Erik Brattberg, Director of the Europe Program at the Carnegie Endowment for International Peace.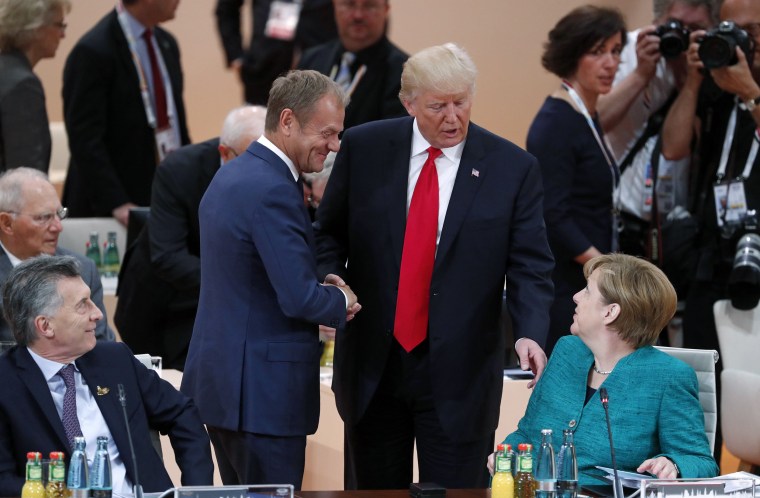 "They left the G-20 with the feeling that there is more predictability as to what Trump means for them," Brattberg said.
In addition, European leaders may now sleep better after Trump finally reaffirmed the U.S. commitment to defend its NATO allies if they ever came under attack, known as Article 5 in the NATO charter.
He was the first U.S. president to seriously throw the America's commitment to its European allies into doubt, and has repeatedly urged its members to invest more in their own defense. Many of these nations do not currently meet NATO's recommended defense spending targets.
Perhaps unwittingly, Trump's isolationist stance on key issues has united European leaders, who are now more determined to take the lead on their priorities.
"It was important for all of the European states to show Trump that the EU is back as a force, and that Brexit hasn't knocked it off course," said Dennison. "The EU wanted to show that it intends to continue engaging in the international order as a defender of liberal western values and open globalist free trade."
Despite the areas of disagreement, observers say, there is still a strong desire to work together — particularly in areas where there is already strong cooperation.
"Europe will continue to engage the U.S. in security and defense where the U.S. is crucial," said Brattberg. "The priority now is in managing differences and continuing cooperation in areas where there is agreement."