With President Barack Obama still in Asia, North Korea continues to move ahead with preparations for a nuclear weapons test and may have reached a critical stage in what Pyonyang plans to do next, U.S. officials and experts told NBC News.
"The decision now is political," said one U.S. official familiar with intelligence on the North Koreans' nuclear testing. "There are no technical issues that need to be dealt with."
The latest analysis, which comes just as Obama left South Korea for Malaysia on a diplomatic tour of the region, is from the Institute for Science and International Security. The group acquired commercial satellite imagery of the Punggye-ri test site, located near the Russian border, from Friday morning.
David Albright of ISIS said the imagery appears to show camouflage netting covering one of the test tunnels — or "portals"— used in previous tests.
"The newest image, which ISIS received late on April 25, is of higher resolution," Albright said. "It shows what may indeed be netting over one of the tunnel entrances at the South Portal. This netting could suggest that the next test would be at this portal and North Korea is trying to shield something from view."
Placement of the camouflage is usually one of the final preparations prior to a test.
U.S. officials with access to intelligence about the tests declined to comment Friday on the netting issue.
Does this necessarily mean the North is going to go through with a test? Not necessarily, says Albright, a former U.N. weapons inspector in Iraq.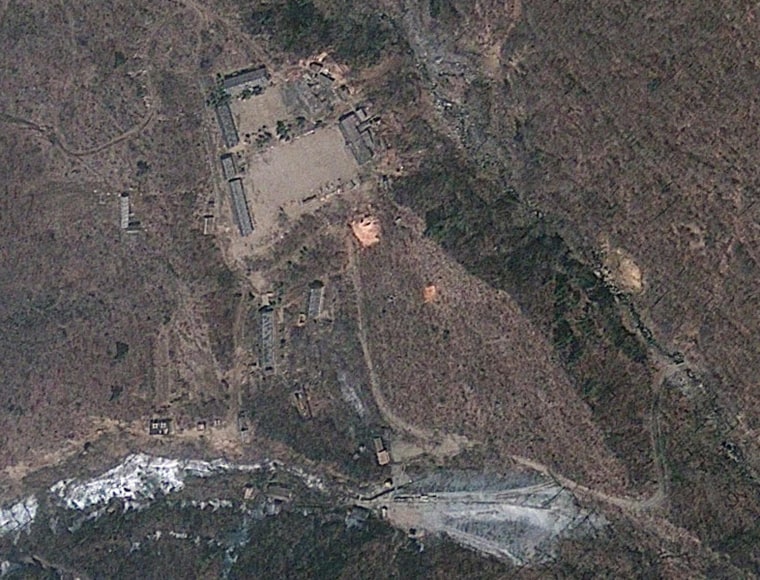 North Korea has made preparations before and not tested.
Albright agreed with the U.S. official who said politics is likely driving a decision.
"There is a political factor that plays a role in the decision to test," Albright argued. "Does North Korea want to conduct an underground nuclear test while President Barack Obama is in the region? It may guarantee a harsher political response from the president. Nonetheless, determining North Korea's plans and schedules is always fraught with uncertainty."
The U.S. and its Northeast Asian allies are concerned this test could be larger than North Korea's three previous tests, and could very well use highly enriched uranium (HEU) as its fuel. The North's previous tests were fueled by plutonium.
Use of HEU would show that the North had mastered HEU production well enough to produce amounts significant enough to use in nuclear weapons. U.S. officials believe the North has between a dozen and "a few dozen" missile-deliverable weapons.
The North wants to be accepted as a "nuclear weapons state" to help it gain stature in negotiations with the U.S. A successful test would – at least in Pyongyang's eyes – bolster that argument.