The recent mutiny by Wagner Group paramilitaries in Russia has revealed cracks in President Vladimir Putin's rule that could further alienate Russians appalled by the Kremlin's war in Ukraine, the United Kingdom's spy chief and its top diplomat said Wednesday.
The mutiny in which Wagner Group forces headed toward Moscow last month "exposed the inexorable decay of the unstable autocracy over which Putin presides," the head of Britain's MI6 foreign spy service, Richard Moore, said in a speech in Prague. 
He invited Russians repulsed by the invasion of Ukraine to spy for Britain, saying, "Our door is always open."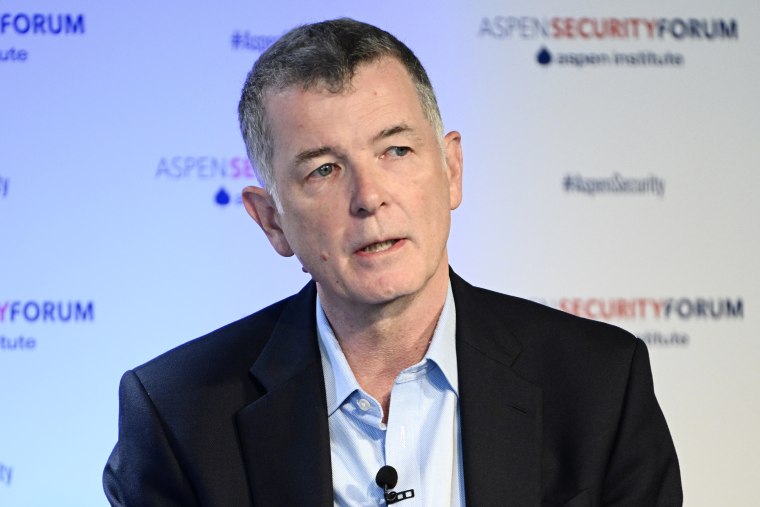 Britain's foreign secretary, James Cleverly, said the mutiny showed fissures in the Kremlin as the war drags on in Ukraine.
"That one of Putin's protégés turned on him, denounced the rationale for the war, marched within a couple of 100 kilometers of Moscow ... that shows real cracks in the Russian system," Cleverly told NBC News' Andrea Mitchell in an interview during a visit to the U.S.  
It also demonstrated "that the Ukrainians are putting real pressure not just on the battlefield, but also in the political and elite circles within Russia," he said.
"We don't know exactly what the implications will be on the battlefield, but it cannot be good news for Putin," he said.
At the outset of the conflict, Russia had tried to put out the message that the West's resolve and its support of Ukraine would fade over time, Cleverly said earlier at the Aspen Security Forum in Colorado.
"And yet what we're seeing is the first cracks are appearing on the Russian side rather than on our side. And it doesn't matter how Putin tries to spin it, an attempted coup is never a good look," he added.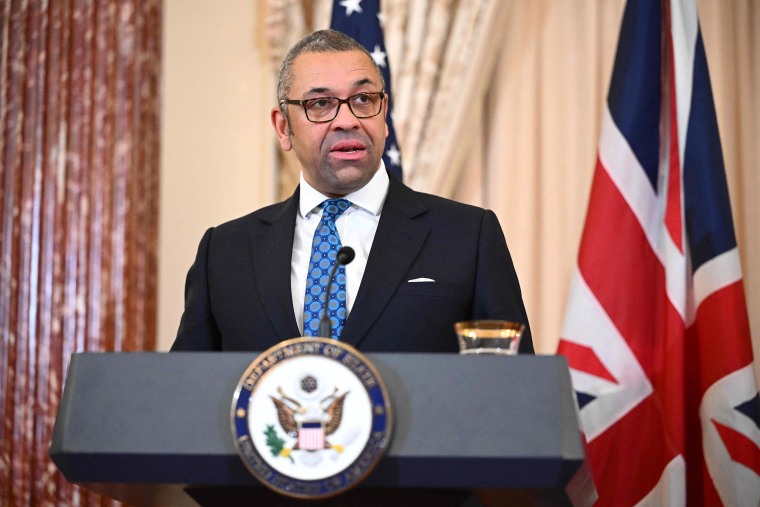 In his speech in Prague, Moore, the head of MI6, compared the invasion of Ukraine to the Soviet invasion of Czechoslovakia in 1968, when the Kremlin sent in tanks to crush democratic reforms. 
"There were many Russians in 1968 who saw the moral travesty of what was being done here in Prague," Moore said. "They had no wish to be on the wrong side of history, and the bravest of them acted on their convictions by throwing in their lot with us as partners for freedom."
He said his service would welcome Russians who are horrified by events in Ukraine. 
"I invite them to do what others have already done this past 18 months and join hands with us," he said, promising that their secrets would be safe and that "together we will work to bring the bloodshed to an end."
It was Moore's second public speech since he took over as head of MI6 three years ago.
The open invitation to disaffected Russians follows a similar appeal this year from the CIA, which posted a video on social media. 
Moore said that he stood by his comments a year ago that Russia's military effort in Ukraine was "running out of steam" and that there is now "little prospect of the Russian forces' regaining momentum."
Both Moore and Cleverly said that Ukraine was making steady progress in its counteroffensive against Russian forces and that it was vital that NATO allies continue to provide military assistance.
"We keep giving them tools to get the job done and we make sure that they're able to get their country back," Cleverly said in his interview with NBC News.