The Obama administration has launched an internal investigation into a Dec. 12 drone strike in Yemen that targeted an al Qaeda militant but which local villagers say ended up hitting a wedding party, killing 12 and injuring 14 others, U.S. officials tell NBC News.
NBC News has obtained exclusive videos and photos taken in the aftermath of the strike. The graphic images show the scorched bodies of young men who villagers say were part of a convoy on their way to the wedding celebration when they were killed in their pickups by two Hellfire missiles fired by a U.S. drone.
The video and photographs were shot by Nasser Al-Sane, a local Yemeni journalist, and given to NBC News by Reprieve, a human rights group critical of U.S. drone policy. NBC News showed the video to White House and Pentagon officials who declined comment. A Yemeni official said the images are consistent with what its government knows about what happened after the attack.
"You cannot imagine how angry people are (about the strike). They turned a wedding into a funeral," Al-Sane, who lives near the town of Radda, where the drone strike took place, told NBC News.
U.S. officials acknowledge the seriousness of the claims and say the strike is being investigated by administration officials -- one of the few times the U.S. government has confirmed an internal review of a drone strike and the first time since President Barack Obama pledged to tighten rules for the strikes in a major speech in May.
"Given that there are claims of civilian casualties, we are reviewing it," said one U.S. official, who like the others spoke on condition of anonymity.
Asked about the Dec. 12 incident, White House National Security Staff spokeswoman Caitlin Hayden said she could only respond "generally" about U.S. policy.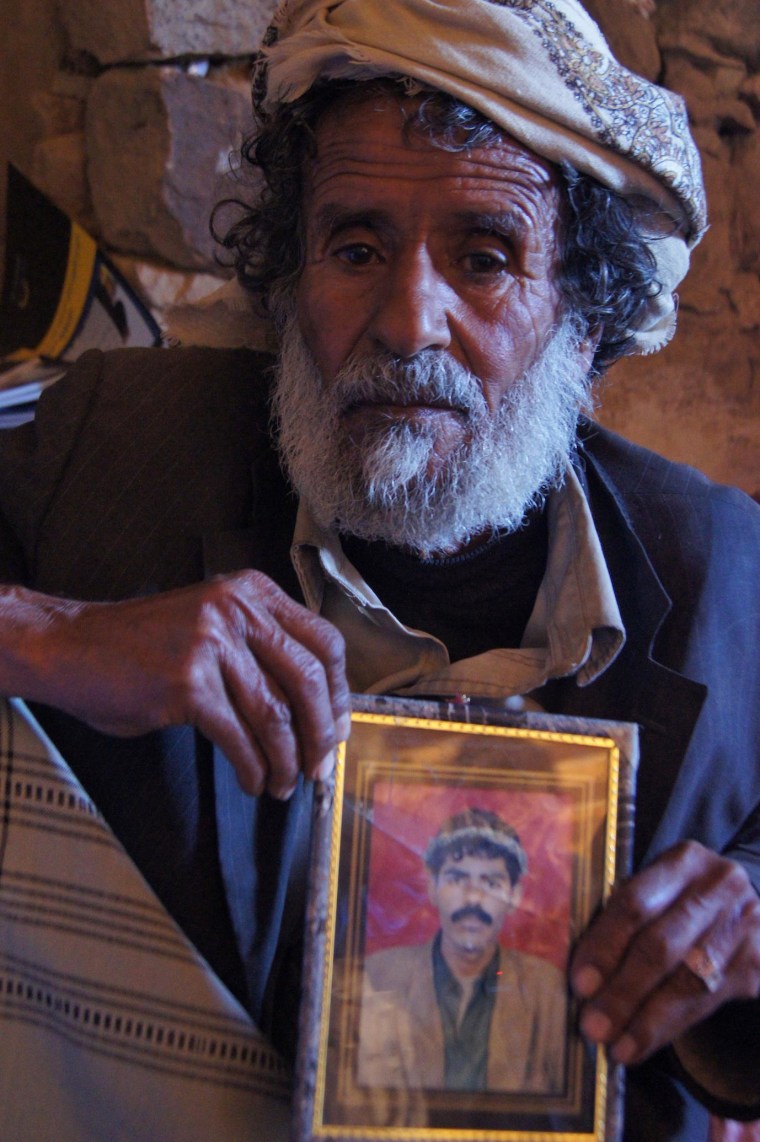 "Before we take any counterterrorism strike outside areas of active hostilities, there must be near-certainty that no civilians will be killed or injured – the highest standard we can set," she said. "And when we believe that civilians may have been killed, we investigate thoroughly."
U.S. and Yemeni officials say the drone strike was carried out by the Defense Department's Joint Special Operations Command, not the CIA, which operates its own drones in Yemen. The intended targets, they say, were "dangerous al Qaeda militants," including Shawqui Ali Ahmed al Badani, a "mid-level" operative who is suspected of helping orchestrate a terrorist plot that led to the shutdown of U.S. embassies around the world in August.
Yemeni security agencies still maintain that militants were killed in the strike and that Badani was wounded but escaped. But one Yemeni official, also speaking on condition of anonymity, acknowledged that initial reports that civilians in a wedding party were killed also prompted the Yemeni government to authorize the local governor of the province to offer compensation – the equivalent of about $110,000 in cash as well as 101 Kalishnikov rifles – to tribal leaders in the village.
"It is a total mess," said the official. "It is completely not clear who was killed. This is should be a wake-up call to everyone involved (in drone strikes) to find out what's going on."
Rosa Brooks, a former Defense Department policy adviser who served in the Obama administration and has questioned aspects of the drone program since leaving her post, reviewed the video for NBC News and said it does not prove whether those killed were militants or innocent civilians.
"It is impossible to look at that footage and conclude anything other than some people were killed and terribly injured," she said. "But that just to me highlights the importance of having a really robust and transparent process … and right now, we don't seem to have one at all."
Baraa Shiban, a human rights activist who interviewed local villagers two days after the strike, said he saw no sign that Badani was anywhere near the village, noting that he was from another region of Yemen, and, as a "stranger" to the area, was unlikely to have been invited to a gathering celebrating the wedding between a groom and bride in two neighboring villages.
"There was clearly a wedding party," said Shiban. He said he believes U.S. officials "may have been fed the wrong intel. They saw a group of people waiting in trucks for a convoy and they assumed they were militants, so the made the decision to strike."
Shiban said he has compiled a list of the 12 men killed in the strike. They were shepherds and khat farmers, who ranged in age from 20 to 65, he said.
Al-Sane, the journalist who shot the video and also interviewed local villagers, acknowledged that the young men killed in the strike were carrying rifles. But he said this is not at all unusual for a wedding procession. "In an Arab wedding, it is a tradition for people to carry arms," he said. "They shoot bullets in the air as a form of expression. That's how they celebrate a wedding."
The disputed U.S. drone strike in al-Baydah province in central Yemen came just a week after al Qaeda militants launched one of the most-devastating insurgent attacks in the country — an assault on the Yemen Ministry of Defense and a military hospital that killed 52 people, including women, children and doctors.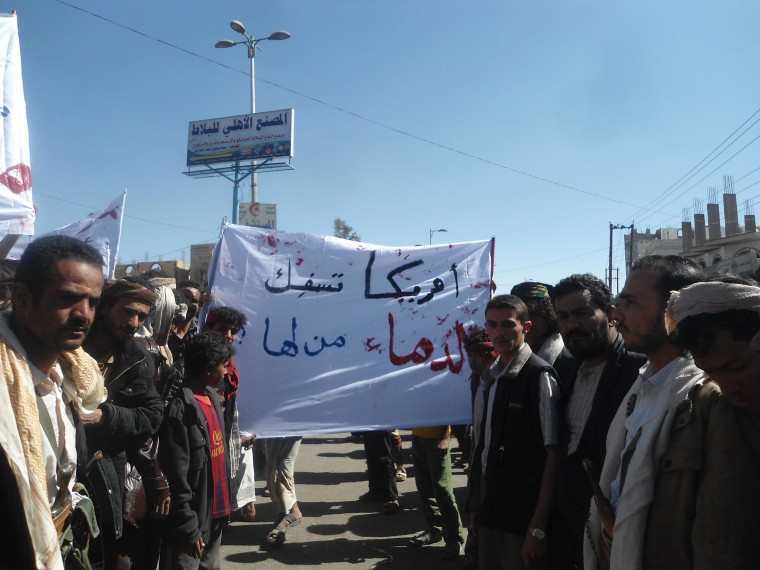 While the attack reportedly stirred anger toward al Qaeda in the country, the drone strike triggered a strong backlash against the U.S. as well. Within days, Yemen's Parliament voted for a resolution calling for an end to all drone strikes in the country.
Shiban is a member of Yemen's National Dialogue, an officially sanctioned assembly of citizens tasked with finding solutions to the critical issues facing the country, and serves as the local coordinator for Reprieve, a human rights group that has been critical of drone strikes.
In a report Shiban filed for Reprieve, and which the group shared with NBC News, he said local villagers told him the drone attack had taken place on a convoy of 11 cars and trucks carrying about 60 people traveling from the home of the bride to the neighboring village of the groom. While the convoy was waiting in a valley for more guests to join, the group head the sound of a drone approaching, it said.
He quoted Ahmed Mohammed Al Shafe'ee, a 70-year-old shepherd, as saying his 25-year-old son – the father of seven, including a 15 day old baby — was among those killed in the attack.
"We heard a loud explosion coming from down in the valley," he said, according to Shiban's report. "I arrived to the site and there were bodies scattered all over the place. The people told me that my son Aref had died." When he returned to the village, Al Shafe-ee was quoted as saying, "I saw the women of the village gathered crying and screaming."
Another villager, Sheikh Salah Al-Taisy, is quoted as saying that there was no place to take cover.
"There was no way to run. It is a very remote area," he said. "...We live in fear day and night. Our children and women cannot sleep."
According to Shiban's report, nine bodies were taken to the village of Radda for a mass burial. The photos and videos Shiban sent to Reprieve show a row of burned corpses lined up on the ground surrounded by local villagers, as well as a scorched truck purportedly destroyed in the attack. They also show villagers holding up a banner in Arabic saying, "America Spills the Blood," as well as local residents playing with the remains of a Hellfire missile bearing the words "Warning -- two man lift" in English.