SOMERVILLE, Mass. — A New England city may not be the place one associates with an ancient, Mexican chocolate-making tradition.
But ask Henry Ung and his girlfriend Mimi Rodriguez about Taza Chocolate, which they happily consumed at the company's Día de Los Muertos festival this past weekend.
"I love the chocolate for the feeling in my mouth. It's gritty and a smokier type of texture and flavor. The stone-grinding is unique," said Ung, who recently moved from Houston to Boston with Rodriguez.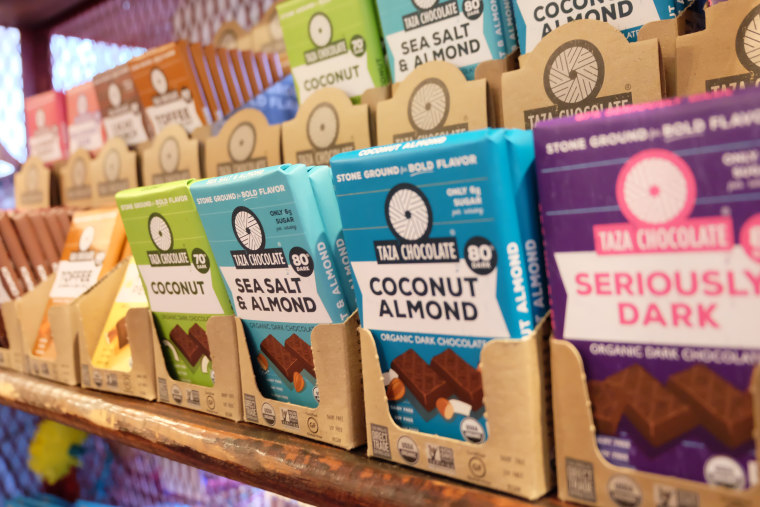 Boy, is the flavor intense. Most dark chocolates, which are very bitter, are over 35% cacao. Taza's is a lot more; there's nothing subtle about it. In fact, their most popular chocolate, "Wicked Dark," is 95% cacao. Whether it's the sandy texture of the treat or the occasional bitter darkness of its intense cacao mixture, no one can walk away from a bite without having a strong impression. It has a rave following.
The product, now found in over 40 states, owes its unique aesthetic and making to an ancient Mexican tradition of stone grinding the cacao beans to make the chocolate.
Taza founder Alex Whitmore was inspired when he first experienced the different style of chocolate while visiting Oaxaca, Mexico in 2004. The area is known for chocolate making since the Olmec, who came before the Mayans, and it's still famous for it.
Whitmore apprenticed a molinero (grinder) to learn how to hand-carve the granite mill stones used to grind the cacao beans. In 2005, he launched Taza with his wife Kathleen Fulton, and has since sourced cacao from Latin America, and more recently, Africa.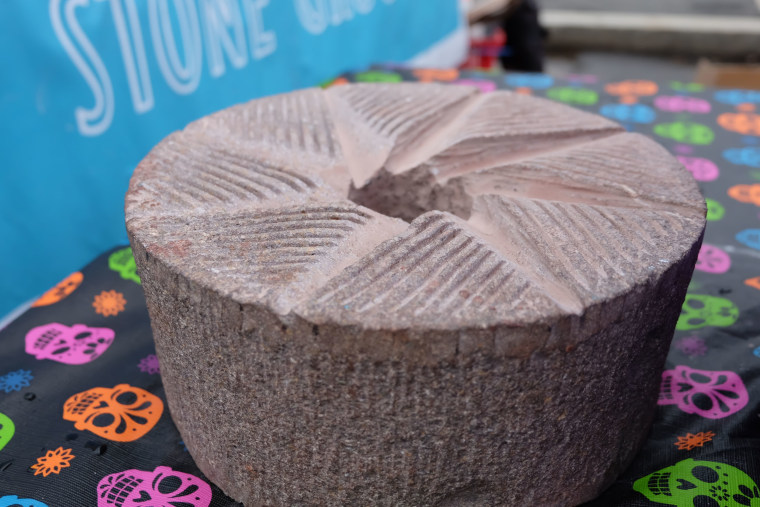 This past Sunday, the company celebrated its eighth Día de Los Muertos Block party outside its factory in Somerville, Massachusetts to honor the Mexican holiday and the roots of its chocolate-making practices.
"We want to celebrate Day of the Dead, and highlight the inspiration," said Whitmore. "We love the Mexican chocolate-making tradition, and have had a lot of people who work here who are Mexican or Meso-American."
Whitmore elaborated on the history of foods indigenous to Latin America, including cacao, chiles, tomatoes and potatoes.
"There are so many things we take for granted as a part of European cuisine, including chocolate," Whitmore told NBC News.
The name Taza means "cup" in Spanish. "Literally, a cup of chocolate, like how it's done down there," Whitmore said, referring to the ancient Mexican tradition of drinking the ground and melted chocolate.
Part of Taza's loyalty to chocolate's Latin American and small farming roots comes in play through their trade practices; the company has established a third-party Direct Trade Cacao Certification program. This means managers maintain direct relationships with cacao producers, most of which have tiny farms, in order to make sure they're following safe and fair labor and environmental practices, paying workers decent wages and maintaining high-quality cacao.
One of those traders is Gualberto Acebey from ÖKO Caribe, a cooperative of over 180 small cacao farms in the Dominican Republic.
"They're small producers, and Taza is able to give us a good price for the chocolate so we can pay the 180 farmers," said Acebey.
Acebey recently visited Somerville for a second time to attend a business conference at Harvard University and give a presentation, along with Taza, at the New England Chocolate Festival.
"There's been a lot of growth, and it's been helpful to us as cacao traders to be part of that growth," said Acebey. Transparency in the cacao business is important to the cooperative and to supporting fair labor practices, because many cacao traders often skip rules and regulations, said Acebey.
Taza pays at least $500 above market price for cacao in order to support its direct trade program, a 15 to 20 percent premium.
From farm, to chocolate bar
The cacao from Acabey's province in the Dominican Republic, El Cibao, is known for its cherry, ripe mango, and lemony tones. It's the base bean for over 50% of Taza's chocolates. The region has about 35,000 cacao farming families who are growing the beans in rich, fertile soil during two harvest seasons.
To harvest, farmers cut open the pods, pulled from the cacao tree, and remove fruit-covered seeds (commonly referred to as beans), and collect them in buckets to be collected by ÖKO Caribe.
Once transported to the company's processing facility, the organic cacao beans undergo six days of fermentation in wooden boxes followed by a week of solar drying, give or take a day based on the weather.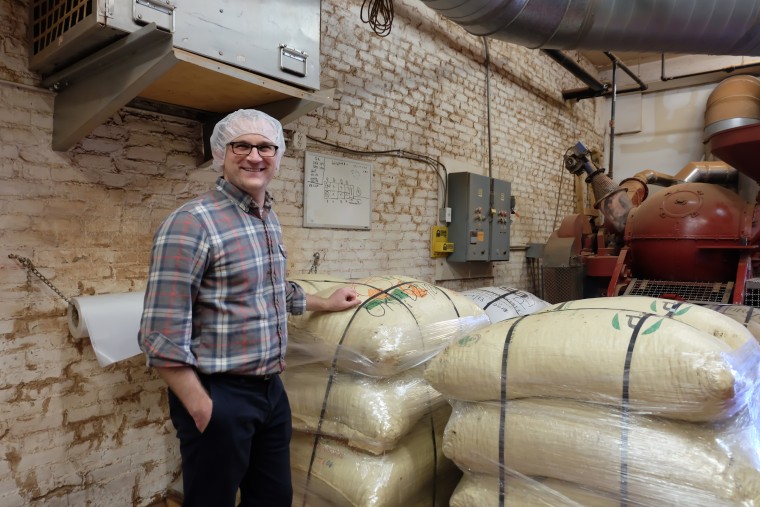 Jesse Last, Taza's sourcing manager, travels to cacao farms, and was very excited to share photos of the fruit and the families he met in his travels.
"We have a lot of requirements," he said. "We have a great network of cacao contacts in countries where it's grown. I love making the trips."
It typically takes two to four years after a tree is planted before it starts growing pods.
"You can just go up to the trees, and grab this beautiful pod. They're orange, green, red, and football sized." The cacao producers work with Taza to determine how long they should leave the beans drying in the sun, a factor that can significantly change the chocolate's ultimate flavor, according to Last.
Back at the Dia de los Muertos event, Ung, who described himself as "passionate about food," said he would like to see Taza talk even more with the community about their chocolate-making roots in Mexico and their use of traditional practices.
Rodriguez grew up in Texas, but her family owns a small cacao farm in southern Mexico and takes part of the cacao trade.
"I'm a harsh critic when consuming Latin American food because I've been around it so much," she said. "I think the chocolate is an acquired taste, and Taza does it well."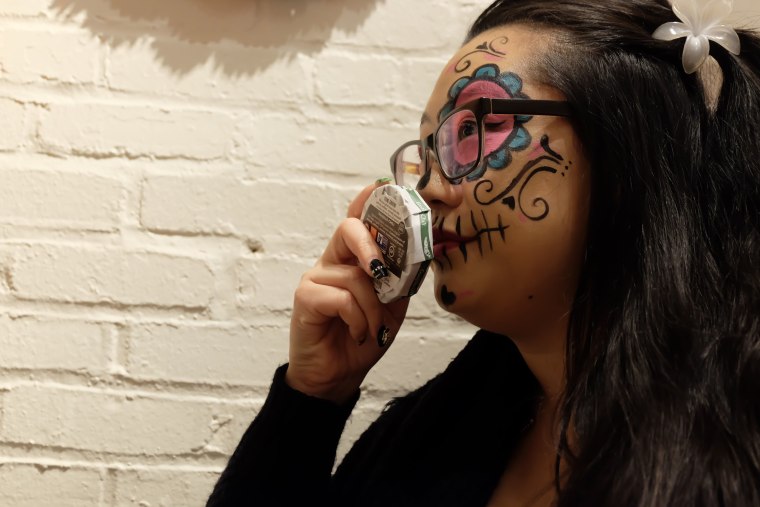 On the Día de los Muertos celebration, she said, "As an arts educator, I'm interested in observing cultural appropriation. People have good intentions. It's important to share a cultural experience. I don't think it's overdone here at all. I love that they have the Mexican corn here too — that was a big part of my childhood!"
In Taza's packed factory store, dozens of people crowded around the Chipotle Chili and salted almond shards. Vyvy Dao sniffed a Guajillo Chili chocolate disc, hoping to smell the spice through the wrapper.
Originally from southern California, Dao said she was glad to find a Día de los Muertos celebration that reminded her of home.
"This is amazing. Especially these days, tradition gets watered down. It's great to have something authentic. That's why I came to check it out," she said grinning.
FOLLOW NBC LATINO ON FACEBOOK, TWITTER AND INSTAGRAM.