Changing demographics will create potential opportunities for Latino workers in the future – but only if Latinos can boost their educational attainment and surmount barriers to career readiness. That's the takeaway from a new report on the Latino "skills gap" by the Society for Human Resource Management (SHRM) and the Congressional Hispanic Caucus Institute (CHCI).
The report highlights two clear trends for the second half of the 21st century. Members of the baby-boom generation will be entering retirement in record numbers, creating a void in the American workforce. Simultaneously the 80 million young people known as millennials will be entering the workplace – and that's where Latinos factor in.
"As the fastest-growing U.S.-born ethnic segment," the report states, "Hispanics are a culturally rich, highly motivated demographic poised to address the void left by the baby boomers." The report suggests that, with more tools and resources, Latinos could be a boon to employers, potentially helping to address the skills shortages in areas like STEM (Science, Technology, Engineering, and Math) fields.
According to the report, economic and demographic trends are driving the need for companies to harness the nation's growing Latino population, estimated at 55 million. While Latinos currently make up about 16 percent of the U.S. labor market, they will account for one out of every two new workers entering the labor force by 2025.
RELATED: More Latinos With STEM Degrees Needed, Here Are Top Schools Doing It
"Our community must do something so that our young people are prepared for the job market of the future, so that they can embark on their careers and be successful," CHCI President and CEO Domenika Lynch told NBC News. "We are committed to the idea that this report does not become another 'white paper' in Washington. We want it to be a call to action, and to show companies what they can do towards recruiting, training, and retaining Latino workers."
"Our community matters, and right now is the perfect time to showcase this kind of research."
"Our community matters, and right now is the perfect time to showcase this kind of research," Lynch said.
Lynch hopes that more Latino students will consider jobs in the STEM fields, while noting that this can require an early and ongoing commitment. In her former position at the University of Southern California, she said, some corporate recruiters would come to her seeking to meet with freshmen.
"To these recruiters, reaching out to someone during their senior year was already too late," she explained. "They wanted to help get students internships, mentoring, and exposure to corporate culture before their senior year."
RELATED: Pres. Obama Declares National Hispanic-Serving Institutions Week
The report notes that at present, both the business world and the Latino population face challenges with regard to the future job market.
On the employer side, many jobs go unfilled because companies cannot find workers with the skill-sets to fill them. There is also a mismatch between the skills that employers seek and the skills that millennials have as they enter the labor force.
The report presents a mixed picture of the outlook for Latino workers of the future. There is little need for concern among employers about English proficiency among Hispanics. English proficiency is on the rise among Latinos, driven by those who are U.S.-born. Hispanics are also entering college in record numbers. However, Latino college completion rates still lag behind whites, Asians, and African-Americans. Among Hispanics ages 25-29, only 15 percent have a bachelor's degree or higher.
RELATED: Think Millennials When You Think of Latinos? Think Younger
To Deborah Santiago, chief operating officer of Excelencia in Education, this reality should concern all Americans. "This is the future workforce; if Latinos are limited in what they can achieve, this limits our entire economy," she said. "So whether out of enlightened self-interest, or to be competitive globally, we have to be concerned with Latino college completion." To Santiago, the policy solution is not just increasing Latino college completion. Rather, it is accelerating Latino college completion.
Santiago believes that policymakers must frame the state of Latino educational attainment and workforce readiness with care. "People do not invest in crisis, they invest in opportunity," she stated. "With a crisis, you just throw money at a problem and hope it goes away. Latino educational attainment should be seen as something with potential, as something with a significant ROI (return on investment) – that is an incentive for people to act."
Although higher educational attainment is the best way for Latinos to boost their career readiness, here Latinos face some hurdles not encountered by other groups. Hispanics are more likely than their white peers to be the first in their family to attend college. College readiness for Hispanics is low, with 38 percent of Latinos taking at least one remedial course when they start college. And many Latinos are not aware of or are confused by the college application process; the report says that Latinos have the highest level of unmet financial need, when compared to other demographics.
Alexander Alonso, senior vice president of Knowledge Development and Certification at SHRM, points out that the new report is unique in several ways. "This one accounts for the changing nature of the workforce and takes into account the broader trends in the workforce," he said. "It looks at where skills are needed, and where Latinos are earning relative to those skills. It also projects the outcomes we will see if we don't do something about the skills gap issue." Unlike other reports on Latinos and education, he says, this one highlights specific strategies and programs that can be used to change the current paradigm.
"These trends give me great hope because we are now seeing things that can benefit not only employers but also employees and their communities."
The SHRM/CHCI report recommends several strategies to improve college and career readiness among Latinos. These include structured pathways – where colleges partner with high schools to show prospective students the paths they need to follow to obtain certain jobs, partnerships between colleges and local industries to meet local employer needs, and mentoring programs to help Hispanics navigate their careers.
For employers, the SHRM/CHCI report recommends harnessing the power of diversity, through training programs and top-down diversity targets; engaging Hispanic millennials, who are more likely than other millennials to look for a company where they can stay for a long time; and increasing training programs and apprenticeships that can help entry-level workers access potential employment.
Alonso told NBC News that, on the question of whether Latinos would be ready for the 21st century workforce, he saw reason for optimism.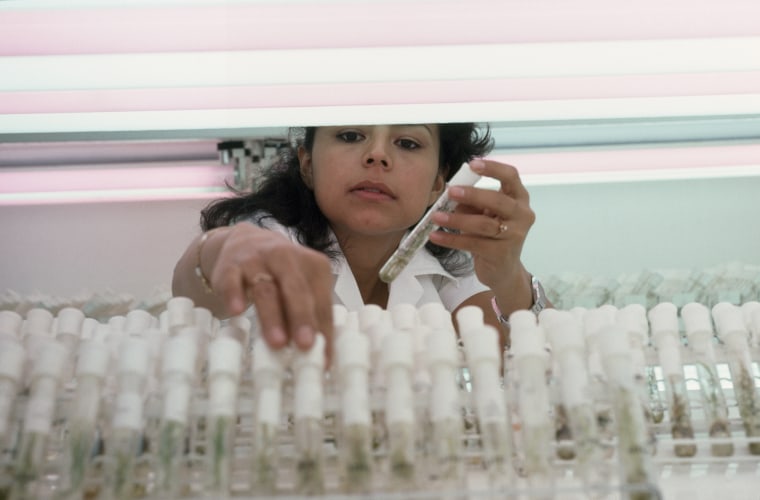 "We are seeing shifts in the way organizations are spending money on training and development, and in the way they are shifting to help employees acquire skills," he said. "This is a big shift for us; typically we see the level of money spent on training and development as declining or holding steady." Instead, lately he has seen companies building partnerships with colleges and increasing training budgets to help build skills in populations like Latinos.
RELATED: Young Latinos of the Obama White House: Witnesses, Participants in History
"These trends give me great hope," Alonso said, "because we are now seeing things that can benefit not only employers but also employees and their communities."
The Society for Human Resource Management describes itself as the world's largest HR professional society, with members in more than 165 countries.
The Congressional Hispanic Caucus Institute is a non-partisan, non-profit organization that provides leadership training and educational opportunities to Latino youth. Both President Obama and Hillary Clinton will be speaking at the CHCI's 39th annual awards gala on Thursday, to mark the start of Hispanic Heritage Month.