A portrait of the Tejano singer Selena, or as New York state Assemblywoman Catalina Cruz calls her "Santa Selena," hangs in Cruz's office in Queens, one of the country's most diverse places. On Cruz's desk is a coffee mug with a picture of the Mexican painter Frida Kahlo.
So every time Cruz goes to work, she sits between two Latina icons.
And just like Selena and Frida, Cruz has made some history of her own.
Last year, Cruz became the first former Dreamer — a term for immigrants who came to the U.S. as children but who lack legal status — elected to the New York Assembly, and the third nationwide.
Cruz moved to New York with her mother when she was 9 and eventually gained U.S. citizenship after marrying her high school sweetheart.
"When I was undocumented, I had to work to help my mom. I had to work to survive, and when I became someone with status," Cruz told NBC News about becoming an immigrant with legal immigration status, "I felt like this constant need to work to give back."
Before running for office, Cruz worked as an attorney in New York City and New York State offices helping draft immigration and labor legislation, and worked on advocacy and in local politics.
'Personally meaningful' legislation
Cruz was one of roughly 70 lawmakers who introduced a bill in the Assembly that allows immigrants without legal status to apply for driver's licenses as long as they have other necessary forms of ID that prove they live in the state. The bill became law in June and went into effect this month.
Cruz described the moment when the law passed as her proudest moment in office. Unable to get a driver's license when she turned 16, Cruz says she knew how the lives of millions of immigrant families would improve with the new law, since daily tasks such as grocery shopping, commuting to work, going to school and getting medical services often depend on being able to drive legally.
"I will be honest, I don't know if there will ever be anything in my career that will be as personally meaningful to my family and I as this was," said Cruz, who did a lot of the behind-the-scenes work to educate colleagues, voters and other government leaders about the law.
Cruz was also one of nearly 50 Assembly members to introduce a bill to expand the state's strict statute of limitations on sexual crimes against children and open up the time period to revive past claims.
Before the vote, on the floor of the Assembly, Cruz spoke publicly for the first time about being a survivor of child sexual abuse, after two other assemblywomen opened up about their own experiences.
Cruz said she has never been the same after a family member touched her. "I felt like I was naked in that room," she said. "I was completely exposed."
The passage of both laws was a long-awaited victory for lawmakers and advocates who had seen both bills languish in the Legislature for over a decade.
Cruz has a series of bills at the top of her list that she's planning on pushing in 2020, focusing on worker's rights, government transparency and immigration.
The one bill basically says, "if you have failed to pay your worker, you are committing wage theft, a criminal act," Cruz said.
"If you steal $500 from someone, you get arrested and you will go to jail," she said. "I think it's the same principle; if that person has worked for those $500 and you failed to pay them, you should get arrested and you should go to jail."
Cruz said many of those who don't get paid are immigrant workers.
Two other bills seek to restore people's trust in the state legislature by regulating who can lobby and who can run for office. One bill seeks to bar lobbyists who have been convicted of sexual crimes from lobbying on the Assembly floor while another bill proposes that anyone who has been convicted of public trust crimes, such as mishandling public funds, cannot run for public office for a certain amount of time.
The last one is called "The Right To Counsel," and it seeks to give immigrants facing deportation in the state of New York the right to an attorney.
"If you're accused of committing a criminal act, you get the right to an attorney. It's in the Constitution," Cruz said. "However, immigration law is a civil law that carries many criminal-like consequences. You end up in jail, you end up deported and separated from your family — which depending on the country, it could be a death sentence."
"So, why shouldn't folks who are facing that kind of a consequence be provided with an attorney?" Cruz said.
Inspiring the next generation
Just like Cruz finds inspiration from Selena and Kahlo, a young middle school student from Queens recently found hope in Cruz's life story.
The student — who lacks legal immigration status, like Cruz once did — asked the assemblywoman to contribute to her art project when Cruz visited her school.
"I will help only if you give me the actual end product to keep in my office," Cruz said. "And she did."
Cruz's hand print rests in the middle of a white canvas, surrounded by many other hand prints. Each hand print is painted with the colors of the flags from the countries where each person comes from.
"All those other hand prints are from her classmates who are also either undocumented or supporters of Dreamers," Cruz said. "And it's beautiful."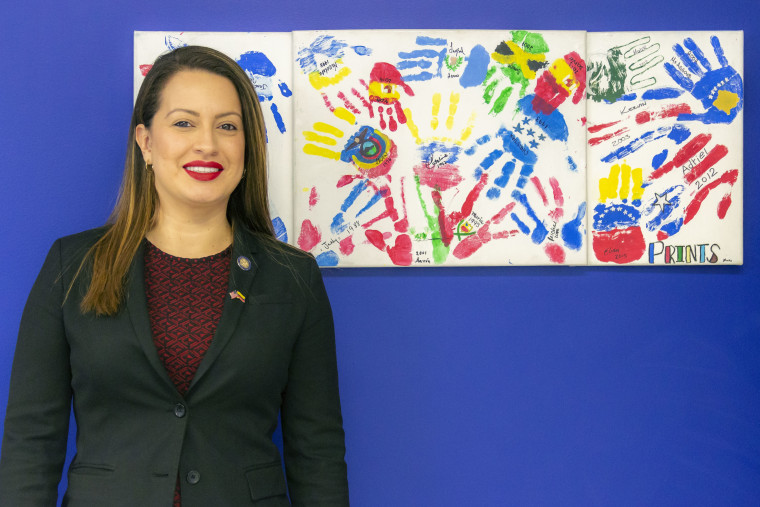 Since gaining citizenship, Cruz visits her family in her native Colombia once or twice a year. Last week, she was in her office making sure everything was in order before traveling there to spend the holidays.
"I get anxiety before I go home. So like, right now I am in full-on Hispanic panic," Cruz said.
While seeing her family is a joyful occasion, the source of her anxiety, Cruz said, comes from knowing that she will relive the pain she felt leaving Colombia to move to the U.S.
"When you have grown up undocumented, that's the kind of pain that never really goes away," she said.
Follow NBC Latino on Facebook, Twitter and Instagram.