NEW YORK — It's never too late to make a dream come true, says the family of a 99-year-old great-grandmother, who recently took part in a very special ceremony that was decades in the making.
"I swear in the name of this flag and God, our Lord, gracias," said 99-year-old América Hernández in her native Spanish, as she took the oath to become a U.S. citizen at a ceremony held in her home last week in Whitestone, Queens, in New York City.
"América ahora es americana," (America is now American), said her daughters.
The ceremony was held in Hernández's home given her advanced age.
U.S. Citizenship and Immigration Services officer Jason Estévez said it was an honor to officiate this ceremony for someone who has been around a century.
Hernández continuously repeated her thanks to the officer, her family and to the journalists gathered at the ceremony.
Her daughter Ana Martínez remembers that her mother would tell her, 'I want to become a citizen like all of you.'
RELATED VIDEO: Noticiero Telemundo Video on América Hernández
"She really loves this country, just like I do," said her daughter. "I feel like this is my country because I've been here for so long.
Martínez was the first one in her household to come to the U.S. in 1970; other family members including Hernández would follow.
Hernández was born in Barranquilla, Colombia on October 11, 1917. She arrived in the U.S. in 1988 when she was in her early seventies.
Hernández raised 12 children in Colombia; ten are still living. She has five children in the United States, five children in Colombia, 22 grandchildren, and 12 great-grandchildren. She had been a permanent resident for decades, but last year the family finally began the process of applying for citizenship.
Hernández's next dream is to return to Colombia for Holy Week to visit her children, grandchildren, and great-grandchildren there. Her most recent trip to Colombia was three years ago.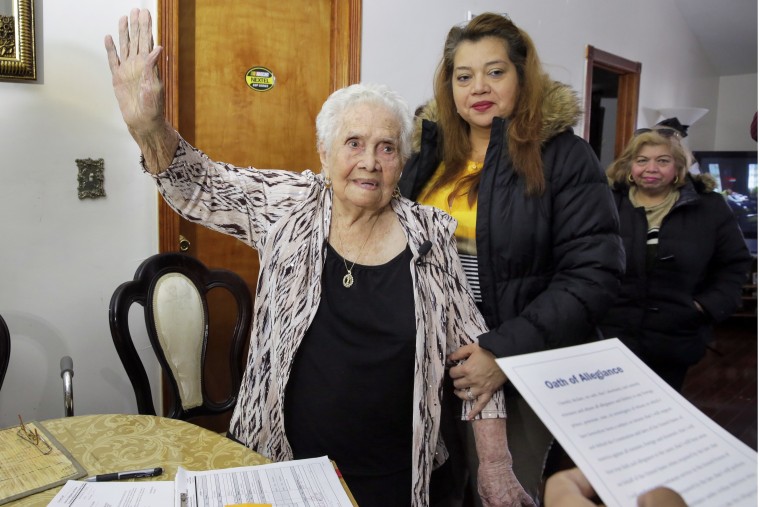 The family said they plan to celebrate their matriarch's new citizenship this holiday season.
RELATED VIDEO: Woman Named America, 99, Happy to Become a U.S. Citizen
As far as her secret to a long life, Hernández credits her faith in God and her devotion to the Divine Christ Child, a devotion shared by most Colombians, and to the Virgen of Guadalupe.
In fact, she always wears a necklace with the image of the Divine Christ Child. Despite suffering a stroke a few years back, she remains quite active. Hernández still enjoys going out on a walk with her family, drinking a good cup of coffee and enjoying an arepa con chicharrón; a traditional corn cake and fried pork rind meal from her native Colombia.
Hernandéz's family says she is living proof that it is never too late to make a lifelong dream come true and that she'll continue waving her new American flag with profound gratitude.
Edgar Zúñiga Jr. is a producer based in Noticias Telemundo's New York bureau for the network's national-evening newscast, "Noticiero Telemundo." Telemundo is a division of NBCUniversal.