GEORGETOWN, TX -- When others saw history in the making on the world's grandest stages, David Valdez saw work to do.
The personal photographer to former President George H.W. Bush and the only Latino to ever hold the position – "the privilege," he says – Valdez's singular focus was to document history. Time was not on his side, however. He had only split seconds to make decisions.
So when the world, for instance, marveled over a meeting between the president and Pope John Paul II, Valdez, eyes behind the lens, shut out the noise and worried about other things. Exposure. Lighting. Composition. And focus. Always focus.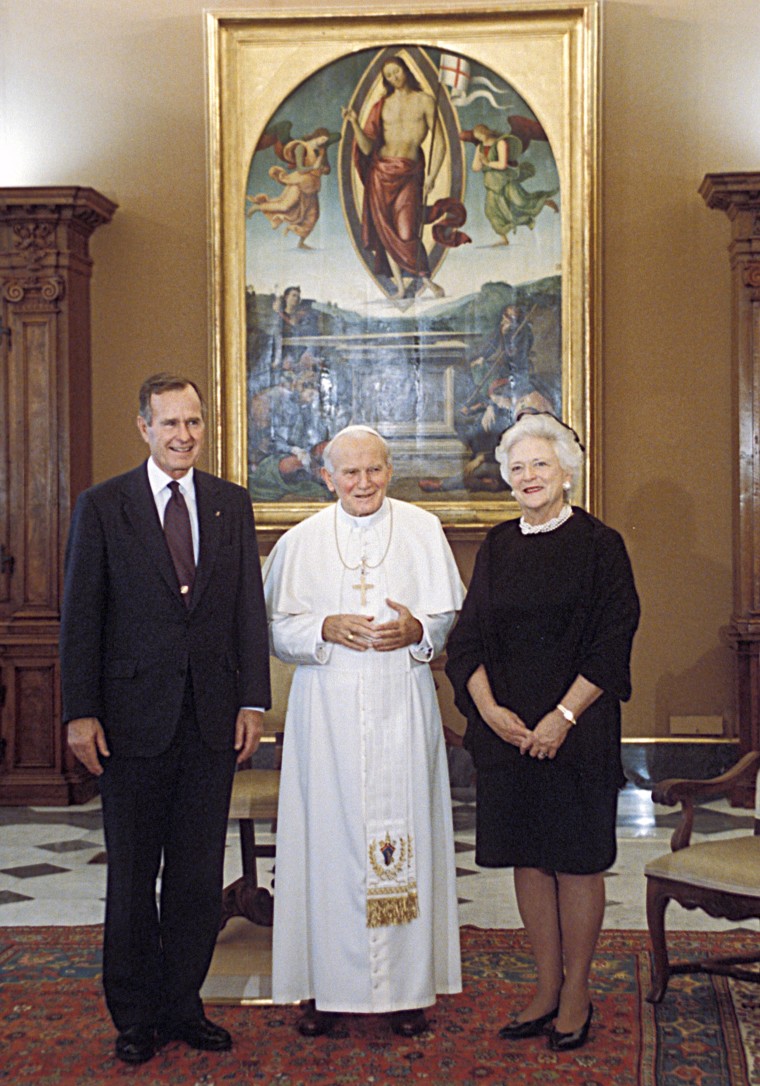 "Failure wasn't an option. You had to get the shot," says the 65-year-old Valdez, now retired and living outside Georgetown, Texas with his wife, Sarah Jane. "You're thinking photography versus the moment."
Only when the moment was gone would Valdez allow himself to ponder his magical life: A Mexican American with small-town roots in Alice, Texas, chronicling the president's every move, waiting in solitude in the Oval Office for a photo op, or standing in the presence of kings and queens and heads of state, privy to their conversations.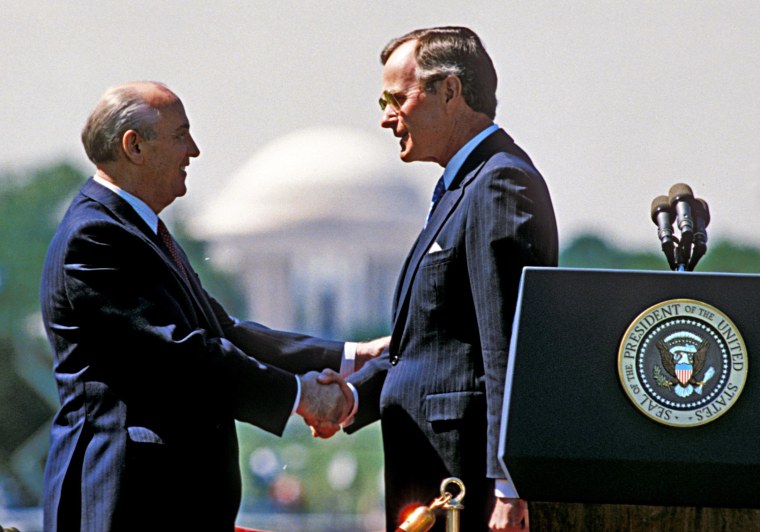 Such immense fortune wasn't lost on his boss either, Valdez told NBC News Latino. Many times when they were seconds from a meeting with a world leader, Bush would jab his elbow into Valdez's ribs and exclaim, "Can you believe this, two guys from Texas doing this?"
Just two regular guys trying to contain their giddiness.
"He was in awe of the presidency," Valdez says.
As White House photographer, Valdez took more than 2 million images of the world leader, logging more than 2 million miles aboard Air Force One, traveling to 75 countries and to all 50 states. Valdez was the proverbial fly on the wall.
People use the term "witness to history," but it was more than that, Valdez says. "You were documenting history, but you didn't want to interject yourself into it. The second you did, then you're altering history."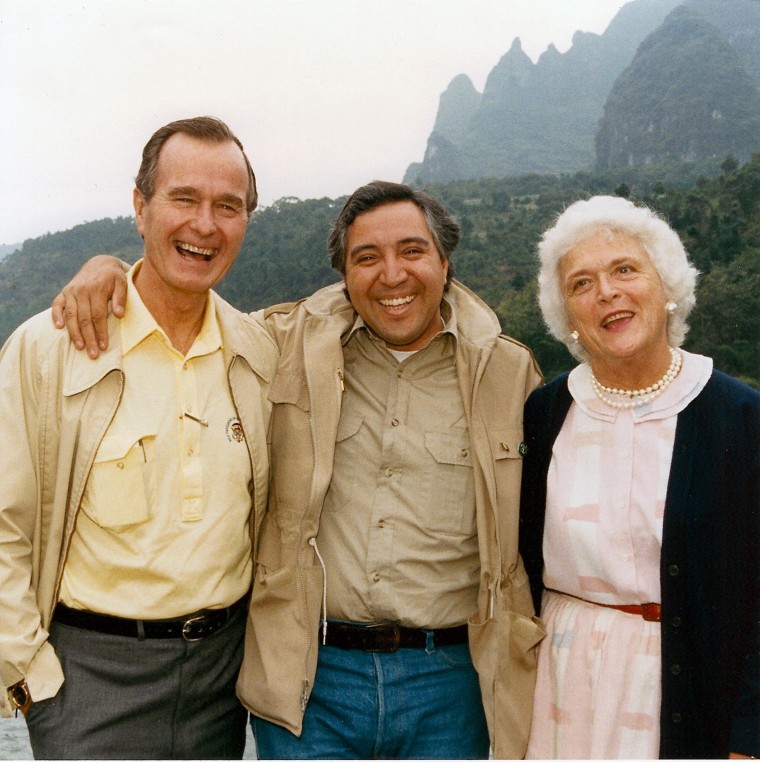 That was a lesson he once had to gently impart to First Lady Barbara Bush, who early on would introduce Valdez to the president's guests.
"I said, 'You know, the second you stop what you're doing and introduce me, I'm now a part of the situation. And I don't want to be,'" Valdez recalls.
Other times, however, to put anyone at ease who might have wondered why Valdez was in the room, the president would introduce him as his friend and explain that he was there to take a few pictures. "It eased all tension and we were able to do whatever we needed to do," Valdez says.
With his gentlemanly, avuncular demeanor and slightly thin voice, Valdez was never a threat to overpower any situation with his personality. "I'm kind of quiet and a laid-back guy, and I think that helped," he says.
Valdez earned the First Family's trust. Never was that more evident than in the summer of 1987, when as personal photographer to then-Vice President Bush, Valdez shot one of the most iconic and intimate images of the future president at his retreat in Kennebunkport, Maine. It captured, in the wee hours, a slightly rumpled, pajama-clad George Bush and wife Barbara in their bed, surrounded by their six grandchildren.
Valdez shot it for Life magazine, which had requested a candid snapshot of the vice president on vacation. Bush said no, but relented on the condition that Valdez shoot it. Barbara Bush invited the photographer to the house "to see what happens." He was alone with the Bushes at 6 a.m. when the children burst in.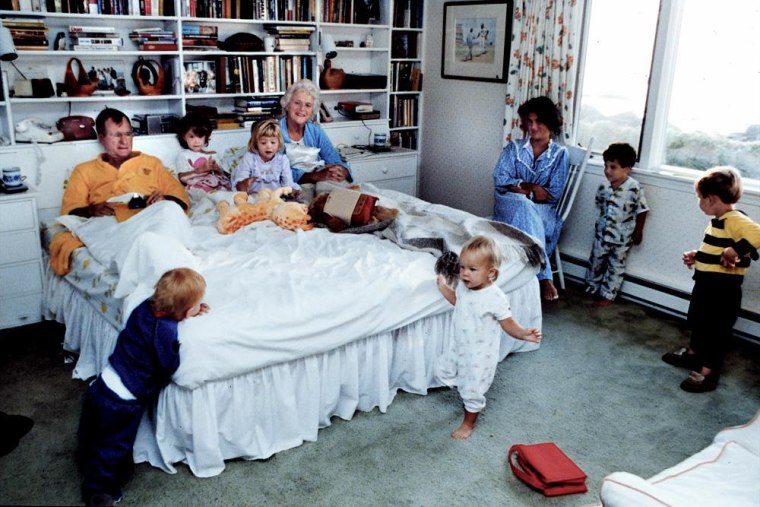 Life splashed the image across its pages, and reprinted it in special editions over the years. It is by far the most republished image of Valdez's career. It struck a chord with the public, he says, because it was in line with what Bush always said were the most important things in life – family, faith and friends.
A photographer in the Air Force, Valdez would go on to earn a journalism degree at the University of Maryland. After stints at the Agriculture and Housing and Urban Development departments and at the U.S. Chamber of Commerce, Valdez, having gotten wind of an opening for a photographer in the office of then-Vice President Bush, sent off a cold letter to his acting press secretary, declaring his interest in the job.
Valdez eventually got an interview with Bush, who told him the job would entail spending a lot of time with him in public and in private, and that trust and loyalty would be musts.
"It didn't really hit me till it actually started happening," Valdez says now.
Today, Valdez's official images are in the U.S. Archive at the Bush Presidential Library in College Station and at the U.S. Archives at College Park, Md. His personal files are archived at the Briscoe Center for American History at the University of Texas.
In a guest bedroom at his home which he dubs the Presidential Suite, Valdez stores dozens of memorabilia and keepsakes of his years with Bush. A photo with Bush and wife Barbara just before his 1989 inauguration. A leather bomber jacket with the presidential seal. Air Force One flight certificates. Crucifixes from two presidential visits to the Vatican. Handwritten thank-you cards from Bush, who called Valdez his "dear and trusted friend." A framed gavel made of wood from the floor of the inauguration platform, a gift from Bush. "One of my treasures," Valdez says.
Recently Valdez photographed a subject with a familiar surname, Bush's grandson, George P., during his successful campaign for election as Texas Land Commissioner. It was life coming full circle, says Valdez, who had photographed him when he was a child.
When the 41st president of the United States left office in 1993, Valdez went to work as general manager of photography for Walt Disney Attractions, where he established Disney's digital imaging department. In 2003 he returned to Washington to work for HUD before retiring in 2010.
Valdez still keeps a busy schedule, however, speaking about his White House days at events across the country. Recently, Valdez photographed a subject with a familiar surname, Bush's grandson, George P., during his successful campaign for election as Texas Land Commissioner. It was life coming full circle, says Valdez, who photographed George when he was a child. In his election night speech, after a conversation with Valdez, George P. Bush talked about the overarching importance of family, faith and friends.
Valdez's life shadowing the president is not something he talks about much, he says, because some might construe it as bragging.
But it is all true. Oh, the stories he could tell.
Like that time he was in Communist Poland with Vice President Bush and shipyard worker Lech Walesa. "And Walesa says, 'Mr. Vice President, someday you'll be president of the United States and someday Poland will be free.' And then George H.W. Bush was elected president and we went back to meet Walesa, now president of free Poland, and you say, 'Wow, I'm here watching history.'"
Imagine that. Just a regular guy from Alice, Texas.