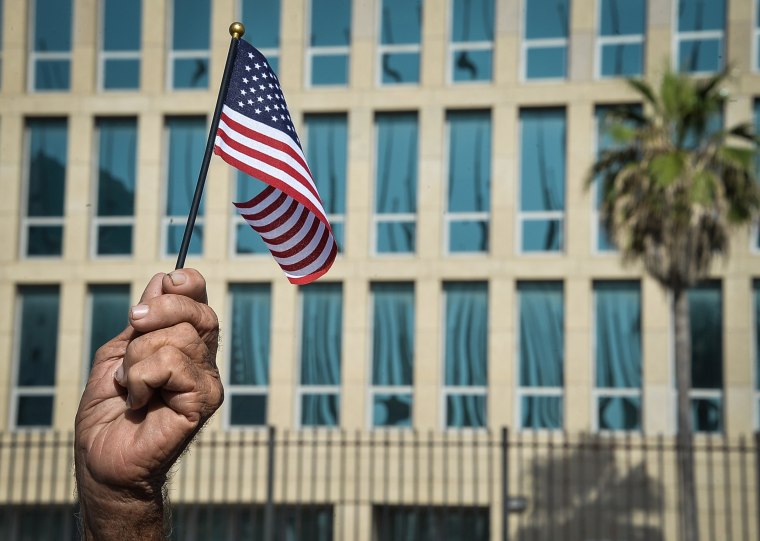 MIAMI, FL – Many will be watching closely when President Barack Obama makes a historic visit to Cuba later this month, where he is to raise human rights issues with Cuban President Raul Castro. There have been varied reactions to the visit, including sharp criticism from those who think the administration hasn't followed through on statements President Obama made in December that a trip was contingent on the advancement of freedom on the island.
"Where specifically, Mr. Secretary, have human rights conditions on the island improved," asked Rep. Mario Diaz Balart (R-FL) to Secretary of State John Kerry during a recent House Foreign Relations Committee hearing.
At the hearing, Rep. Ileana Ros-Lehtinen (R-FL) pressed Kerry over the administration's commitment to human rights in Cuba, criticizing the administration's plan to cut spending on democracy and human rights by 25 percent.
Sec. Kerry said "we are engaged actually more directly in human rights than we ever have been or capable of being because we now have negotiated additional diplomatic presence in Cuba."
During an interview with Yahoo News this past December, Obama said that "If in fact I, with confidence, can say that we're seeing some progress in the liberty and freedom and possibilities of ordinary Cubans, I'd love to use a visit as a way of highlighting that progress."
Critics of the upcoming presidential visit cite Cuban political activists who say the amount of political repression has gone up since his Obama's December interview. During the month of January, 1,414 Cubans were detained for political reasons – one of the highest monthly figures in years, according to the Cuban Commission for Human Rights and National Reconciliation.
Ahead of Obama's visit, the Cuban government granted seven well-known dissidents who are out of prison, on parole, a one-time permission to travel outside the country. Upon return, they would resume serving sentences with a ban on travel. This gives the Cuban government an opportunity to show they are treating dissidents more fairly. It also creates an opening for the dissidents to remain in exile.
RELATED: President Obama to Make Historic Visit to Cuba
Senators Ted Cruz and Marco Rubio, two Republicans of Cuban origin vying for the GOP presidential nomination have slammed Obama's trip, saying they wouldn't travel to the island until it's a free country.
But University of Texas lecturer Arturo Lopez-Levy, who previously worked for the Cuban government, said the GOP senators "are using their own rubrics to measure human rights."
Lopez-Levy thinks the human rights situation has not deteriorated when you look at the bigger picture. The Cuban government has improved in freedom of travel, the right to own private property, and freedom of religion, which all form part of universal human rights, according to Lopez-Levy.
Amnesty International reports that the Cuban Commission for Human Rights and National Reconciliation (CCDHRN) documented over 8,600 politically motivated detentions of government opponents and activists during last year.
Jaime Suchlicki, Director of the Institute for Cuban and Cuban-American Studies at the University of Miami, thinks there is more repression now because Pres. Raúl Castro is afraid of U.S. subversion. "He sees the storm coming - he has to tighten control to allow for the succession he is planning. He is not planning a free society."
Castro is 84 and has said he will step down in February 2018. There has been speculation over who will take his place. Many analysts believe First Vice Minister Miguel Diaz-Canel is next in line. However, Castro's son - Alejandro Castro – who is a colonel in the Interior Ministry has been mentioned, as well as his former son-in-law, Luis Alberto Rodriguez Lopez-Callejas, also a colonel.
But supporters of the President's upcoming trip say improved relations between both countries is the way to move forward on the issues.
Gustavo Arnavat, a former Obama administration official and senior advisor at the Center for Strategic and International Studies thinks Obama's visit should not be viewed as an endorsement of the Cuban government or as a reward for good behavior but rather as one element of Obama's new approach to engage Cuba.
The idea, said Arnavat, is that Obama's policy and visit will have a catalytic effect over the long run that benefits the U.S. and Cuba.
"My hope, as a Cuban American and really, as an American, is that both sides will use it [the visit] as a way to enable a process of reconciliation to begin between the two countries," according to Arnavat.
In the meantime, Obama took to Twitter to say he would raise the issue of human rights as part of the history-making visit.