Now that Joe Biden has pledged he'll select a woman as his running mate, one of the questions being asked is why not a Latina for vice president?
Latinas are about half of the 60 million Latinos in the country and 18 percent of all women in the U.S. They have held a number of local, state and federal offices even though they are underrepresented at all levels, including in Cabinet-level appointments.
Angry that some of the Latinas were not included as names of potential running mates emerged, Latino Victory Fund tweeted a few suggestions: New Mexico Gov. Michelle Lujan Grisham, the only Latina governor in the country; Sen. Catherine Cortez Masto, D-Nev., the first Latina elected to the Senate and chair of the Democratic Senatorial Campaign Committee, which is responsible for gaining the party seats in the Senate; Rep. Veronica Escobar, D-Texas, one of two of the first Latinas elected to Congress from Texas in 2018; and Rep. Nydia Velazquez, D-N.Y., the first Puerto Rican woman elected to the House.
"The reason we posted that tweet is with Latinos being the largest nonwhite ethnic bloc in 2020 and the fact that Sen. (Bernie) Sanders has been more robust in engaging young Latinos, it is essential we have a Latina in the conversation as a potential vice presidential pick," said Mayra Macías, executive director of Latino Victory Fund, which endorsed Biden and promotes Latino candidates for elected office.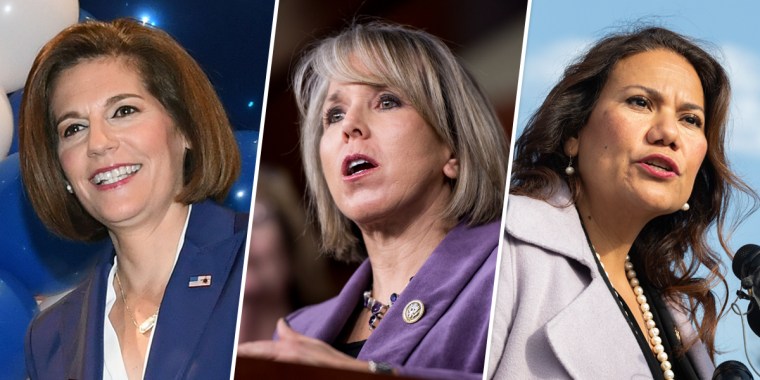 "Latina American public servants across the country have an unparalleled track record of getting things done for their communities, states and the country. It's about time we see that leadership in the White House," said Rep. Tony Cárdenas, D-Calif., chair of Bold PAC, the Congressional Hispanic Caucus' political action committee. The committee has backed Latinas to help get them elected to Congress or other public office.
By 2060, Latinas will be more than a quarter of the population, according to Catalyst.
After the former vice president's pledge during the last debate, the names that quickly emerged in media and political circles were those of Sen. Kamala Harris, D-Calif., former Georgia legislator Stacey Abrams, Sen. Elizabeth Warren, D-Mass., and Sen. Amy Klobuchar, D-Minn. It took a few days for some Latinas to become part of the discussion.
Asked whether a Latina is being considered, the Biden campaign told NBC News in an emailed statement that Biden would run a vigorous vetting process, having been through it himself in 2008.
Although he has not yet sealed the nomination as the Democrat's candidate for president, Biden has said he's considering at least seven women.
"They have to be prepared," he said about the vetting process, saying he's spoken to former President Barack Obama about it. "Once I pick someone, God willing if I'm the nominee, that there's not going to be any snafu."
Latinas have long shown their capability when elected or appointed to high-level government office, often as pioneers in their positions. These currently include the first Latina Supreme Court justice, Sonia Sotomayor, and arguably one of the nation's most prominent progressives, Rep. Alexandria Ocasio-Cortez, D-N.Y. There were 13 Latinas in total in the House and the Senate, six in statewide executive offices and 144 in state legislatures as of last year.
The National Association of Latino Elected and Appointed Officials tallied 2,632 Latinas in elected public office last year, under 1 percent of all elected officials nationally.
A boost for Biden?
Some 32 million Latinos are eligible to vote this year, making them the largest nonwhite racial or ethnic voting bloc.
Biden lost the Latino vote to Sanders in some key primary states, including Iowa, Nevada and Texas, and needs to shore up that part of the base to improve his chances of winning the White House in some key states.
By pledging to nominate a woman, Biden eliminated the possibility of a Latino running mate such as former Housing and Urban Development Secretary Julián Castro, a former presidential hopeful, or California Attorney General Xavier Becerra, a former member of Congress. With limited numbers of Latinas in elected office, that makes seeing a Latino in the position even less likely.
BOLD Pac's Cárdenas added as possible for consideration Rep. Lucille Roybal-Allard, chair of the House Homeland Security Appropriations Subcommittee and author of the House version of the DREAM Act, which would have provided a path to citizenship to many immigrants who arrived or stayed in the U.S. as children but lack legal resident status.
He also named Rep. Sylvia Garcia, D-Texas, one of the first two Latinas elected to Congress from the state, who served as a House manager during the impeachment trial of President Donald Trump, and Rep. Linda Sanchez, D-Calif., vice chairwoman of the House Democratic Caucus.
While Ocasio-Cortez is arguably the most recognizable Latina, her age, 30, precludes her from the vice presidential short list. The constitutionally required minimum age is 35.
The progressive group Way to Win, a women-led network, surveyed likely voters to test support for Harris, Abrams, Warren, Klobuchar and Sen. Cory Booker, D-N.J. The survey concluded Abrams would be Biden's best pick.
Cecilia Muñoz, the highest-ranking Latina to serve in the Obama White House, as director of his Domestic Policy Council, said having a woman in one of the two highest offices is overdue. With women of color set to be the majority in 40 years, "it is more than time for us to lead," she said.
"I remember when much of the country was convinced we couldn't elect an African American man as president, and I remember the country's astonishment when we did it anyway. We need to let go of old notions of what we are and are not ready to do," said Muñoz, who next month will release her book "More Than Ready," which provides lessons for women of color on achieving success in white-dominated arenas.
High profile enough?
In a 2017 University of Maryland Critical Issues Poll asking Latinos to name the country's most important Latino leader, about 38 percent said "no one" or "don't know."
Justice Sotomayor had the highest consensus, 32 percent, though she cannot advocate and act on political issues as a Supreme Court justice.
"Who is a prominent Latina he could realistically consider?" asked Stella Rouse, University of Maryland political scientist and associate director of the poll. "This speaks loudly about the fact that Latina women have had trouble rising to the level of prominence, and it's a huge issue."
Four Latinas have served in Cabinet positions, three serving as head of the Small Business Administration and one as secretary of labor. African American women have been secretaries of the Housing and Urban Development, Labor and State departments, as well as EPA administrator and attorney general.
A running mate would also have to help the Democratic ticket raise money, and that has been a big obstacle for Latinas, although Ocasio-Cortez has broken through some of that.
Name recognition will be key for Biden, 77, someone whom voters know a bit and feel comfortable with, especially considering Biden's age, Rouse said.
But inclusion of a Latina in the search would show the community it hasn't been pushed aside, Latino Victory Fund's Macías said.
"At the very minimum, Latinas should be a part of this conversation," she said.
Follow NBC Latino on Facebook, Twitter and Instagram.