Those who've grown up close to their cousins know it's a relationship unlike any other.
That bond is the topic of the latest episode of "Lopez vs. Lopez," the sitcom starring comedian George Lopez and his real-life adult daughter, Mayan Lopez.
Episode 15 focuses on a visit from three primos, or cousins, played by guest stars Harvey Guillén, Jessica Marie Garcia and Chelsea Rendon, who will offer Mayan and her partner Quinten (Matt Shively) a glimpse of what life could have been like if they had made different choices.
"Cousins can hold a mirror up to yourself," Rendon said. "And I think that's something that we do in the episode for Mayan, but then it also kind of puts the mirror to ourselves. And I think that's really beautiful." 
"Lopez vs. Lopez," which airs on NBC (NBC News and NBC are part of NBCUniversal) is a comedy about a Latino working-class family. And it uses humor to tackle complicated issues that can both unite and split households.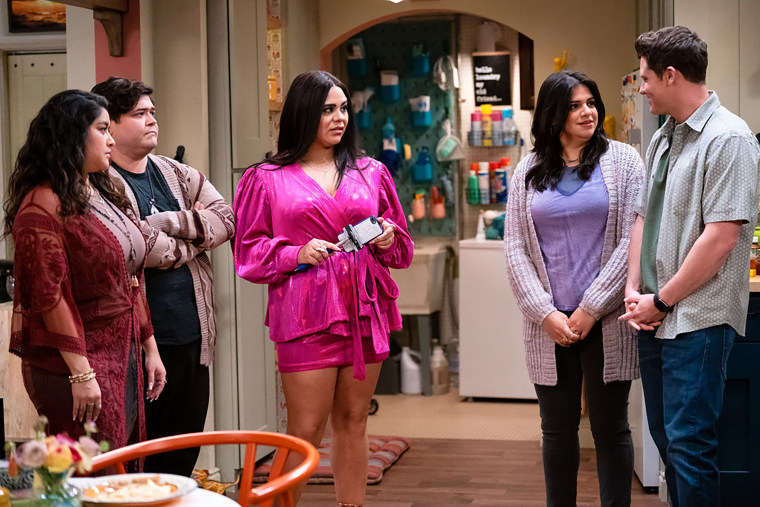 In this episode, it also pays tribute to the strength of extended family relationships, as the three guest stars discussed with NBC News.
"With family, you're already woven together," said Guillén. "Your primos become your best friends — and when you make a best friend out of a cousin, it's a best friend for life." 
"With Latino families, your primos are who you play with when you go to the fiestas, the quinceañeras, when you go to the birthday parties," Guillén said. "They become your best friends growing up. They are your best friends because we kind of keep it close-knit and close to the family, because it's a safety net."
And this lifelong friendship, Garcia said, has turned many cousins into stand-in sisters and brothers.
"Mayan, like myself, is one of those rare Latinos that are only children," said Garcia. "So our cousins become like our siblings, because we don't have any others." 
For many Latinos, "Lopez vs. Lopez" is an iconic show that not only features the talent of George Lopez and his daughter Mayan, but also presents other guests and friends to viewers, including screen legend Rita Moreno.
For the three guest stars, sharing the spotlight with George Lopez and Mayan was a milestone. 
"I think one of the best moments was sitting on that couch and seeing George Lopez to the left and seeing Harvey and Chelsea and Mayan and Matt [Shively, who plays Mayan's TV partner], and feeling like how did I get here?," Garcia said. "To be working next to them, it's a surreal moment."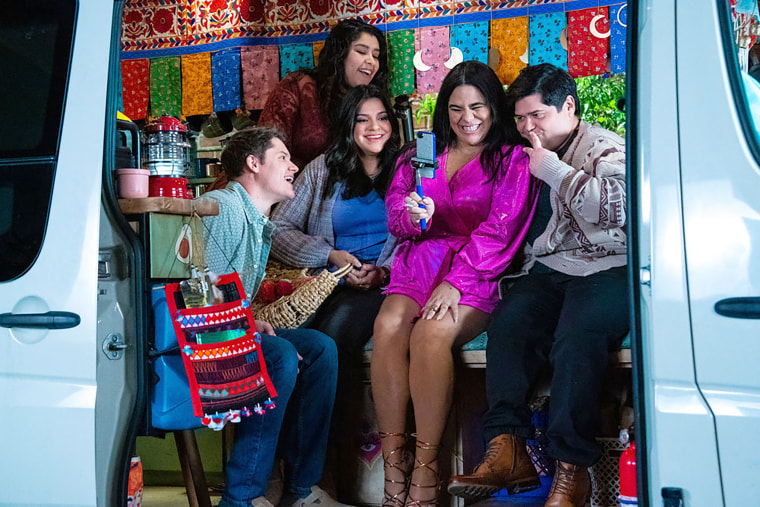 Fans will recognize Garcia from her breakout roles as Willow Cruz on the Disney TV comedy "Liv and Maddie," and as Jasmine Flores on Netflix's teen comedy-drama "On My Block." 
Garcia kicked off her acting career on the ABC teen drama "Huge," which also featured fellow "Lopez vs. Lopez" guest star Guillén. 
Now, together as cousins, Guillén says that being on "Lopez vs. Lopez" felt like he was expanding his acting family.  
"I got to work with two actors that I really admire and am so lucky to now call friends," he said. "Jess and I have a history, and I just made a new family member with Chelsea. We're a small community, the Latino acting community, and we like to pride ourselves that we support each other."
Like Garcia, Guillén has appeared in recurring TV roles. He was featured on the Nickelodeon comedy "The Thundermans" and the Syfy fantasy series "The Magicians." However, fans will most remember him most as Guillermo, the vampire's assistant on the FX show "What We Do in the Shadows." 
Rendon began working in acting at age 7 with a lead role in the 2001 undocumented migrant movie "No Turning Back." She has also appeared on hit TV shows like "E.R.," "The Shield" and "Judging Amyas." 
For Rendon, playing a cousin on "Lopez vs. Lopez" is an opportunity to be part of a Latino family on screen. But, she says, it also allows her to connect with different viewers.
"Anybody that has issues with their parents, anybody that has a kid or anybody that has family can relate to the things that are happening on the show," she said. "So even though it is Lopez vs. Lopez and you would think it belongs in a little brown box, it doesn't."