MIAMI — Sergio Caon was working in aviation maintenance when he was furloughed. His wife was let go from her job at a banquet hall.
Now, they're scraping by and eating less to feed their daughter. Caon says sometimes he feels like eating a snack, but he doesn't.
"We are eating less," he said, speaking from inside his car as he waited at a food distribution event in Doral organized by Farm Share, which partners with other groups to distribute food throughout Florida.
This was the first time, Caon said, that he has ever waited in line to get food.
Over 65 percent of Latinos across the country are having difficulty buying or finding necessities such as food and medicine, according to a recent survey by the polling firm Latino Decisions.
In Florida, where unemployment claims are processed slower than anywhere else in the country, workers have less to fall back on.
The state has only paid 6 percent of over 1.6 million claimants, according to the online dashboard of the Florida Department of Economic Opportunity.
Tougher for asylum-seekers, immigrant families
In counties, like Miami-Dade, where nearly 70 percent of the population is Latino and nearly half of the residents were born in another country, the situation is even tougher for recent asylum-seekers and other immigrants who don't have access to federal benefits or programs — and now find themselves out of jobs and with little food.
Patricia Andrade founded and runs Raíces Venezolanas in Miami, a nonprofit that helps provide help to newly arrived Venezuelans. She said some Venezuelan asylum-seekers are increasingly desperate: That's because those who do not have work permits yet and those who have been working for the past year but have yet to file taxes don't have access to unemployment or the $1,200 stimulus checks from the federal government.
When Andrade began posting information on food distributions on the organization's Instagram page, her followers went up by 1,000 in less than a week. Now she receives messages from Venezuelans in other parts of the United States, asking her to post food distributions in their areas as well.
"The situation of Venezuelans is very difficult," she said. "There are children eating once a day, and it's the meal they receive from school."
Some asylum-seekers are in precarious situations and depending on food handouts.
Until the coronavirus emerged, Gleny Solórzano, 53, and her husband were making meager salaries. The Venezuelan immigrants filed for political asylum over a year ago and are waiting for their work permits to arrive.
Solórzano had been helping neighbors by cleaning, ironing and cooking in exchange for money or food. Her husband was doing odd jobs, like fixing appliances.
These jobs vanished when the coronavirus emerged. Unable to file for unemployment, the family now depends on their son's income from working four hours a day at a hotel.
"Coming from Venezuela, I feel like I have a master's degree in making food stretch," she said. Still, it's difficult for them.
Her food supply is down to pasta and beans for a family of four.
Farm Share went from the usual 50 monthly food distributions to over 200 events between early March and April. But it's not enough. Many cars line up and leave without a box of food in their trunks.
"There are hundreds and sometimes thousands of cars that get left out," Farm Share CEO Stephen Shelley said, describing the situation as "heartbreaking."
At one of their distribution events in the Venezuelan-heavy city of Doral, in Miami-Dade County, cars lined up as early as 2:30 a.m. to receive a box that included chicken, fresh fruits and vegetables. The first 1,000 cars received boxes, but at least several hundred left empty-handed.
Lourdes Zambrano arrived at 7:45 a.m. looking for food to feed her three children ages 10, 15 and 18. Since the factory where she worked closed, she has been able to buy less and less food.
"No more chicken or eggs for us. I've been buying tuna cans," she said as she waited in line.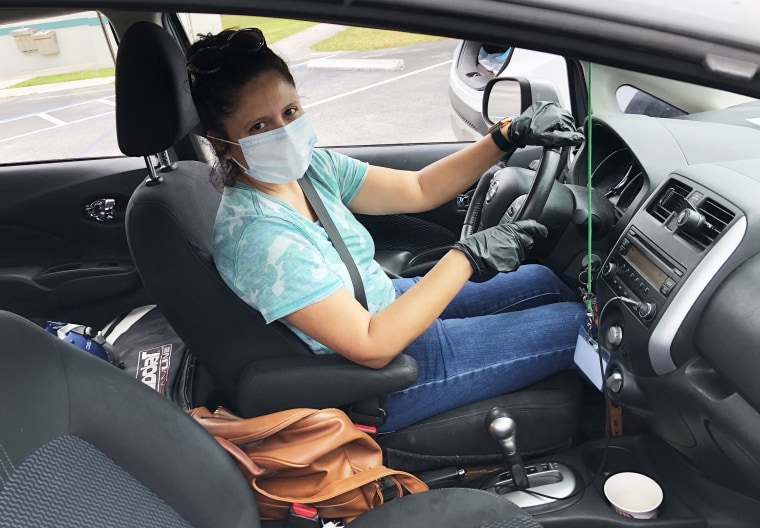 "There is great need in the community," Doral Mayor Juan Carlos Bermudez said as he placed boxes inside people's trunks at the event he partnered with.
It's a similar situation for undocumented immigrants, who have been particularly hit hard during the pandemic. Though many have been working regularly and paying taxes using individual tax identification numbers, those without Social Security numbers do not qualify for the recently created Paycheck Protection Program.
"Layered on that, is that unauthorized immigrants on average have lower household incomes and less access to the safety net in general. So they entered the situation of unemployment already more vulnerable," said Julia Gelatt, a senior policy analyst from the Migration Policy Institute.
Raul Ordoñez, a Colombian immigrant and street vendor, saw his sales vanish with the rise of COVID-19 cases. He says his food supply at home is dwindling.
"My wife and I eat less because we don't know what is going to happen," he said.
Follow NBC Latino on Facebook, Twitter and Instagram.