LAS VEGAS -- It's the GOP's turn now in Nevada and while the focus for the Democratic caucus was on the Latino electorate, the Republican caucus brings a front runner who has angered many Latinos, two competitors who are Hispanic and a much-whittled field.
Donald Trump handily won South Carolina, while Marco Rubio edged out Ted Cruz on Saturday.
Rubio headed to Nevada with visits to northern and western Nevada, while Cruz's itinerary included several stops around the state in Las Vegas Monday and on Tuesday, the day of the GOP caucus.
Missing from the field will be Jeb Bush, a GOP candidate who had significant backing from Republican Hispanic leaders and who some thought could make inroads with the community for the party.
Bush suspended his campaign after finishing with a distant 8 percent of the vote in South Carolina. Trump had 33 percent to Rubio's 23 percent and Cruz's 22 percent, NBC News reported.
"I firmly believe the American people must entrust this office to someone who understands that whoever holds it is the servant, not the master. Someone who will commit to that service with honor and decency," Bush said in his speech ending his campaign.
Related: Analysis: Did Hillary Clinton Really Lose The Latino Vote in Nevada?
John Kasich and Ben Carson, who finished South Carolina in single digits, remained in the race Sunday.
For Alfonso Aguilar, a spokesman for a group of GOP Hispanics who publicly condemned Trump and Cruz over their views and policy proposals on immigration, that leaves one option: Marco Rubio.
"South Carolina has provided clarity. We have to rally around Marco Rubio and endorse Marco Rubio," said Aguilar. "Marco Rubio is a good conservative and he also has appealed to independents and Latino voters because he is constructive on immigration. If he is the nominee, he can beat Hillary Clinton."
Aguilar, who worked in the George W. Bush administration, was a Jeb Bush backer but had not formally endorsed. He said he was doing so now because of Trump and Cruz.
"If this was any other primary I wouldn't get involved. In the past, when we talked about this, Hispanic conservatives wouldn't get involved," Aguilar said. "We felt we had to get involved (this time). "There's too much at stake. If Trump is the candidate, Hillary wins."
He said it is important for others in the GOP to get behind a single candidate. He said he thought Bush would back Rubio too.
There has been little GOP candidate activity here in the past couple of weeks, when Democratic activity was ratcheting up around its caucus. But there was some work going on to draw Republican Latino voters to Tuesday's caucus.
The Nevada Republican Party held a Hispanic Republican caucus training Feb. 16 in North Las Vegas, an incorporated city on the edge of Las Vegas. Its population is 39 percent Hispanic.
Jesús Marquez, a Republican political analyst in Las Vegas, said the event was the first one focused only on Hispanics and was part of the Republican National Committee's effort to raise Latino involvement in the party.
He said about 40,000 Republicans overall, not just Hispanics, were expected to participate in the caucus.
"There's a lot of need in the community for this type of information and training," said Marquez, who also has held a caucus training at his home.
Related: Latinos Go Caucus In Nevada, Clinton Wins State
About a dozen or so people attended the training, some also bringing family.
Anthony Osnaya, 36, attended because Tuesday's caucus would be his first. A construction worker from Mexico, he has been in the country 20 years.
He said he'd be voting for Trump because of "the way he is. Not the way he speaks. What he represents. Leader, a strong guy. A winner."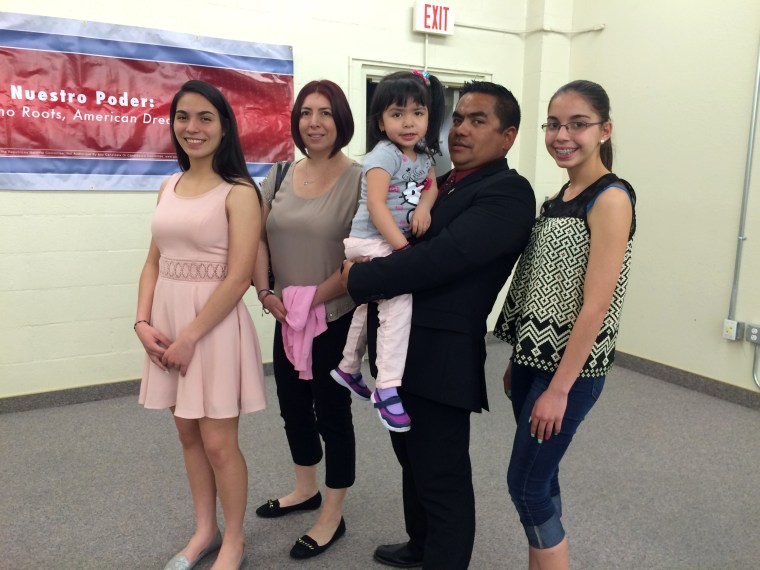 Osnaya, who came with his family, said he was not offended by Trump's speech when he made his presidential announcement, saying Mexico was sending Mexicans who are rapists, criminals and people bringing drugs.
"All cultures have bad and good apples," he said. "He was speaking his mind. I try to teach my girls, you are not going to welcome a guy who doesn't deserve to be there. He was talking about the bad people. He wasn't talking about the workers, the people who get up at 4 or 5 in the morning like myself and go to construction."
Nevada Latinos voted 76 percent for then-candidate Barack Obama over John McCain in 2008, according to Pew Research Center. They were about 5 percent of the caucus attendees, according to entrance polls at the time.
Albert Mota, 36, also was going to be attending his first caucus. Born in Guadalajara, he arrived in the U.S. without legal permission in 1980.
He became a citizen after getting amnesty through the immigration law signed by Ronald Reagan. The law, the Immigration Control Act of 1986, legalized people who had been in the country since before Jan. 1, 1982.
"That's why I support a lot of the Republicans," he said. "We need to let people know Republicans are not evil people like people think."
Meanwhile Hillary Clinton and Bernie Sanders have moved on to hit Super Tuesday states holding their primaries March 1.