Puerto Rico may not be able to care for all its veterans if another devastating hurricane or disaster strikes the island again, according to a congressional report obtained by NBC News.
Staff members of the House Veterans' Affairs Committee found a series of issues at the Veterans Administration Hospital in San Juan, one of the primary facilities serving veterans on the island, that should have been addressed before hurricane season started June 1.
"Following a recent visit to the VA Medical Center in San Juan, Puerto Rico, my staff were struck by issues with the facility's emergency preparedness and disaster response capabilities that could impact thousands of veterans who live on the island," the chairman of the House Veterans' Affairs Committee, Rep. Mark Takano, D-Calif., told NBC News in a statement.
Those in charge of the San Juan veterans center did not know how to access the hospital's medical cache that stores supplies in order to be able to issue emergency prescriptions during a disaster.
It also does not maintain updated, consistent communication with thousands of vulnerable veterans who could be stranded in the event of a natural disaster, among other concerns, the report reveals.
"Frankly, these discoveries are concerning," Takano said.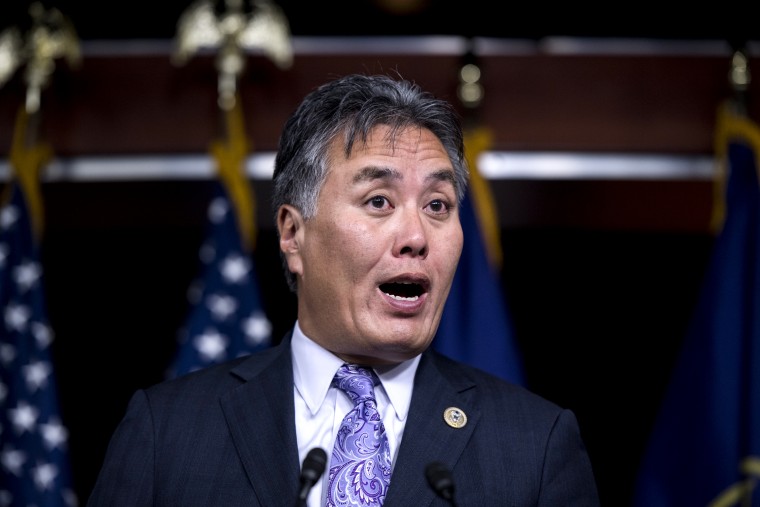 Approximately 9,000 high-risk veterans, who may be bedridden, live with severe post-traumatic stress disorder or require life-saving treatments such as dialysis and insulin shots, currently live in Puerto Rico.
The San Juan medical center is required by law to contact them 92 hours before a hurricane is expected to make landfall in order to inform veterans about the safety plans in place and other pertinent medical information.
Since access to telecommunication services was such a big problem after Hurricane Maria, congressional staffers wanted to make sure the facility had an alternate plan in order to reach these veterans as required.
Cosme Torres-Sabater, a highly experienced emergency manager at Puerto Rico's Veterans Health Administration that serves the island and the Caribbean, said that they have access to "a fleet of cars," of five to 10 vehicles with the "capability to move personnel and equipment" through winding roads or collapsed streets, in order to fully account for all these patients in case they are not able to reach them via phone.
However, the report raises concerns that there are not enough staff members at the facility to get the job done and accurately account for all high-risk veterans.
When asked how ready — on a scale of 1 to 10 — is the island to fully serve veterans in the wake of another disaster, Torres-Sabater, who's a veteran himself, answered: "It's a little difficult to say 10, and say that we are perfectly ready, because every disaster brings their own set of challenges."
A Veterans hospital official even told congressional staffers during their visit that "no one is more prepared than us" for another natural disaster. However, veterans services organizations told House Veterans' Affairs Committee staffers a different story.
After Hurricane Maria, 'harrowing stories'
In separate meetings with organizations serving veterans, the "committee staff heard harrowing stories about the lack of support veterans had received" from the San Juan medical center in the wake of Hurricane Maria, the report says.
Torres-Sabater said that after Maria, "we never closed the hospital. We were able to provide support."
Both the report and Torres-Sabater concur in saying that those who were already sheltered in the San Juan VA hospital were well cared for post-Maria.
"But as casualties came in, those veterans whose conditions were stable were discharged, whether or not they had a home left to go to," the report says.
In the report, congressional staffers recount how a conversation with one organization brought the veterans to tears as they described how the San Juan hospital failed to meet their post-Maria needs.
The House committee received reports of veterans battling cancer being discharged by the VA hospital into homes that had no water or electricity. In one case, a veteran died 10 days after being released. Other reports include substantial barriers preventing veterans from accessing medical supplies and prescriptions necessary for their well-being.
Since pharmacies are not expected to remain operational during a hurricane, the VA facility is supposed to provide surplus catheters, asthma inhalers, oxygen tanks and diapers to veterans in need of such supplies. Congressional staffers were told that the center failed to issue these.
Staffers also have no reason to believe that the facility's emergency medical cache is fully stocked since the VA official charged with maintaining it did not know the cache's location onsite and couldn't provide accurate data on how many times it had been accessed since 2017, when Maria hit.
Torres-Sabater said the Veterans Health Administration has provided supplies to VA centers around the island.
"We set up, a year ago, a hurricane cache that includes everything from gloves, flashlights, catheters, water… If something happens in the next 24 hours, they have those supplies in place," he said.
The report also found that the San Juan VA hospital may not be able to provide 90-day prescriptions for all medications that veterans need in the event of an infrastructure breakdown.
"We will be monitoring these efforts closely to ensure we are prepared for the next storm," Takano said.
According to the House Veterans' Affairs Committee, hearings to examine VA's emergency response systems have already taken place and several other activities are currently planned to ensure veterans continue to receive access to the services and benefits they have earned.
FOLLOW NBC LATINO ON FACEBOOK, TWITTER AND INSTAGRAM.