Perhaps the only way to keep Mexican drug lord Joaquin "El Chapo" Guzman from escaping prison again is to ship him to the United States.
U.S. authorities have made that argument before — the last time Guzman was arrested, in 2014. Mexico resisted, declaring it a matter of national sovereignty and brushing aside concerns that he'd already escaped from prison previously, in 2001.
The world knows what happened next: Guzman made a mockery of his captors, with associates tunneling him out of a maximum security prison in an intricately planned operation that raised suspicions of government complicity.
His recapture Friday might make a stronger case to send him north.
Several U.S. jurisdictions want to try Guzman on federal drug trafficking charges, including San Diego, Brooklyn, N.Y., El Paso, Miami and Chicago, which has named him the city's first "public enemy No. 1" since Al Capone.
But Mexican officials have given mixed signals on the Justice Department's standing request to extradite Guzman.
A Mexican judge approved the request after Guzman's July escape, but that order was reversed.
Ultimately, the decision lies with President Enrique Pena Nieto, who on Friday hailed Guzman's arrest as a victory for Mexican rule of law. "Our institutions have shown once again that the citizens can trust these institutions," Nieto said.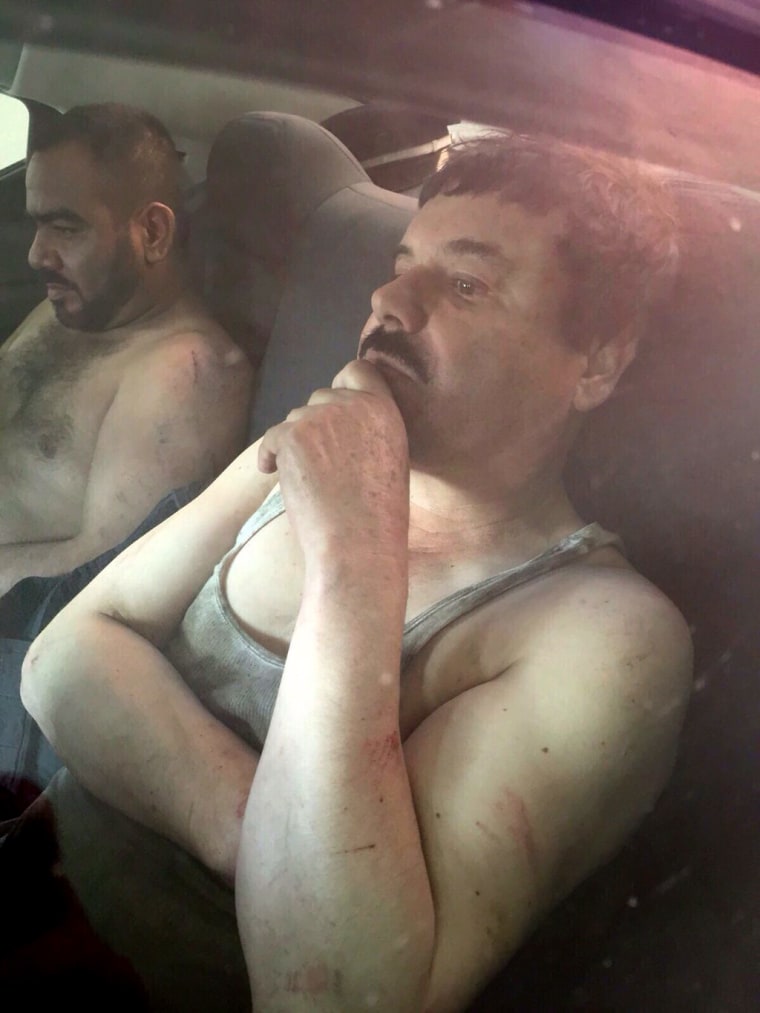 But Nieto is expected to face enormous pressure to extradite Guzman to the U.S., where he would likely spend the rest of his life in prison — with no easy treatment, law enforcement experts told NBC News.
If Guzman were to escape prison in Mexico a third time, it could irreparably damage the government's credibility — and rattle the already tenuous relationship between the two countries.
U.S. and Mexican authorities have worked closely in recent years to capture Guzman, with the Obama administration sharing sophisticated intelligence and law-enforcement firepower, including satellites and wiretaps.
But U.S. officials have been concerned about sharing too much information with Mexican authorities in light of documented evidence that some have secretly fed that intelligence back to Mexico's powerful drug trafficking organizations — including Guzman's Sinaloa cartel.
That was especially the case after Chapo's July escape, which the U.S. warned Mexico of weeks earlier.
But the U.S. continued to help Mexico, including playing a part in Guzman's recapture, a senior Drug Enforcement Administration official in Washington told NBC News Friday on condition of anonymity because of the ongoing investigation.
Michael Braun, a former chief of operations for the DEA, said he didn't think the Mexican president would be willing to risk the chance of Guzman escaping a Mexican prison for a third time.
"I don't think Nieto would suffer the same embarrassment as last time, and that if (Guzman) wasn't killed (during capture), he'd extradite him to the U.S.," Braun said.
"I hope we see him here in the U.S.,'' Braun said. "But only time will tell."
But Jimmy Gurule, a former drug prosecutor for the U.S. Attorney's office in Los Angeles who now teaches international criminal law at the University of Notre Dame, predicted that Nieto would continue to resist pressure to extradite Guzman.
It's not just a question of national sovereignty, Gurule said. There's also the possibility that Guzman, who is notorious for bribing government officials, could divulge information about corruption in Mexico, he said.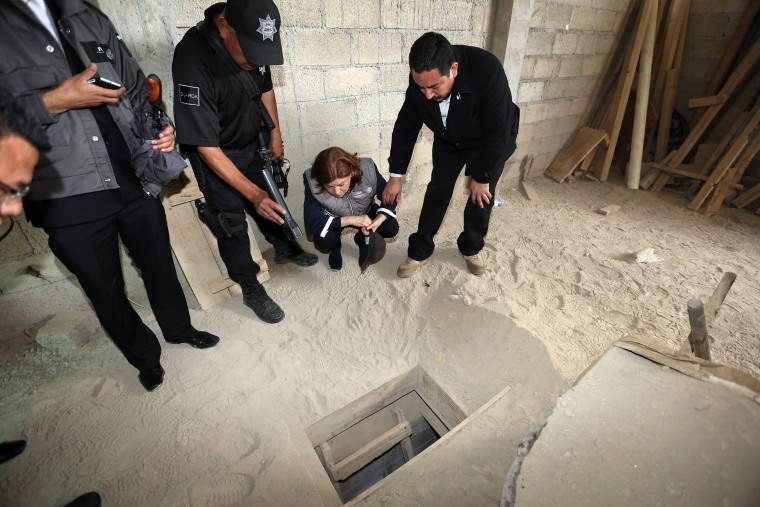 "From a more cynical view, I think that Mexican government officials might be concerned that if El Chapo was extradited ... if there's any chance he'll see the light of day or that the conditions of his imprisonment be somewhat softened, that would require cooperation on his part," Gurule said.
"I think there's no question he has very valuable first-hand information regarding government corruption, and if that information was disclosed it would be embarrassing to the Mexican government," Gurule said.
If Nieto decided to give up Guzman, it would raise serious security concerns in the United States and set off a scramble among the many federal prosecutors who want first crack at him.
There is precedent, however. Alleged Mexico drug lord Edgar "La Barbie" Valdez, former head of the Beltran Leyva cartel, was extradited to the United States in October.
Another, Osiel Cardenas Guillen, the former head of the Gulf cartel, was captured in 2003 and extradited to the U.S. four years later.