JERUSALEM — A mother whose 18-month-old son was killed in a July arson attack on her family home in the Israeli-occupied West Bank died of her burns Monday — the day of her 27th birthday — her brother-in-law told NBC News.
Nasser Dawabsheh said the family was "heartbroken" at the death of sister-in-law Reham Dawabsheh after she became the third fatality of the attack which claimed her husband's life last month.
A second four-year-old son, Ahmed, remains in hospital and Nasser Dawabsheh said he was "asking constantly about his mother."
He said that the boy, now orphaned by the July 31 attack, will likely move in with his grandparents when he is well enough to leave hospital.
Suspected Jewish extremists torched the family's home in the village of Duma, killing Ali, the toddler. His father Saad Dawabsheh also died on Aug. 9.
Another relative, Anwar Dawabsheh, who also works in the Palestinian Education Ministry, said the family dreamed of building new house because the one they had was too small for them.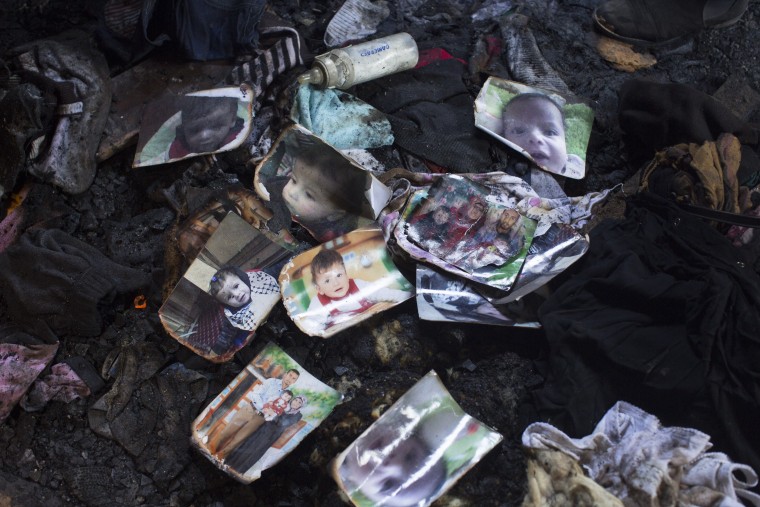 "Its very sad day for all off us. What happened to this family is a crime," said the 47-year-old, adding that Reham was "always smilling."
After her death was announced Palestinians rallied in the family's home village of Duma, calling for a "day of rage."
"Over a month has passed and the Israeli government hasn't yet brought the terrorists to justice," Saeb Erekat, secretary-general of the Palestine Liberation Organization, said in a statement.
Prime Minister Benjamin Netanyahu has previously described the attack as an act of terrorism and ordered a crackdown on violent far-right Jewish groups.
The new measures allow the detention without trial of Israeli citizens suspected of political violence against Palestinians and harsher interrogations — measures previously reserved largely for Palestinian suspects.
Several alleged leaders of Jewish extremist groups have since been detained, though none have been publicly accused of direct involvement in the attack.