GUSH ETZION, THE WEST BANK — One evening in late January, a group of settlers here gathered on Tu Bishvat, a Jewish holiday marking "the new year of the trees," the start of a new harvesting cycle. Many Israelis celebrate ecological awareness on this day, planting trees and eating biblical fruits, such as pomegranates, dates and olives.
But this group didn't gather to eat fruit. They were holding a conference to discuss their opposition to the Israeli government's plan to build a 20-foot-high security barrier in Gush Etzion. Their main qualms were that the fence would cut through the land of their Palestinian neighbors in Wadi Fukin, Battir and Husan.
Their guest was Ziad Sabatin, a Palestinian man who was born and raised in Husan, and whose family has cultivated the land for generations.
"This security fence would separate us from our land and from our farming," Sabatin told the audience in Hebrew. "It would be like separating a baby from his mother."
A Jewish speaker at the event talked about the importance of preserving the natural beauty and ancient history of the area. He showed pictures of the Roman-era terraces and natural springs that are used for agriculture in Battir, a proposed UNESCO World Heritage Site located just a few miles from Bethlehem and Jerusalem. Much of the farming here is focused on harvesting olive groves, both an economic asset and a cherished tradition that has been passed down from generation to generation.
"For them it's the work of their livelihood, and for us, we want them to be able to work," says Benjamin Tropper, an Israeli organizer of the conference who leads nature tours through land that would be affected by the proposed barrier. "The way they're working is the same way our ancestors worked this land thousands of years ago. Nowhere else in Israel can you see it."
Tropper works at the Kfar Etzion Field School, one of the only Jewish groups to join Palestinian residents in petitioning Israel's High Court of Justice to prevent construction of the barrier. While some Israeli entities have suggested alternative routes, Tropper and his group would prefer that the fence not be built at all.
Aside from his concerns about preserving the beauty and history of the land, Tropper also fears that the security barrier would have the opposite impact of its name.
"We don't need the fence, because there aren't bombings and attacks here like in the past," says Tropper, referring to the near-constant violence during the Second Intifada, or Palestinian uprising. It was then, in 2002, when Israel began construction of the security barrier that already snakes through much of the West Bank.
"Now our problem is rockets coming from Gaza. What can a fence do to stop rockets?" asks Tropper.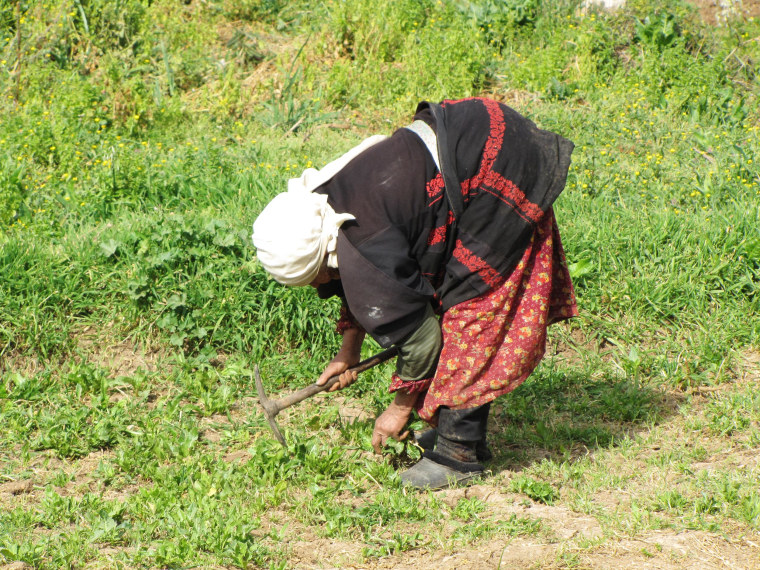 In fact, earlier this month, militants in Gaza fired more than 60 rockets into southern Israel in one day. Tropper worries that further construction of the separation barrier in the West Bank would give Palestinians in the area a good reason to resort to violence.
The Israel Nature and Parks Authority, a government body, has expressed opposition to the government's plan, and submitted an alternative route to the High Court. That plan addresses security concerns while avoiding any damaging impact on Battir's agricultural terraces. At the last court hearing in late January, the Defense Ministry rejected that recommendation, insisting that the current route would not damage the ancient agricultural heritage of the area, and maintains that it is crucial to ensuring the safety of its citizens.
Since that hearing, the government's plan remains but is on hold. Israel's supreme court instructed the Defense Ministry to consider the Nature and Parks Authority's alternative route, and come up with other options before the next hearing in June.
This collaboration may very well be the first of its kind - where Jewish settlers and Palestinians are working together for the common cause of opposing the Israeli government.
Although they are neighbors, settlers and Palestinians are typically only seen together in their common role as bargaining chips on the negotiating table, rivals in a fruitless game of war, peace talks, war and more peace talks.
Yet this small group of settlers and Palestinians have put aside their stereotypical roles, and come together for an unlikely collaboration against the Israeli government. The same government that promotes settlements, and is building the security barrier to protect settlers from Palestinian attacks, is quite ironically being opposed by settlers who are joining hands with their Palestinian neighbors.
While it is common to see Jewish Israelis joining Palestinians in their struggles, these Israelis are almost always left wing, non-settlers. This collaboration may very well be the first of its kind - where Jewish settlers and Palestinians are working together for the common cause of opposing the Israeli government.
"I think it's more powerful than Obama, Netanyahu, and Abbas that we have two sides coming from an honest place and saying there is a different way," says Reut Foxman, a settler from Gush Etzion who also works at the Kfar Etzion Field School and opposes the security barrier. "It's not like people from the outside telling us how to live. It's people from the inside saying we can do it differently."
Foxman and her cohort believe that just as strong convictions and a fierce love of this land can inspire hatred against the other side, so too can these passions unite people and plant the seeds of peace. And while their long-term goals are vastly different, this small group of settlers and Palestinians recognizes the importance of working together in the here and now.
Still, in a place so rooted in conflict and the opposing narratives that come with it, not everyone supports the idea of Palestinians and settlers working together. The Israelis hear some criticism from other settlers, but for the Palestinians involved, the consequences are harsher.
"There are Jews who hate us for speaking with Ziad, but it's not a big problem," says Tropper. "For Ziad it's very problematic."
Tropper's organization works with about 20 Palestinians in opposing the security barrier. Ziad Sabatin is the only one who agrees to speak openly at conferences, protests and tours of the area. But he wasn't always this peaceful man, ready to embrace his so-called enemies. During the First Intifada, Sabatin spent nearly four years in Israeli prison for throwing stones at Israeli soldiers. It was while sitting in jail that he arrived at the conclusion that armed struggle was futile, and that learning to live together in peace with his neighbors would bring him and the Palestinian people a better future.
Sabatin would not be interviewed for this story. He did not explain why, but based on the reactions of his Palestinian neighbors, his reasons are clear.
In February, after the conference, Sabatin joined one of Tropper's tours near the Palestinian village of Beit Jallah, to show settlers how the security barrier would damage agricultural fields. A group of Palestinians saw Sabatin among the settlers, and started to scream at him, cursing him and the settlers.
"Ziad is a betrayer," says Hassan Muamer, a civil engineer from Battir who worked with UNESCO in making the case for Battir to become a World Heritage Site.
"Who authorized him to speak in our name? He doesn't represent us."
"We need to live together in this holy land and we have to believe that the most holy thing here is the human being."
Muamer's family's olive groves sit directly on the Green Line, or the 1949 armistice line, which represents the unofficial border of Israel and is considered the potential border of a future Palestinian state. The security barrier would cut off one third of Battir's land, including Muamer's and many other families' olive groves.
Referring to the barrier that already exists in other parts of the West Bank, such as Bethlehem, Muamer asks, "Who built the wall? And for who did they build it? It's for the settlers."
Muamer acknowledges that settler opposition to the government's plan may be the only reason he and his family still have access to their olive groves. But he remains deeply skeptical about their motivations in fighting to preserve Palestinian land.
"What is their aim in the long term? Don't tell me it's because it's beautiful," he says. "There are hundreds of beautiful places that were destroyed by the wall."
Muamer suggests that the real reason settlers object to the barrier is because they don't want to restrict the growth of their settlements, or be separated from the rest of Israel. "There will be judgment" for Sabatin's cooperation with them, he says.
Even Palestinian groups that partner with Israelis reject the idea of working with settlers. The petition by Battir residents was presented to Israel's supreme court by Friends of the Earth Middle East (FoEME), an organization promoting cooperative environmental efforts between Israelis, Palestinians and Jordanians.
"It's forbidden to work with settlers," says Manal Oweinah, a FoEME project coordinator from Battir. "Even if they don't want the fence, we won't work with them," she says. "I can't work with people who took our land."
Benjamin Tropper understands this sentiment, but sees the situation through a different perspective.
"I'm sad for them, but when you start a war and you fail, you're going to lose something. If they hadn't started a war with us in 1948, they'd have a lot of land today," says Tropper, referencing the 1947 U.N. Partition Plan that was to establish two independent Arab and Jewish states.
One of the biblical lessons that Jews are taught to remember on Tu Bishvat is the message from Deuteronomy that "man is a tree of the field."
That theme echoed through Sabatin's words with the settlers that night.
"This land does not belong to the Jews or the Muslims. It belongs to all of us," he said. "We need to live together in this holy land and we have to believe that the most holy thing here is the human being. The human being is more precious than anything else."