While two female soldiers are set to graduate the Army's famously punishing Ranger school this week, they are still barred by policy from joining the elite fighting force because they are women.
But that could change.
Two years after then Defense Secretary Leon Panetta lifted the ban on women in combat roles in 2013, the new policy is set to take effect Jan. 1, opening new jobs to female service members. Military brass can seek exceptions for some jobs, but will have to explain why.
In an interview with DefenseNews published Wednesday, a top admiral in the elite Navy SEAL program said women should be able to serve.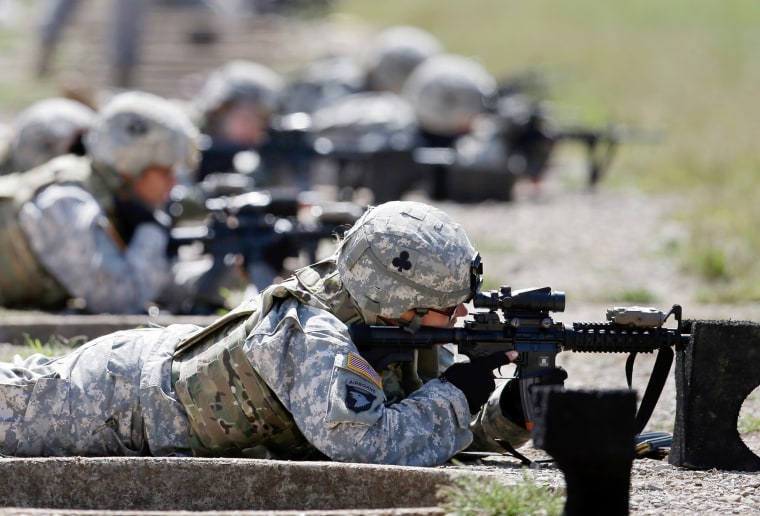 "Why shouldn't anybody who can meet these [standards] be accepted? And the answer is, there is no reason," Admiral Jon Greenert told the Navy Times and DefenseNews.
"So we're on a track to say, 'Hey look, anybody who can meet the gender non-specific standards, then you can become a SEAL," he said.
Women were admitted to the Ranger course this year in a one-time assessment of the program to determine how to open combat jobs to women.
Women make up about 15 percent of active duty enlisted personnel across the Army, Marine Corps, Navy and Air Force, according to a 2015 report by the non-partisan Congressional Research Service.
A total of 161 women have been killed in action since 2001 in the "global war on terror" operations in Iraq and Afghanistan since 2001. More than 1,000 were wounded in action. Two women were awarded the Silver Star for "gallantry in action against an enemy of the United States," and 9,000 received combat action badges, the report said.
Related: First Women to Pass Ranger School Are 'Exceptional Soldiers,' Families Say
A 1994 military policy order excluded women from assignment to units below the brigade level whose primary mission is to engage the enemy in combat. But in battlefields like in Iraq, where front lines were not always clearly defined, the line between combat and non-combat units became blurred, the report said.
Since the combat exclusion rule was rescinded in 2013, the Army said it has opened 33,000 positions to women that were previously closed. Jobs like infantry soldiers, cavalry scouts and special forces remain closed to women.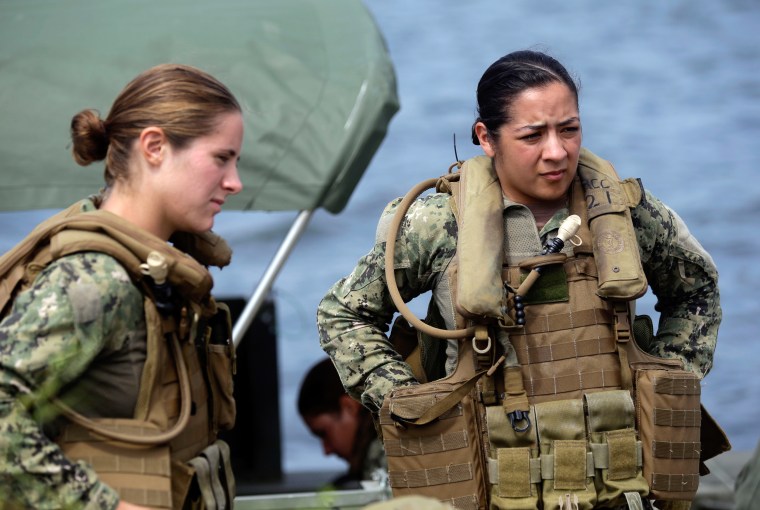 Gen. Joseph Votel, commander of U.S. Special Operations Command, said at this year's Aspen Security Forum that the issue is being reviewed, and they should know by the fall whether exceptions will be sought.
He said that the use of "cultural support teams," where female troops were deployed with strike teams in Afghanistan in order to reach out to local women and children, populations culturally off-limits to men, was a great success.
"I would just say this about SOCOM: SOCOM needs diversity. We need people of color, we need men, we need women to help us solve the problems that we deal with today," Votel said.
Votel said that, whatever the decision, women in Special Operations would not be held to a different standard than men.
"That is absolutely the bottom line. This is about meeting the standards for the task that the nation expects us to be able to do," Votel said. "If people can meet the standards, then we should be able to integrate them."