Good morning, NBC News readers.
Two mass shootings this weekend — that took place less than 13 hours apart — left at least 29 dead and 53 injured. In their wake, the country is reeling from yet more gruesome scenes of violence and death.
---
Fear becomes reality for El Paso's Latino population
A gunman opened fire Saturday morning in a Walmart and around a nearby shopping mall in El Paso, Texas, leaving 20 people dead and 26 injured, law enforcement officials said.
Prior to the attack, some of the border city's residents had been fearful that the heated anti-immigration rhetoric in Washington and around the country would lead to violence.
El Paso's shopping center and its largely Mexican and Mexican American patrons were a "clear cut target" for the shooter said local Adrian Nuñez, 40.
"I had a feeling something like this was going to happen eventually," he said.
Nuñez added that he believed President Donald Trump is conveying messages of hate and division, which, combined with anti-Latino rhetoric and a lack of stricter gun control laws, is creating a lethal mix.
The suspected gunman posted a diatribe against immigrants just before the shooting, a senior law enforcement official told NBC News.
Federal prosecutors said they are treating the massacre as a case of domestic terrorism and that they will seek capital punishment against the suspect who is in police custody.
---
On Dayton's 'little Bourbon Street,' a city unites after mass shooting
Over a thousand miles away from El Paso, a night of revelry was shattered in Dayton, Ohio, when a gunman wearing body armor and carrying ammunition magazines opened fire outside a crowded bar, killing at least nine people and injuring 27 others.
The bloodshed on East Fifth Street upended residents' notion of the lively district once thought to be immune to such violence.
"Who would have known this would be the place they'd be washing blood off the sidewalk?" said one longtime resident.
At a vigil later Sunday night for the victims, a large crowd chanted, "Do something!" and "Make a change," while Ohio Gov. Mike DeWine spoke. DeWine, a Republican, offered his condolences to the victims' families.
The sister of the shooting suspect is among the nine people killed in the attack. Police officers, who were nearby when the shooting started, killed the gunman within about 30 seconds of the first shots being fired.
---
'Thoughts and prayers are not enough': Politicians react to mass shootings
A growing number of Democrats are calling on Senate Majority Leader Mitch McConnell to cancel the chamber's August recess so that they can take up gun control legislation in the wake of two mass shootings this weekend.
"Thoughts and prayers are not enough. We must act. Mitch McConnell please call the Senate back to work tomorrow and let us vote on gun-safety laws," Sen. Sherrod Brown, D-Ohio, pleaded in a tweet.
Texas Sen. Ted Cruz was one of the leading voices among Republicans to speak out against white supremacy after the attacks. Cruz denounced Saturday's shooting in El Paso as a "heinous act of terrorism and white supremacy."
Democratic presidential hopefuls sharply criticized Trump over the weekend, arguing that his reluctance to denounce white nationalism and past racist rhetoric bears some responsibility on the deadly mass shooting in El Paso, Texas.
Beto O'Rourke, a former Texas congressman whose district included El Paso, was particularly vocal in his criticism, saying the president "is a racist and he stokes racism in this country." (Video)
For his part, Trump offered his condolences for the victims, congratulated local law enforcement for their swift responses and blamed mental illness for both shootings.
"Hate has no place in our country," Trump said. "We're going to take care of it." He said that he will make a statement around 10 a.m. ET about his administration's plans to stem gun violence.
---
Experts say violence is contagious, and 24/7 news cycle doesn't help
In a nation that has sometimes become numb to mass shootings, people are shaken.
The weekend massacres have many looking for ways to stop the carnage, whether through stricter gun control laws, better mental health services or shutting down certain social media platforms.
Research suggests that violence, particularly gun carnage, can be contagious, and some experts are calling for an end to blanket media coverage of mass shootings.
"We see some forms of violence peak when society becomes fascinated," said Jillian Peterson, a psychologist and professor of criminology. "We know that mass shootings are socially contagious and tend to occur in clusters."
---
Want to receive the Morning Rundown in your inbox? Sign up here.
---
Plus
---
Live BETTER
Here's how to feel richer with the money you already have, according to a behavioral economist.
---
Quote of the day
"We must speak clearly to combat evil in any form it takes. What we saw yesterday was a heinous act of terrorism and white supremacy. There is no place for this in El Paso, in Texas, or anywhere across our nation."
— Texas Sen. Ted Cruz on the mass shootings
---
One fun thing
He did it.
The flying Frenchman Franky Zapata succeeded in crossing the English Channel on a jet-powered hoverboard he designed on Sunday. His previous attempt ended with him falling into the sea.
"For the last five to six kilometers I just really enjoyed it," Zapata told reporters on arrival.
"We made a machine three years ago...and now we've crossed the Channel, it's crazy," he said, before breaking into tears.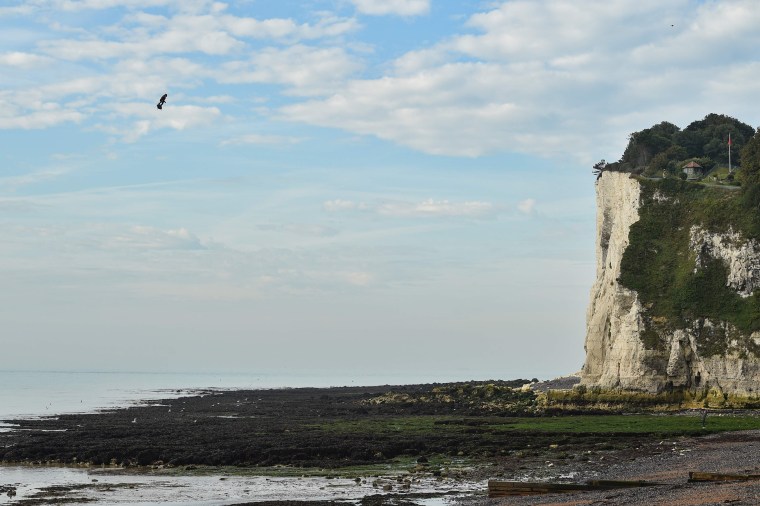 ---
Thanks for reading the Morning Rundown.
If you have any comments — likes, dislikes — drop me an email at: petra@nbcuni.com If you're a fan, please forward it to your family and friends. They can sign-up here.
Thanks, Petra