Good morning, NBC News readers.
The suspected shooters in Jersey City targeted a kosher grocery store, Trump slams "weakest impeachment" and a record-breaking $324 million contract for one new Yankee.
Here's what we're watching this morning.
---
Suspects in deadly Jersey City shootout 'targeted' kosher grocery store
Investigators looking into the deadly shooting of a New Jersey police detective and three others at a kosher grocery store Tuesday say there is growing concern that the market was specifically targeted, senior law enforcement sources briefed on the investigation said. But it is too early to know what exactly the motive was behind the attack, one senior law enforcement official said Tuesday night.
Jersey City Mayor Steven Fulop tweeted Tuesday night that investigators believe the attackers "targeted the location they attacked," but he did not provide any further explanation.
Jersey City Police Det. Joseph Seals, 39, was among the victims. The married father of five had been with the police department since 2006. The three civilian victims have not been identified yet.
Both suspects, described by sources as still-unidentified male and female shooter, were found dead following the standoff and furious gun battle Tuesday afternoon, officials said.
---
Trump slams 'flimsy, pathetic, ridiculous articles of impeachment'
House Democrats on Tuesday unveiled articles of impeachment against President Donald Trump.
Judiciary Committee Chairman Jerry Nadler, D-N.Y., announced that his committee will consider two articles of impeachment — one for abuse of power and the other for obstruction of Congress — charging Trump "with committing high crimes and misdemeanors."
Read the articles of impeachment here.
Hours later, Trump bashed Democrats for what he said were "flimsy, pathetic, ridiculous articles of impeachment."
"They are impeaching me and there are no crimes, this has to be a first," Trump told a crowd of thousands of supporters at a campaign rally in Hershey, Pa.
---
Exclusive: Barr believes FBI may have acted in 'bad faith' in probing Trump's campaign links to Russia
Attorney General William Barr said he still believes the FBI may have operated out of "bad faith" when it investigated whether the Trump campaign colluded with Russia, and he contends the FBI acted improperly by continuing the investigation after Donald Trump took office.
In an exclusive interview with NBC News, Barr essentially dismissed the findings of the Justice Department's inspector general that there was no evidence of political bias in the launching of the Russia probe, saying that his hand-picked prosecutor, John Durham, will have the last word on the matter.
"I think our nation was turned on its head for three years based on a completely bogus narrative that was largely fanned and hyped by a completely irresponsible press," Barr said. "I think there were gross abuses …and inexplicable behavior that is intolerable in the FBI."
Barr's blistering criticism of the FBI's conduct in the Russia investigation, which went well beyond the errors outlined in the inspector general report, is bound to stoke further debate about whether the attorney general is acting in good faith, or as a political hatchet man for Trump.
---
How U.S. cities are trying to live up to the Paris Agreement
A growing coalition of leaders at the city, state and business levels have remained committed to reducing carbon emissions in line with the Paris Agreement, despite Trump's announcement in 2017 that he plans to quit the climate accord.
And those efforts by small town USA are making a difference.
A new report released Monday by America's Pledge, a climate-focused research initiative launched in 2017, found that the actions of cities, states and businesses can add up.
"We can't underestimate or trivialize the significance of states and localities saying: 'We are still in,'" said Jonathan Elkind, a senior research scholar at the Center on Global Energy Policy at Columbia University in New York City.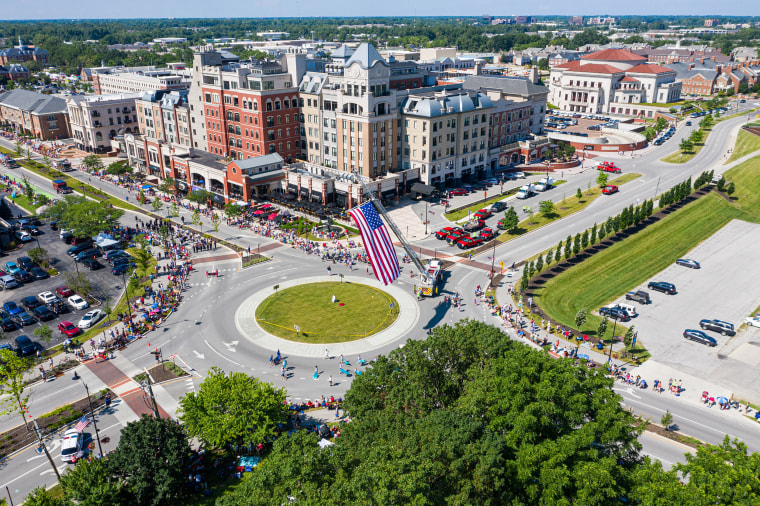 ---
Want to receive the Morning Rundown in your inbox? Sign up here.
---
Plus
---
THINK about it
Juice WRLD's death at 21 was as tragic as it was probably preventable, cultural critic Danny Schwartz writes in an opinion piece.
---
Live BETTER
We know, it's cold outside and the last thing you want to do is go out there for a run. Here are 11 winter workout tips to get you moving — despite the grim weather.
---
One fun thing
Wow, that's some holiday party.
The 198 employees at St. John Properties, a Baltimore real estate development company, were surprised by the red envelopes they were handed.
Inside them were $10 million in bonuses ranging from $100 to $270,000 — with the specific amount varying based on tenure. The average payout: $50,000.
---
Thanks for reading the Morning Rundown.
If you have any comments — likes, dislikes — drop me an email at: petra@nbcuni.com
If you'd like to receive this newsletter in your inbox Monday to Friday, please sign up here.
Thanks, Petra