As Bruno Mars and Kendrick Lamar ride their wave of a Grammy wins, some people are scratching their heads and wondering how JAY-Z's 4:44 album did not take home an award amid its eight nominations. But JAY-Z isn't the only one to be shut out of a Grammy win.
Before the 60th Grammy Awards took place on Sunday, Ledisi (who even co-hosted the pre-telecast awards ceremony at The Theater at Madison Square Garden) considered her new nominations an "amazing honor" but said it still feels like her first, but with a newer approach.
"I think the only difference is that I am living in the moment and having fun," she told NBC News. "These nominations mean that my peers are listening and believe in this solid body of work."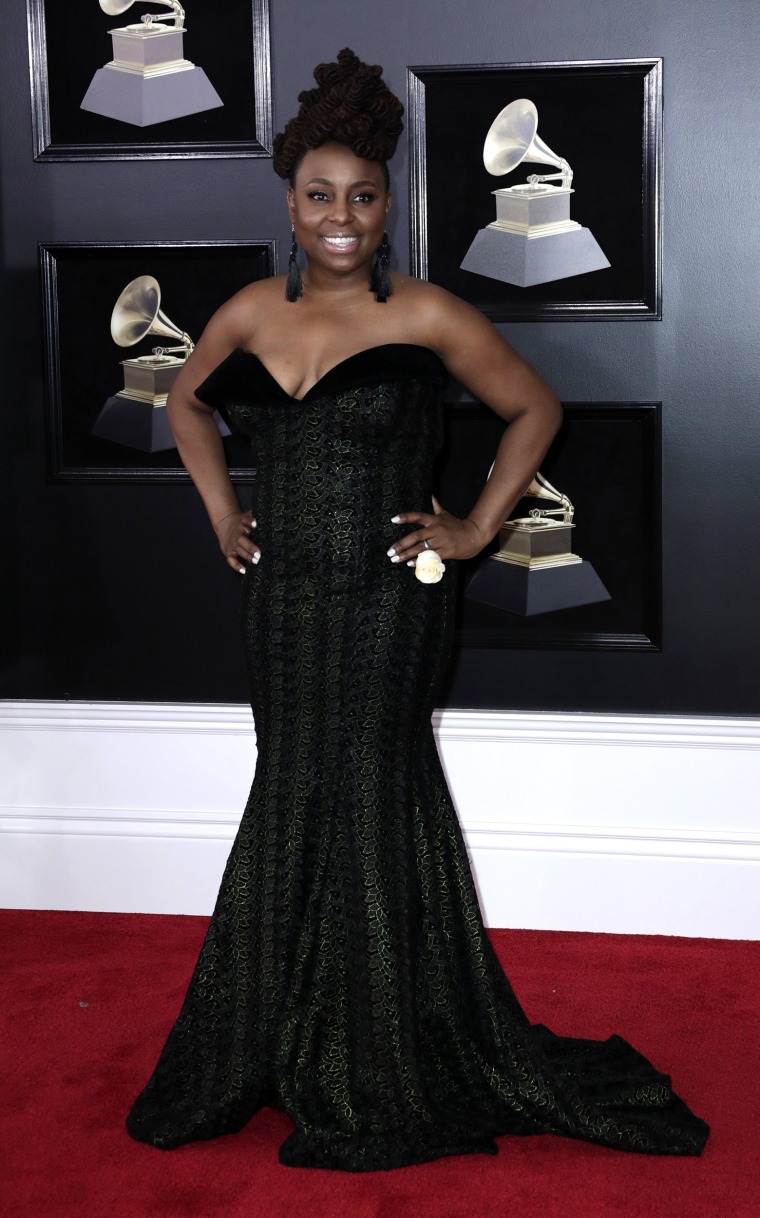 Once the awards were finally doled out, the "I Blame You" singer took to social media in her usual upbeat way.
"I didn't win. But I'm a winner baby," she said in an Instagram post. "Yes!!! Thank you Everybody!!! Dear Artists Keep Going," she said.
Through the years, Ledisi has collaborated with a venerable 'who's who' of some of the best in the business, sharing stages with Aretha Franklin, Chaka Khan, Sergio Mendes, Jill Scott, Maxwell and recently wrapping a national tour with Kirk Franklin.
The New Orleans native can relate to artists such as Snoop Dogg and Brian McKnight, as the chart-topping music veterans have 17 nominations to their credit each — and also no wins. The powerhouse vocalist continues to be in good company with music legend Diana Ross and hip-hopper Busta Rhymes, who also had 12 nominations and 12 losses each.
And there's a long list of other great black music acts — including Rick James, Teddy Pendergrass, Millie Jackson, Melba Moore, Bob Marley, Jimi Hendrix, Tupac Shakur and Billie Holiday — who also never won a Grammy Award.
But Ledisi's stunning loss this year in three R&B categories for best album, best R&B performance and best traditional R&B performance to Bruno Mars and Childish Gambino wasn't for her lack of being present in the moment.
After flying in to New York City from the Women's March in Las Vegas, the music wunderkind was at a record pace during the Grammy weekend attending a battery of activities, including a star-studded Toyota Music showcase hosted by Bevy Smith. She also gave a performance at Carnegie Hall's Leonard Bernstein tribute, an all-star tribute to Otis Redding at the Apollo Theater, a late night jam session with The Roots, a music symposium at the Clive Davis Institute of Recorded Music and countless Grammy glad-handing events.
Her recorded collaborations include songs with Prince, John Legend, Eric Benet, Kem and neo-soul pioneer Rahsaan Patterson.
Proving to be a versatile artist who defies categorization, Ledisi has recorded notable covers of Luther Vandross' "My Sensitivity," Ella Ftizgerald's "Blues In The Night," Earth, Wind & Fire's "Devotion," and Natalie Cole's "I've Got Love on my Mind."
She attributes her list of collaborations to her long-time producing partner Rex Rideout, who was instrumental to her being signed to her first major label deal.
"Not only is he an amazing executive producer but he knows how to balance things. …He makes happen all the time," she said. "That's why I love working with him. You need someone around you who believes in you and your gift. So when collaborations happen I am really excited."
Considered one of former First Lady Michelle Obama's favorite singers, the Verve recording label artist has performed at The White House numerous times and was handpicked to perform at the former First Lady's 50th birthday party.
"She is an amazing woman," Ledisi said of Obama. "She is very much like my mom, we're both Capricorns. Being a part of the Obamas journey has been an enormous blessing. I look back at pictures and I am always in awe. Wow...all that really did happen. I was there."
Moving ahead and looking at the future, her first headlining gig at world's famous Apollo Theater will take place Mar. 9 as she will give a special tribute to the late Nina Simone.
"I am also excited to do my special project called "Nina and Me," Her legacy lifted me and reminded me to be proud of my skin and embrace the walk I was given," she shared. "I hope she can feel how much I love her. She has saved my life so many times. Her music lets me know I am not alone in my journey
"It's going to be a lot of work but fun," she added. "I'll be all over the place like usual. I just pray at then end of all this I made my family and my parents proud."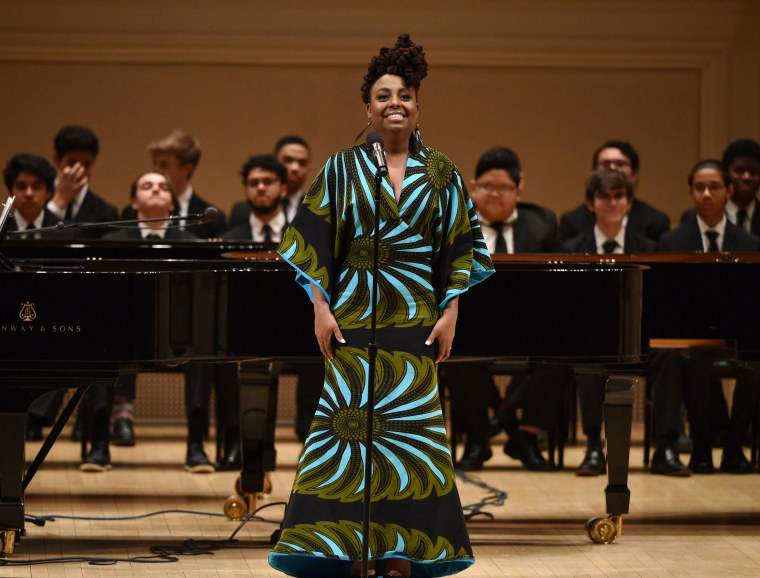 And then there's the musical adaptation of 1996 Whitney Houston/Denzel Washington film "The Preachers Wife," which already has The Great White Way buzzing in its infancy stages.
A November workshop reading of the Titus Burgess-helmed project has Ledisi and Emmy Award-winner Loretta Devine already attached.
"I can only say this; Tituss Burgess is so much more than what we see and I can't wait until the world sees what more he has to offer," she beamed. "He has made me a better actress, a stronger, braver, more focused singer."