President Obama on Wednesday held the final White House summit of his My Brother's Keeper program, an initiative launched nearly three years ago aimed at breaking down barriers for young men and boys of color. Some 300 leaders and young people in the program from across the country attended the event.
Malachi Hernandez was one of several young men to share the stage with the president. Growing up in a poverty-stricken neighborhood of Boston, Hernandez said "success seemed out of reach." His father left the family when Hernandez was 7 years old, but that also stopped the violence he said he often witnessed at home.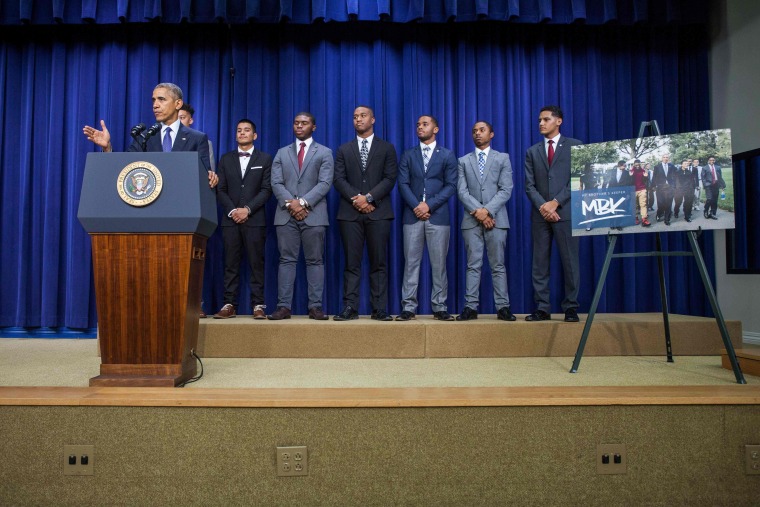 Now, Hernandez is a freshman at Northeast University, in a very different Boston neighborhood. He's the first member of his family to attend college.
The president and Malachi first met two years ago at a My Brother's Keeper event, when Obama was looking for some advice on how to lead the program.
"I emphasized to him that all young people need is love," Hernandez recalled. "He told me how he also grew up without his father."
"The only difference between these young men and me is that I grew up in a more forgiving environment," Obama said Wednesday, explaining why he launched My Brother's Keeper. "I had people who encouraged me and gave me a second chance."
Related: 'We Care About Your Future': Obama Launches My Brother's Keeper
Of all the program and policies the president has championed during his eight years in the White House, My Brother's Keeper may be the one closest to his heart. Obama has vowed to remain invested in it for the rest of his life.
"We've got proof about what happens, as Malachi said, you just give folks a little love and you act on that love," Obama said.
My Brother's Keeper is a wide range of programs and initiatives, all designed to put young men and boys of color on the right track, open doors of opportunity and help them achieve their dreams. It includes summer jobs, mentoring and re-entry programs that help young offenders after their release from prison.
For Hernandez, now majoring in political science, the program helped him land an internship at Boston City Hall.
Some 250 communities in all 50 states have taken on the My Brother's Keeper challenge to get involved, according to the White House. More than $1 billion have been invested by businesses and philanthropic groups.
"Insuring that our young people can go as far as their dreams and hard work will take them is the single most important task that we have as a nation," Obama said. For every young person that My Brother's Keeper has reached, the president said there are hundreds of thousands still in need.
"I am now prepared to make a real difference in today's world," Hernandez said, standing with several other My Brother's Keeper participants, now students at colleges such as Morehouse and Howard.
Hernandez revealed something else his time with the president motivated him to do.
"His words inspired me to call my own father and reconnect with him," the young man said with confidence to applause from the audience. They have planned visit next year in Puerto Rico.