As a group of black mothers walked out of jail in Atlanta on Thursday some were crying.
Onlookers expressed joy and happiness as the women were bailed out just in time for Mother's Day to be at home with their families. Even some of the corrections officers were in tears.
"Folks were so grateful and some women were weeping. Some women had been in a cage for months, for days and were non-responsive and overwhelmed even though they knew that this was happening. I don't think they realized how much love [was in the community for them]," said Mary Hooks, co-director of Southerners on New Ground, an Atlanta-based regional queer liberation organization and one of the groups that is organizing the bailouts.
A coalition of 25 groups across the country organized National Mama's Bail Out Day to bring attention to ways in which the criminal justice system and the bail process is disproportionately affecting black mothers, Hooks said.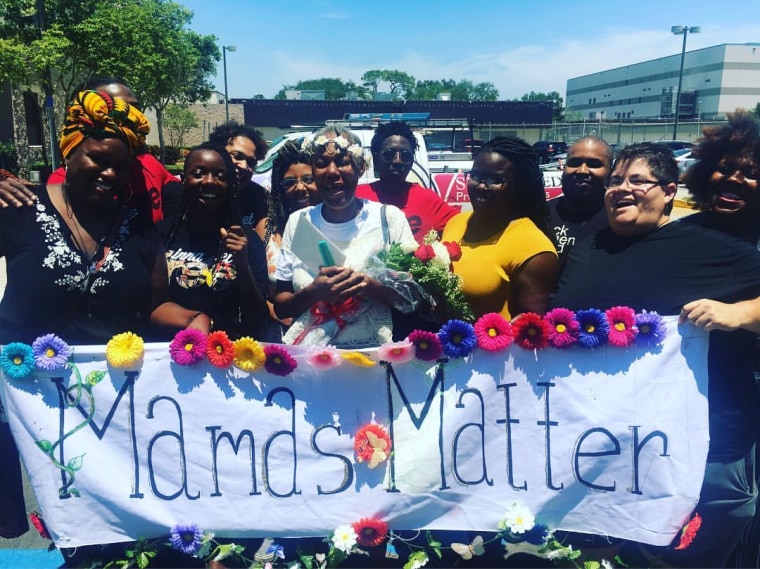 "Our people are dying at the hands of police or a slow death that happens while they're awaiting trial in court whether that's physical death, the loss of peace of mind and mental health or the jobs, houses, children and all of the other collateral damage that our people are experiencing because they are only too poor to pay their bail," said Hooks who estimates 60 women will be bailed out nationwide.
"And that weight falls primarily on black women who are trying to hold it down and support all the folks in our community."
Many of the women in jail across the country are black and mothers. Black women are 44 percent of the nation's jail population and almost 80 percent of the women in jail have young children, according to a 2016 Vera Institute of Justice report. Also, more than 5.1 million children have had a parent in prison or jail at some point in their life, according to the Annie E. Casey Foundation.
The coalition raised about $400,000 to bail mothers out of jail, said Arissa Hall, a National Mama's Bail Out Day organizer and project manager at the Brooklyn Community Bail Fund.
Hall said the 25 groups met in January at a meeting convened by the Movement for Black Lives and Color of Change to collaborate on bail reform. At that meeting Hooks mentioned bailing black mothers out of jail.
"As a black lesbian mother, as someone who has spent time in a cage I know the feeling of being snatched away from my babies and I know that there's women in my life that have raised me that have spent time in cages and that's queer and trans mothers, church mothers," Hooks said. "Eighty percent of the black women who are in cages are single mothers, caretakers. We are being targeted and profiled."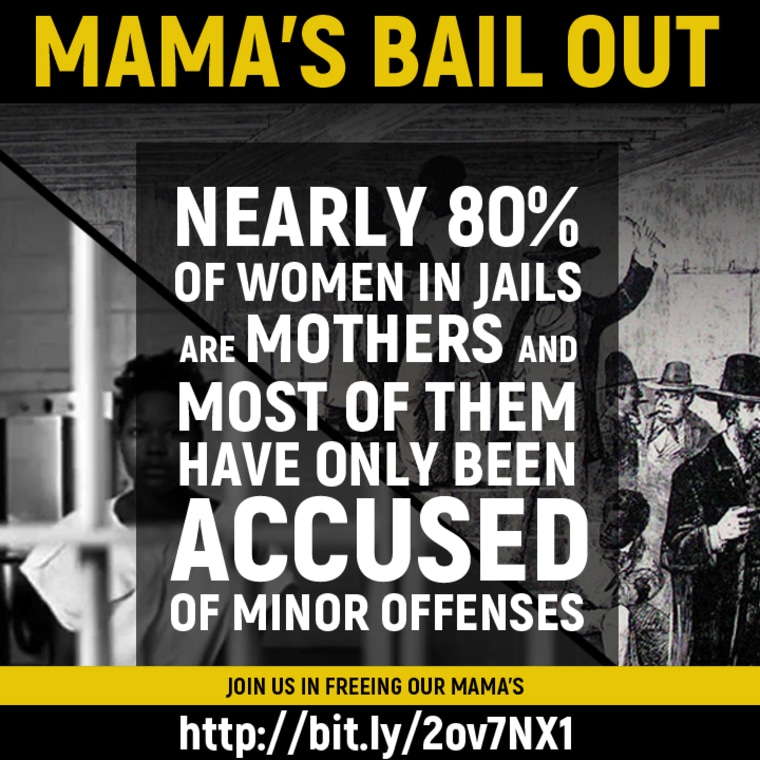 The coalition is bailing women out of jail in cities across the country including New York, Charlotte, Houston, Memphis, Oakland, Minneapolis, St. Louis, St. Petersburg, Fla. and Montgomery, Ala.
"The children of these incarcerated mothers do the worst time because they're without their primary caregiver."
The number of women in the nation's jails increased dramatically since 1970, 14-fold — from under 8,000 to nearly 110,000 and 82 percent of them are in custody for nonviolent offenses,according to the Vera Institute of Justice.
The numbers for girls in the juvenile justice system are also rising. In 1992 girls were 20 percent of the arrests in the juvenile justice system and that number rose to 29 percent in 2012, according to the 2015 report Gender Justice: System-Level Juvenile Justice Reforms for Girls.
Related: Attorney General Sessions Charts Course Back to Long Drug Sentences
National Mama's Bail Out Day also attempts to acknowledge the intersections of gender, race and class and how they impact black women's experiences in the criminal justice system, Hall said.
"We are recognizing how very masculine the conversation is around criminal justice in general and we wanted to expand that," she said. "We don't have a lot of conversations around the fact that women are the fastest growing jail population in the U.S."
National Mama's Bail Out Day is also a way to honor all black mothers and the vast definition of black motherhood in the black community from birth mothers to the chosen mothers that queer people have, Hall said.
"As we celebrate mothers and Mother's Day as an American holiday, historically black mothers and caregivers have not been celebrated, haven't been given the opportunity for celebration or even the title of motherhood," she said.
Related: Ending the Sexual Abuse to Prison Pipeline For Black and Brown Girls
The effort also intends to highlight the ways in which the bail system hits black mothers harder than others, Hall said. Because of the pay gap black women are underpaid and tend to be the breadwinner in their families and have fewer resources than others to make bail so they end up languishing in jail for months for crimes they've only been charged with, not convicted, which results in criminalizing poor people, Hall said.
The coalition also plans homecoming, teach-ins about mass incarceration's impact on families and they'll help connect the mothers with jobs.
The mental and physical wellness of children of incarcerated parents suffers when their parents are absent so the coalition's efforts to get women out of jail for Mother's Day is significant, said Breea Willingham, PhD, assistant professor in criminal justice at the State University of New York at Plattsburgh, whose research focuses on black women's prison narratives.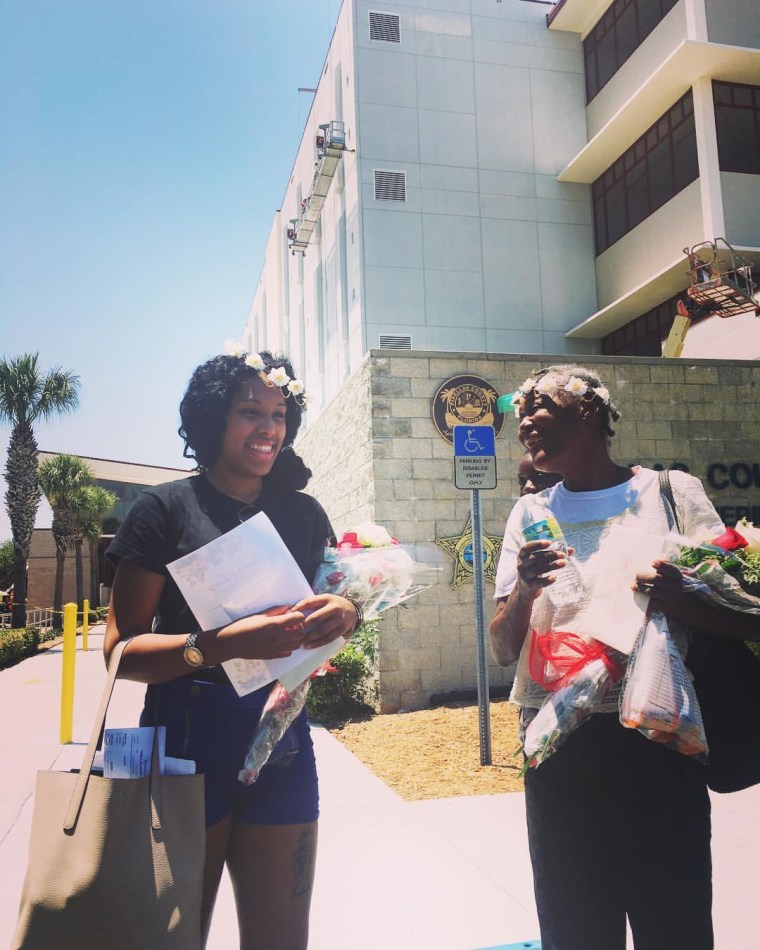 "What it's doing really is breathing life back into the children who are suffocating without having their mothers with them because of jail," she said. "When a mother goes to jail it's not just her that's being impacted. The children of these incarcerated mothers do the worse time because they're without their primary caregiver. A program like this isn't just about paying bail for the sake of paying bail, it's about giving life back to these children."
Having black mothers back at home from jail not only strengthens the black family, it also restores dignity to the mothers, Willingham said.
"It's rewriting that script that's already been written for her. Any mother who is incarcerated is a bad mother. Any black woman who is incarcerated is the worst," she said. "To have her home, it's defying everything she's supposed to be as an incarcerated black woman by being home."